Cartier's Time
Rheinland Pfalz Saar Intl. -
Plans have changed. We are downsizing. Some of our horses are priced at "herd reduction sale" prices, which are below their market value and some are below what we have invested in them. There's nothing wrong with any of our sale horses. They don't have vices, are in excellent health, and have exceptional pedigrees. We're simply giving buyers great deals to downsize faster. We reserve the right to end the sale and change the sale prices back to their true value at any time.
REGULAR PRICE: $15,000 HERD REDUCTION SALE PRICE: $12,500
Eventing / Dressage / Showjumping Prospect
DOB: March 22, 2020
Breed: Rheinland Pfalz Saar Int. / Westfalan
Color: Buckskin
Height: To mature to 16.3 + hands
DNA Tested: EE/Aa/nCR and nd1/nd2
Registry: Westfalen
Cartier's Time is a stunning buckskin by Carry On MF and out of Many Blessings GES (Mirzy). Cartier has a fantastic temperament and enjoys being around people while having an independent nature. He is inquisitive and really loves getting a bath. His movement is exceptional, and has correct conformation, with ground covering paces with excellent elevation and purposeful extension. Cartier has a powerful presence that will get you noticed in the show ring regardless of the discipline you decide to pursue. He has the bloodlines to be an excellent showjumper.
Mirzy is a 2016 Rheinland Pfalz Saar Int. / Westfalan Double Dilute Smokey Cream mare, with an amazing metallic sheen. She is already 16.2 hands and still growing. She has a wonderful temperament, is sweet and affectionate, easy going and open minded. She is uphill, leggy and has three excellent gaits.
Mirzy's sire is the Perlino Kinsky Czech Warmblood Stallion, Mitril, who is known for his fabulous jumping form and correct, balanced conformation. He has a sound work ethic and phenomenal temperament, and uncomplicated and willing nature, which impressed the judges during his 70 day stallion test. He also showed a brave and confident approach to the jumps and very correct jumping form. Mitril is an athletic performance horse and willing partner who passes those traits to his offspring. Mitril's sire Alois, is an excellent Grand Prix showjumper who won the 6 year old competition in the Czech Republic. He is also an approved stallion the the SCHCT (Czech Warmblood) and the SCHKK (Kinsky) registries. Alonis' sire is the Grand Prix jumper Alme Z who sired many Grand Prix jumpers. Mitril's dam is Mitra Kinska, is a very good mini/maxi jumper. She's in the Kinsky Main Mare Book with 31% Kinsky lines. She is by Burbon, a Polish Warmblood known for producing top eventers and showjumpers.
Mirzy's dam is Simply Irresistible GES, whose sire is Sagar, and grandsire is Hurikan, who is one of a few approved and licensed stallions in the Czech Republic for both the Czech Warmblood registry and the rare Kinsky Warmblood registry. During his career he was successfully shown in both showjumping, dressage and driving. He has produced many successful show horses and a handful of breeding stallions.
Kinsky Warmbloods are known as Europe's original "gold sport horse" and are now considered a rare breed by the European Union authorities. Kinsky Warmbloods excel in show jumping, eventing, dressage, polo, and hunt racing. They are renowned for their wonderful temperaments, easy trainability, athleticism, stamina and they tend to bond easily with humans.
Additional Details
Breed
Rheinland Pfalz Saar Intl.
Dam
Many Blessings GES (Mirzy)
Dressage Training Level
Prospect
Dressage Showing Level
Not Showing
Driving Experience
Prospect
Registries
Rheinland Pfalz Saar Int. / Westfalan (Pending)
Terms
Deposit and payments accepted until weaning with signed contract.
Contact Seller
Owner/Trainer:
Farm
Top Hat Friesians & Barock Pintos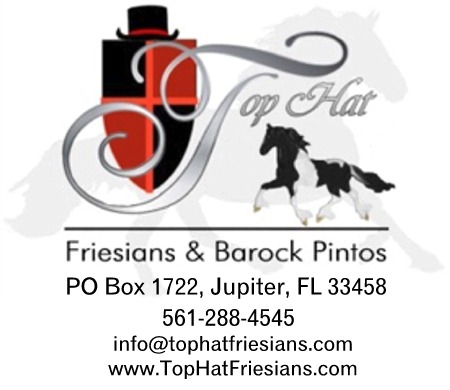 Top Hat Friesians & Barock Pintos
Breeders of Barock Pintos and Friesians. Home of Picasso's Masterpiece, Barock Pinto Stallion.
Bloodlines
Sire
Sire Sire Sire
Calypso II
Dam
Dam
Many Blessings GES (Mirzy)
Dam Dam
Simply Irresistible GES
Dam Sire Dam
Mitra Kinska