Good By Me, Atlas
---
For Sale
---
Good By Me, Atlas
Atlas loves to jump stadium and cross-country, swim, hack outside alone or in a group, and pace. A jack of all trades and a quick thinking sport horse that is so enjoyable to take out. Soft mouth, very adjustable stride, uphill and light, no buck/bolt, very mild spook.
Schooled up to 3'6 in both stadium and cross-country, lead changes are consistent, he's competed in several smaller shows (up to 2'6) in both hunters/jumpers and paced cross country several times. Easily the smartest horse I've encountered, he loves stimulation and he's incredibly brave for a hot blooded type. Suitable for an experienced intermediate rider working with a trainer.
Retired from racing after 3 uncompetitive starts with clean legs and no limitations. He was put on the back-burner for a year and allowed to mature, where he's been the picture of health on our farm. No issues with his feet, lameness, colic or any other ailment. Veterinarian flexion tests after heavy exercise/work load have been excellent. His stifles were injected once when in dressage training to aid in the hind lead change and this procedure has continued to help.
We have several video's available on YouTube (Diamond Notch Farms) under his playlist "Good by me, Atlas".
Additional Details
Dressage Training Level
Prospect
Eventing Showing Level
Novice
Jump Level
Level 3 (3ft 6in)
Contact Seller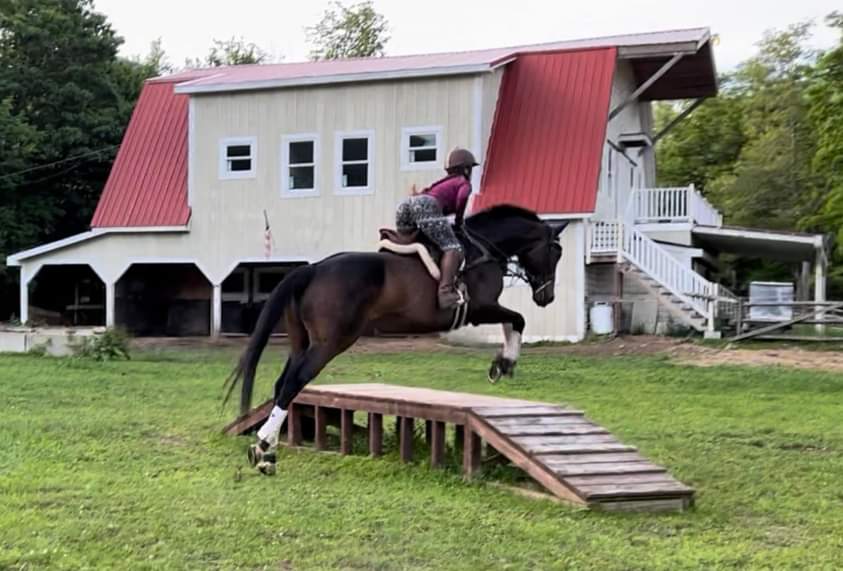 Diamond Notch Farms
Bloodlines
Sire
Sire Sire Sire
Dixieland band
Sire Dam Sire
Cherokee colony
Sire Dam Dam
Bravo native
Dam
Dam Sire Dam
Naval orange
Dam Dam Sire
Opening verse