H. Bonita Goodshapes
---
For Sale
---
H. Bonita Goodshapes
For Sale - Homozygous Tobiano and Homozygous Black is extremely rare in the Barock Pinto Breed. She'll throw a black and white pinto foal every time. Proven broodmare (she even adopted a foal that was rejected by its birth mother - see second picture)
See details on our website at Top Hat Friesians dot com.
KWPN BAROCK PINTO MARE - RARE FIND!! HOMOZYGOUS TOBIANO AND HOMOZYGOUS BLACK
~ 2nd Premie ~
37.50 % Friesian Blood and 62.50 % Dutch Warmblood
15.1 Hands DOB: 05-30-2012
Imported from the Czech Republic
Bonita is an elegant mare with a delightful temperament. She is an excellent mother who is easy to get in foal and to foal out. She became a nurse mare in 2021 when she adopted our rejected foal, Raven. She loves him as much as she's loved the foals she gave birth too. Her foals tend to be between 16 to 16.1 hands when grown. She has a kind and gentle disposition, a forward walk, floating trot and uphill canter. Her shoulder movement is loose and expressive with quick hind legs that step well under her body. She has excellent conformation that is similar to the champion Dutch Warmbloods in her pedigree. Bonita is unique in that she has one blue eye. When DNA tested, Bonita tested as homozygous tobiano and homozygous black which means she'll throw foals with colored coat patterns and a black base 100% of the time and she was negative for all other possible coat patterns. She has had four beautiful foals, is an excellent mother. She was previously started in work and has been tacked up but she hasn't been backed yet. She can be started under saddle in your preferred discipline. She has a sweet and willing attitude and learns quickly.
Bonita's sire is Ringo (King x Olympic Ferro x Samber), who competes as Goshka Ringo. He is a stunning stallion with impeccable Warmblood breeding. He was born in the Netherlands and stands in France. Ringo is 16.1 hands, has an extravagant and uphill movement, is a forward thinking horse with a willingness to work and desire to please. Ringo is highly noted for passing on his easy and excellent character to his offspring. He currently has three approved sons. As you would expect from his bloodlines, Ringo jumps as well as drives. He is full brother to the KWPN stallion Ceasar, who has been competing in Belgium under the name Ceasar Ter Linden. Ringo is currently competing at M Level dressage and his progeny show at 4th level dressage and intermediate level jumping. Ringo has sired two finalists of the Burghley Young Event Horse series.
Ringo's sire is King, a black and white KWPN driving stallion, who drives alongside mares. In 2006 King was seen around the world when he helped lead over 100 horses stranded by flood waters in Holland. This bravery showed proof of his level headed temperament. King is out of the KWPN Keur, Preferent, Prestatie Dutch Warmblood Wanda whose sire is the legendary Pericles. Wanda is also a full sister to Samber.
King's sire is Purioso. He was very successful at his stallion testing and scored an 8 for free jumping and 9 for jumping under saddle. Purioso has five KWPN approved sons. His offspring are well known for their jumping ability and fantastic gaits. He is one of the founding horses for specialized show jumping and dressage pedigree lines. Purioso produced three Olympic horses, Olympic Wendela, Olympic Cocktail and Olympic Ambush. Wendela and Cocktail are two very different horses in different disciplines, one at the highest level of Jumping and the other in Dressage.
Purioso's sire is Furioso II, one of the founders of the modern European sport horse breeding. Even today he is still influencing many studbooks in Europe with his sons, grandsons and great-grandsons. Some of his prodigy include Voltaire and Concorde in Holland and Fidelio and Florestan 1 in Germany. Furioso II became the symbol of the modern Oldenburg sport horse breeding. Furioso II produced 200 state premium mares and no less than 68 approved sons. Furioso II influenced breeding worldwide. His full brother is the French stallion Mexico, who's son Le Mexico became famous in Holland as a producer of jumping horses.
Ringo's dam is Lianne, who was sired by Olympic Ferro and whose dam was Cindy, another Samber daughter, so Lianne's damsire is Samber. Olympic Ferro was a Dutch sensation at Aachen and one of the most famous dressage stallions of modern times. Samber is one of the greatest and most far reaching and influential of all Pinto Warmblood sires. In the history of the KWPN, Samber was the only pinto stallion to complete the 100 day performance test and gain approval in the KWPN studbook. He passed the performance test in 1979. His temperament scored him the maximum of 10. He was a very talented jumper, eventing, and dressage horse. He jumped at Z level with a 15 year old rider and when he returned to dressage he competed at Grand Prix.
Olympic Ferro stood 16.3 hands and was one of the KWPN's foundation stallions and a successful breeding stallion who sired eleven KWPN approved sons. He was also an approved stallion at the Hanoverian Verband, Danish Warmblood Society, the French and Oldenburg Verband and sired many approved stallions outside of the Netherlands. Ferro's offspring are beautiful, with elegance, presence and talent for sport. They tend to have excellent toplines, a lot of room in the trot, excellent use of the hind legs, fine elevation, and excellent overall confirmation suitable for the upper levels of dressage.
When a Dutch horse competes in the Olympics, they are given the title Olympic, which goes in front of their names. Ferro received his title upon competing in the 2000 Olympics that were held in Sydney. He was ridden by Coby van Baalen for the Dutch team and won team silver medals, finished fifth individually and fourth in freestyle and he had an individual score of 74.92%. As a three-year-old he was champion of his performance test at Ermelo, where he achieved the outstanding results of 6.5--step, 8.5--trot and 8.5--gallop.
During his career Olympic Ferro won many Grand Prix and Grand Prix Specials. He is renowned for consistently achieving high scores for piaffe and passage. The KWPN awarded Olympic Ferro the "Keur" predicate in 2000 and the "Preferent" predicate in 2004. Olympic Ferro held the #1 position of the BN World Stallion Rankings late into his career and maintained an outstanding dressage index of 153 with the KWPN, boasting an impressive 87% reliability index. Olympic Ferro was also valued for his jumping influence with over 111 points in the KWPN's jumping index and an 80% reliability factor. On the 2009 WBFSH dressage stallion standings, Olympic Ferro is in 8th place.
Samber was the first and only pinto approved by the KWPN. In 1979 he passed his 100 day performance test with an overall of 160.2 points, which gained him an A pass. He successfully competed at ZZ level in dressage and Z level in jumping. His success wasn't an accident. His sire was Pericles, Ster, Keur, Preferent, Kern, Super-Premium, one of the KWPN's most influential, English bred, foundation Thoroughbreds. He was one of the few Thoroughbreds to receive Preferent status and sired over 2600 progeny. His offspring made excellent sport horses that excelled at both jumping and in dressage. While Pericles was best known as a dressage sire, he did some racing and jumping late in his career. In all he sired 12 approved KWPN stallions including Samber and is the maternal grandsire of Ulft.
On Bonita's Barock Pinto side of her pedigree, her dam is Carmen who is sired is Willem van Nassau (Bonte Willem) and out of Sierdsche, a Friesian studbook mare. Bonte Willem is sired by the Friesian stallion Adel 357 who competed at Grand Prix level dressage. Bonte Willem's dam is Pepper, a KWPN Dutch Warmblood mare by Clavecimbel Keur, a Dutch Warmblood stallion, out of Jasmijn Keur, Prestatie a Dutch Warmblood mare. Bonita's pedigree also includes Friesian stallions such as Ludse 305, Djurre 284, Wessel 237, and Naen 264 as well as many Ster, Model, and Preferent mares.
Additional Details
Sire
Ringo (aka Goshka Ringo) KWPN Dutch Warmblood
Dressage Showing Level
Not Showing
Eventing Showing Level
Not Showing
Contact Seller
Owner/Trainer:
Farm
Top Hat Friesians & Barock Pintos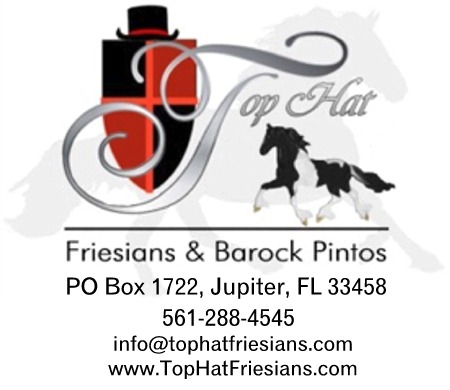 Top Hat Friesians & Barock Pintos
Breeders of Barock Pintos and Friesians. Home of Picasso's Masterpiece, Barock Pinto Stallion.
Bloodlines
Sire
Sire
Ringo (aka Goshka Ringo) KWPN Dutch Warmblood
Sire Sire
King KWPN Dutch Warmblood
Sire Dam
Lianne KWPN / NWP Stb Ster
Sire Sire Sire
Purioso - Oldenburg, Keur
Sire Sire Dam
Wanda-KWPN-Keur,preferent,prestatie
Sire Dam Sire
Olympic Ferro -KWPN Dutch Warmblood -Preferent
Sire Dam Dam
Cindy - KWPN Dutch Warmblood
Dam
Dam Sire
Willem van Nassau KWPN Barock Pinto
Dam Dam
Sierdsche Friesian Stb
Dam Sire Sire
Adel 357 - Friesian Stb Sport
Dam Sire Dam
Pepper - KWPN Dutch Warmblood
Dam Dam Sire
Djurre 284 - Friesian - Stb
Dam Dam Dam
Hermke - Friesian - Stb Ster