Hope SPORT
Gorgeous 2nd level SPORT SCHOOLMASTER mare! This mare has it all! Super safe, easy to ride, great for showing, lessons and trail- she does it all!
Wow! We are so excited about this VERY special 2nd level, experienced, beautiful SPORT SCHOOLMASTER mare. Hope is 12 years old and has the experience that everyone is looking for both showing and on the trails. We feel very lucky to be offering such a special mare to our clients. It is evident that she was trained the right way and her owner really took her time with Hope's training. This is a horse you will feel 100% safe on and will bring you years of happiness. You can take her to horse shows, clinics and then on trails through the forest. She is a horse can always feel relaxed on and have so much fun on! Hope has been shown by an amateur and ridden by all different types of riders. She is not spooky and very safe. Her movement is very good for dressage and she is VERY smooth! She has lots of suspension and elasticity. She feels like a comfy couch to ride. She is supple in the bridle, moves off the leg very well and is doing great lateral work. SPORT mares with this quality, training and temperament are few and far between these days.
Hope SPORT was imported from the Netherlands in 2017. Since being in the states, she was owned by a lovely amateur rider. She rode her and showed her through 2nd level dressage with excellent scores. She was under the direction of world famous dressage trainer, Julio Mendoza. Her owner had a blast showing and taking her lessons on her! Hope's pedigree makes her very attractive for any breeding program, and her training, quality, and experience makes her a remarkable competition horse. She is really a jack of all trades! Hope has an EXCEPTIONAL motherline- about the best you could find. Her mother is famous in the Netherlands and is KROON+SPORT+PREST AA- WOW- She really has all of the credentials. Her mother-line is unbroken: KROON+SPORT+PREST AA- KROON+SPORT+PREF+PREST*5-STER+PREF*6-MODEL+PREF*7. Hope's father is the incredible Grand Prix Friesian Stallion, Tietse 428. Hope has had 3 beautiful babies with seamless pregnancies.
This mare fits the needs of many. She is wonderful for dressage, the perfect teacher and trail partner, and a lovely breeding mare. She loves her people, and would make a great horse for an amateur wanting to work their way up the levels, and just to have fun on. Hope has a great personality. She is mellow in character and easy to ride. She is a solid mount and will teach you. Another reason why we love riding her is because she is very laid back, but when you ask for more, she steps it up! She is the perfect blend of forward and safe. Hope has a really great attitude and work ethic, also perfect ground manners. She really is a sweetheart.
This very special mare is ready to make someone a life long companion and will not last long!
Another thing we really like about Hope is her very unique look for a mare. Hope is very baroque look about her with a very pretty head and neck. She has kind, sweet eyes. She stands at 15.3 hands and is a great age of 12. Hope is also double registered! She is registered with the Barock Pinto Studbook, and has a STER SPORT designation with them.
Additional Details
Dressage Training Level
3rd Level
Dressage Showing Level
2nd Level
Contact Seller
Owner/Trainer:
Farm
Friesian Marketplace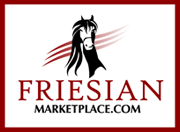 Friesian Marketplace
At Friesian Marketplace we specialize in selecting and importing the highest quality friesians for sale. Our focus at Friesian Marketplace is to match clients only with the perfect friesian for their needs. Our emphasis is on our clients and their needs rather than the volume of friesians sold. We rely on our REPUTATION, and have hundreds of happy customers, please check out our remarkable testimonials! We keep a variety of the highest quality friesian horses for sale at our facility. If your passion is dressage, driving, saddleseat, western, or you are looking for the perfect companion to enjoy and trail ride, we can help you find your dream horse! We have friesians for sale for every equestrian enthusiast! We have a selection of many friesian geldings for sale, friesian mares for sale and friesian stallions for sale. We have a huge variety of english, western, and trail Friesians for sale.