Joris STER+ SPORT ELITE
---
For Sale
---
Joris STER+ SPORT ELITE
UNBELIEVABLY TALENTED and RARE opportunity to own a Fairytale 9 year old PSG Schoolmaster gelding! STER+ SPORT+ELITE
OPPORTUNITY of a LIFETIME! One of the MOST talented and well rounded Friesians that we have EVER offered at FMP!  Not only is this horse absolutely Gorgeous, he is athletic, kind, and a DREAM HORSE to ride! This is the BEST of the BEST and Friesian Marketplace now has him for sale. These horses are near impossible to find! Not only is Joris extremely athletic and holds the most prestigious title of STER+ SPORT+ ELITE but he is also a schoolmaster and suited for any type of rider!  This makes him very special!  This horse is in the higher price range but if you can afford him you will NEVER regret this decision! DREAM HORSE OF A LIFETIME!
Meet Joris STER+SPORT ELITE , Stunning, Polished, PSG Schoolmaster! Absolute DREAM HORSE! 
Are you looking for a Friesian in the higher levels that can compete with the warmbloods? Are you wanting to learn the flying changes? Are you looking for a horse that has all of the buttons that will teach you- safe enough for your kids or even your grandma? Joris STER+SPORT ELITE is your boy. This incredible Friesian is doing beautiful flying changes every 3rd and 4th stride. You think it, he does it! His flying changes, canter pirouettes and lateral work really are unbelievable. He is a real schoolmaster and exceptionally beautiful! High quality gaits, smooth to ride, balanced and light to the aids. This is a horse you can go all the way on! He has a proven show record- even earning his SPORT ELITE title. Joris one of the few horses in the world that have obtained the SPORT ELITE status. Joris obtained the SPORT ELITE from scoring 5 times over 60% in PSG dressage. In 2019, Joris also won Champion of the Netherlands with the Friesian horses in Z2 dressage. He is now ready for Intermediate I.
Another reason we love Joris is because he is suitable for many different levels of rider. He does not require an experienced dressage rider, but he will step it up if this is you. He is sensitive to the leg if you are asking, but will also trot along quietly with the more beginner rider.  He is safe enough for a child or very timid rider. He has a heart of gold and will take care of you and make you always feel safe and secure. He has been to the beach and on many trial rides. He is versatile- he loves dressage and loves to trail ride. He really checks all of the boxes and someone is going to have so much fun on him. He is just beautiful with long curly hair. He has such a presence about him. Whoever gets this awesome boy is going to be the luckiest person in the world!! Joris is a great age of 9 years old. He as already accomplished so much in his life yet with lots of wonderful to years to go. Joris is amazingly beautiful and has such a presence about him. This boy is perfect in EVERY way!
Joris is a big boy, standing at 16.3 hands- but is a real gentle giant. He is never pushy and has great ground manners. We cannot say enough good things about this boy! This boy is really special- he is truly a once in a lifetime kind or horse. Joris is going to make someone's lifetime DREAM come true! 
Additional Details
Name
Joris STER+ SPORT ELITE
Dressage Training Level
Prix St. Georges
Dressage Showing Level
Prix St. Georges
Contact Seller
Owner/Trainer:
Farm
Friesian Marketplace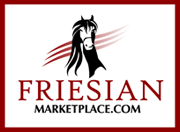 Friesian Marketplace
At Friesian Marketplace we specialize in selecting and importing the highest quality friesians for sale. Our focus at Friesian Marketplace is to match clients only with the perfect friesian for their needs. Our emphasis is on our clients and their needs rather than the volume of friesians sold. We rely on our REPUTATION, and have hundreds of happy customers, please check out our remarkable testimonials! We keep a variety of the highest quality friesian horses for sale at our facility. If your passion is dressage, driving, saddleseat, western, or you are looking for the perfect companion to enjoy and trail ride, we can help you find your dream horse! We have friesians for sale for every equestrian enthusiast! We have a selection of many friesian geldings for sale, friesian mares for sale and friesian stallions for sale. We have a huge variety of english, western, and trail Friesians for sale.