Madonna
LIMITED BREEDING (EMBRYO TRANSFER TO RECEIPTANT MARE ONLY) CONTRACT. Madonna is being sold with a very specific contract regarding breeding. I will allow her to be used for embryo transfers, however, she is not to carry a foal to term. She rejected her first foal and because of that she should not be bred in the future because it will probably happen again and I don't want her, or anyone who owns her, to go through what I went through when she foaled out. Her first foal is amazing and she produces quality offspring, and that's the only reason I'll allow her embryos to be flushed and put in a recipient mare. She will make an excellent show or trail horse once trained. Price reflects that she will never carry a foal to term and never give birth again and the fact that she's not under saddle yet.
See the details on our website at Top Hat Friesians dot com.
KWPN REGISTERED PART BRED FRIESIAN, HOMOZYGOUS BLACK
68.75% Friesian Blood and 31.25% Dutch Warmblood (IDS VAN GOGH x REBEL)
Sire: Ids Van Gogh Dam: Nikita Height - 16.1 hands
Born 4/09/2016
Lissa's Madonna THF is registered at the KWPN. She was DNA tested to be homozygous black. She loves people and has an "in your pocket" personality. She learns quickly and tries her best to please. She was born on our farm and hasn't been backed yet, although she was tacked up and started in work prior to her pregnancy. We planned to use her as a broodmare due to her outstanding pedigree, however, due to her rejecting her first foal, she will be sold with a NO BREEDING contract to someone who will either show her or use her as their personal horse once trained under saddle. Her low price reflects the fact that she isn't under saddle and that she is not to be bred in the future.
About Madonna's Sire:
Strength and beauty, athleticism and grace. Ids Van Gogh is a KWPN registered Barock Pinto stallion with a thick, long mane and tail, a beautiful arched neck and strong top line of the Friesian. He is naturally well muscled and was 16.1 hands when we sold him. He has excellent conformation like the champion Dutch Warmbloods in his pedigree and the sport movement that will make him an excellent prospect in dressage. This boy glides at the trot, has a big extension, fantastic suspension and does flying lead changes in the pasture just for fun! He is also a jumper prospect and has natural jumping ability. He is an all around athlete that will excel in any sport. He has great freedom in his shoulder and powerful hindquarters. He is very intelligent and a quick learner. At the 2013 BPS Central Inspection keuring in the Netherlands Ids was Champion of the entire keuring, Foal Grand Champion and earned a 1st premie, which isn't surprising for this stamline 50 approved stallion candidate who scored 46.5 points. We expect Ids to be between 16.3 to 17 hands as an adult. Ids will excel in a show home with an experienced stallion handler or in a show home as a gelding. This boy definitely has showstopper presence and the intelligence and sport ability to take him to the top levels of any equestrian sport!
Ids Van Gogh's sire is Bontefire M (Samber x Ico Sun x Pericles). Bontefire is a stunning homozygous tobiano stallion with outstanding Warmblood breeding. At his inspection it was said that he exhibits quality confirmation and movement. He has a rich predicate dam line. His sire is the one and only Samber.
Samber was the first and only pinto approved by the KWPN. In 1979 he passed his 100 day performance test with an overall of 160.2 points, which gained him an A pass. He successfully competed at ZZ level in dressage and Z level in jumping. His success wasn't an accident. His sire was Pericles, Ster, Keur, Preferent, Kern, Super-Premium, one of the KWPN's most influential, English bred, foundation Thoroughbreds. He was one of the few Thoroughbreds to receive Preferent status and sired over 2600 progeny. His offspring made excellent sport horses that excelled at both jumping and in dressage. While Pericles was best known as a dressage sire, he did some racing and jumping late in his career. In all he sired 12 approved KWPN stallions including Samber and is the maternal grandsire of Ulft.
Samber's dam was Tina D, KWPN Ster, Preferent, Prestatie mare who produced 19 foals, many of which also obtained Ster, Keur and Prestatie status. Once of which was Wanda, who is also King's dam, the grand dam of Ceasar, Ce-Celia's sire. While Samber didn't sire any KWPN approved sons, he was popular in Germany and there he sired the approved stallion Sambucco B and a full sister Evelien. Bambucco B passed on Samber's genes to no less than nine approved stallions in Germany. Samber also sired Sambertino, Art Deco, and Karel. One of Samber's daughter was the dam of the famous Ed King Hill who had a successful show jumping career prior to tearing a tendon and having to be put down at the age of twelve. He left behind two approved sons and gained Prestatie status through his progeny. One of most famous successful descendants of Samber to date is the International show jumping sire "Utah Van Erpekhom" Landetto x Calemiro x Samber) who jumps with John Whitaker.
Bontefire's dam is Ramoro (Ramoro Z), KWPN Preferent, who was sired by the famous Ico Sun (Daz, F). He was one of the few colored stallions to compete in show jumping (he was known as Daz when owned and shown by John Whitaker) in the UK and at the national level in Holland, where he currently stands at stud. Ico Sun's sire is Ico (Adeldom), also an international show jumper. Ico is known as "the jumping sire" with a jumping index of 108, which is well above average. He bred Nekoma who jumped in the Achen Grand Prix at just six years old.
Ids Van Gogh's dam is Lobke K., a Friesian Ster Mare. His dam sire is Feitse 293 Preferent, whose sire is Jochem 259 who was sired by Mark 232. Ids Van Gogh's pedigree also includes the Friesian stallions Dirk 298, Hearke 254, Wessel 237 and Bjinse 241, as well as many Ster, Model, and Preferent mares.
About Madonna's Dam:
Nikita has a kind and gentle disposition and has a desire to please. She was imported from Denmark as a weanling along with Picasso and Eike. She's lived with Picasso since they were both four months old. Nikita has a wonderful temperament and is the peace keeper in the herd. She gets along with everyone. She's being started this year as a five year old. She's happiest when spending time with people and being outside. While some of our horses prefer being in the barn, Nikita would rather spend her time in the pasture and if you're out there with her, even better! At her ECHA-ESV keuring in Denmark, Nikita scored very well: Correctness: 8.0, Movement: 8.5 Overall impression: 8.0, Total: 41.5 Total Points. We have also dually registered Nikita in the USA with the Friesian Sporthorse™ Association in the Main Studbook.
Within Nikita's pedigree you find Samber on the sire's Warmblood side and such notable Friesians as Oege 267, Brandus 345, Rypke 321, Feitse 293 and Hearke 254 on her dam's side. Oege 267 is known as "The Hair Man" in the Friesian world because his offspring tend to have the thick long manes and tails that he was famous for.
Additional Details
Sire
Ids Van Gogh Barock Pinto
Dressage Training Level
Prospect
Dressage Showing Level
Not Showing
Driving Experience
Prospect
Terms
NO BREEDING contract with right of first refusal
Contact Seller
Owner/Trainer:
Farm
Top Hat Friesians & Barock Pintos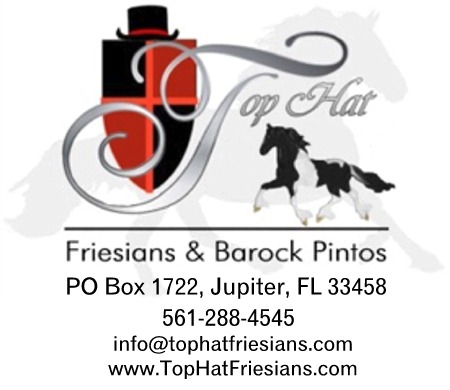 Top Hat Friesians & Barock Pintos
Breeders of Barock Pintos and Friesians. Home of Picasso's Masterpiece, Barock Pinto Stallion.
Bloodlines
Sire
Sire
Ids Van Gogh Barock Pinto
Sire Sire
Bontfire M. KWPN Dutch Warmblood
Sire Dam
Ramoro (Ramoro Z) KWPN Dutch Warmblood Vb Pref
Sire Sire Sire
Pericles - TB Ster, Keur, Preferent, Kern, Super-Premium
Sire Sire Dam
Tina D - KWPN, NWP Stb Ster, Preferent, Kern
Sire Dam Sire
Ico Sun (Daz, F) - KWPN / AES Dutch Warmblood
Sire Dam Dam
cIco Sun (Daz, F) - KWPN / AES Dutch Warmblood
Dam
Dam Sire
Rebel (Barock Pinto)
Dam Dam
Teresa (Friesian)
Dam Sire Sire
Bart - Barock Pinto
Dam Sire Dam
Tiea - Friesian Stb
Dam Dam Sire
Brandus 345 - Friesian - Stb
Dam Dam Dam
Teresa T. Friesian