Rintje SPORT
GORGEOUS Baroque, Been there done that 9 Year Old Gelding! SPORT Predicate- Z-Level Dressage!
Are you in search of a been there, done that GORGEOUS FAIRYTALE horse that you can learn on? A horse that has smooth gaits, is not spooky, phenomenal training and is such a sweetheart! Meet Rintje! Rintje is a 9 year old, TALL Baroque Friesian gelding standing at 16.1 hands. He is a real gentle giant! He is very easy to ride because he is very forgiving plus he has wonderful smooth gaits. He LOVES to please his owner- and will do anything for you. We also love Rintje because he is not spooky! He is very brave and will lead the way while trail riding!
Rintje earned his SPORT predicate in Holland showing Z- Level dressage (3rd level without the changes.)
He is the horse of your dreams. He does all his moves very easily. You think it- he does it. This boy is a schoolmaster. Rintje is the ultimate fairytale dream horse! He is not a spooky kind of horse and will teach you! Rintje has tons of competition experience and scored very highly while competing in Holland. He has been so successful throughout his career and now he is ready to teach you.
Rintje has the fairytale look that EVERYONE wants. He is an absolute dream horse! Rintje is the perfect age of 9 years old. This is a great age because he has been there, done that and has lots of life experience. Rintje is also as sweet and loving as they come.
Rintje has excellent breeding. His father is the approved Sport stallion, Wolfert 467 SPORT AAA. He has excellent bloodlines!
Rintje is a once in a lifetime, fairytale, best friend for life, knock your socks off kind of horse. A horse for everyone and a REAL dream come true! We are so excited to offer such a high quality, dream horse with a phenomenal temperament to carry all types of riders. Rintje has had a thorough vetting and is approved for sport on his recent X-Rays.
This boy checks off ALL the boxes for a perfect partner and a DREAM COME TRUE! These types are extremely hard to find and rare to find such a beautiful BAROQUE real friesian look! Call us asap on this amazing horse he will not be for sale for long!
https://vimeo.com/772798897
https://vimeo.com/769217633
https://vimeo.com/770952310
Additional Details
Dressage Training Level
3rd Level
Dressage Showing Level
2nd Level
Contact Seller
Owner/Trainer:
Farm
Friesian Marketplace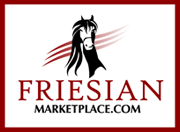 Friesian Marketplace
At Friesian Marketplace we specialize in selecting and importing the highest quality friesians for sale. Our focus at Friesian Marketplace is to match clients only with the perfect friesian for their needs. Our emphasis is on our clients and their needs rather than the volume of friesians sold. We rely on our REPUTATION, and have hundreds of happy customers, please check out our remarkable testimonials! We keep a variety of the highest quality friesian horses for sale at our facility. If your passion is dressage, driving, saddleseat, western, or you are looking for the perfect companion to enjoy and trail ride, we can help you find your dream horse! We have friesians for sale for every equestrian enthusiast! We have a selection of many friesian geldings for sale, friesian mares for sale and friesian stallions for sale. We have a huge variety of english, western, and trail Friesians for sale.