SF Symphony
Rheinland Pfalz Saar Intl. -
Branded and Microchipped RPSI German Riding Pony
Stays in size as a large pony - lovely mover ready to go on in dressage or over fences who is also trail ridden through all kinds of terrain. This mare is solidly started yet green - would be suitable for a junior or amateur who has a trainer to help further her training.
Sound and sane - raised on 4,000 acres of prairie hills and valleys, with time spent in the barn as well to prepare for a career - 100% professional handling from day one. See more at www.solomonfarm.com
Additional Details
Breed
Rheinland Pfalz Saar Intl.
Sire
Smoke Tree Snapdragon
Dressage Training Level
Prospect
Dressage Showing Level
Not Showing
Driving Experience
Prospect
Eventing Showing Level
Not Showing
Contact Seller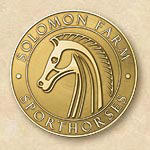 Solomon Farm
Solomon Farm is located on 4,000 acres of dramatic hilly prairie in the White River valley of west central South Dakota -- land made for raising horses! We raise superb quality Westfalen horses and German Riding Ponies -- our foals regularly top the nation in their keuring scores, and are raised with thousands of acres to run, as well as time spent in the barn, learning to be real partners. Our breeding program includes a variety of performance proven stallions both by fresh and frozen semen. On farm we stand Novalis (Jus de Pomme x Ramiro), and Welsh Section B sport pony stallions Smoke Tree Snapdragon (Bunbury Jamboree x Smoke Tree Spun Gold). Solomon Farm offers young horse raising packages, and we can help you find a shipper.
Bloodlines
Sire
Sire
Smoke Tree Snapdragon