Valiant Pleasure WM
---
For Sale
---
Valiant Pleasure WM
Registered Name: Valiant Pleasure WM
Barn Name: Valley
Registry: Belgian Warmblood
Date of Birth: May 22, 2021
Expected Mature Height: 16.3-17 hh
Colour: Bay
Valley is an exceptional yearling colt, by the exciting young stallion, Quidam's Pleasure [For Pleasure x Quidam de Revel x Cassini I], out of our promising young mare, Royal Cornelia WM [Conquest van de Helle x Beaulieu's Quissini x Phantast]. We expect him to have a very bright future in the big hunters, of course he is also bred to have all the scope of a top jumper as well!
Valley is a pleasure to handle, stands "tied" for his hooves to be trimmed, comes to be haltered, leads perfectly and loads in the trailer and hauls by himself like a dream.
Dam, Cornelia, is a fantastic young mare, with exceptional athleticism, trainability, movement and jumping style. She is a heavier boned, yet still modern, long legged horse with great, strong conformation. Cornelia's dam, Quartz Rouge, is excelling in sport as a junior hunter, also an incredibly easy and athletic mare, having jump schooled to 1.50 m with her junior rider, with hack-winning movement to top it off. Cornelia's grand-dam, Phiesta, competed to 1.35 m and has produced numerous hunter prospects. Cornelia's sire, Conquest van de Helle, was the champion of the 2005 Belgian stallion approval. His sire, Corrado I, is world renowned as a top sire and grand prix sport stallion, having produced numerous approved and highly sought after sons and grandsons, such as Clinton, Corofino I, Coronado and Cornet Obolensky, with over 95 progeny competing at international level.
Sire of Valiant Pleasure WM, Quidam's Pleasure, has complimented Cornelia so fantastically in their first breeding, we made a full sibling for 2022, a filly named Wilhelmina WM. Quidam's Pleasure is a modern type stallion, he exhibits lightness, balance, carefulness and quick reflexes. He is a young, very promising stallion, with exceptional bloodlines for our sport.
Quidam's Pleasure's sire is none other than the great For Pleasure, a stallion with an exceptional international career. He was on four gold-medal-winning teams for Germany; two Olympic Games (Atlanta 1996 & Sydney 2000, he also finished 4th individually), and two European Championships, at Hickstead in 1999, where he was 5th individually and Donauschingen in 2003. In Donauschingen he won individual bronze, the first ever individual medal for Marcus Ehning. He also won gold and silver medals at the German National Championships. His career earnings totaled over 1.8 million euros, ahead of Milton, and his offspring have won well over 2.5 million euros among them. For Pleasure's offspring speak for themselves. He has produced more than 80 grand prix jumpers, with 18 of these being licensed stallions; a total of 70 sons of For Pleasure sons have been approved by various studbooks. Some of his most famous offspring include Fit for Fun, Barron, Flora de Mariposa, Firth of Lorne, Epleaser vt Heike, Ornellaia, For Joy vt Zorgliet, Hello Forever and Funky Fred.
Quidam's Pleasure's dam, Greetings from Quidam – Stamm 7126 , is a direct daughter of the legendary, Quidam de Revel. Quidame was imported from Belgium in 2009. Quidam de Revel is without a doubt one of the most influential stallions of all time, with offspring such as Tlaloc La Silla, Nabab de Reve, Guidam, Verdi, Cirka de Blondel, Quibelle, Quel Homme etc. Grand-dam, Charisma de Sjiem, is a mare with incredible genetic potential through Cassini I and Caretino, two of the world's best jumping horse progenitors.
$17,500 CAD plus GST (applicable to Canadian residents only)
Additional Details
Registries
Belgian Warmblood (BWP-NAD)
Contact Seller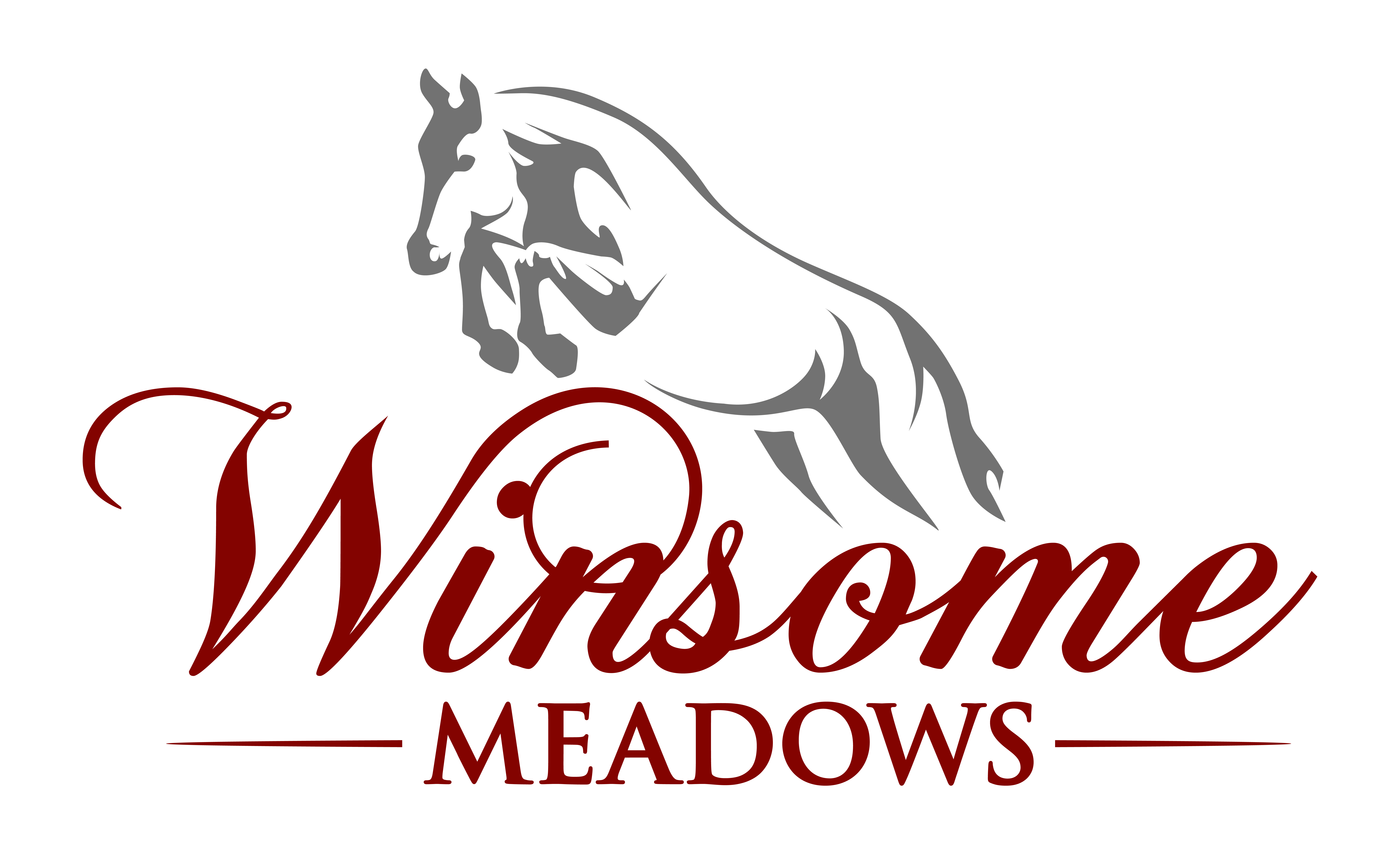 Winsome Meadows
Established in 2016, we are a family run boutique breeding and training farm in the Nicola Valley of Beautiful British Columbia, Canada. Our goal is to produce only top quality foals that have a place in the world from the time they are an embryo through to retirement. We care deeply about the homes we place our horses in and will accept any of our horses back to Winsome Meadows for any reason, at any time. We have several older broodmares, as well as Bridgette's retired show horses that happily reside here alongside the new comers each year. To ensure we counterbalance our reproduction endeavors and give back to the equine world, we also enjoy rescuing local feral horses. These horses are affectionately referred to locally as "Wildies" and we enjoy gentling them, foaling out if they are pregnant, and giving them the training needed to place them in great homes. Many of the Wildies we bring in are beautiful hunter or jumper types and fit well into our program. We firmly believe in our values, mainly that horses are in a position of dependence on us, and so in everything we do, their needs, health and well-being must come first and be at the forefront of our minds at all times. We hope to be able to help you find your future horse, whether it be from us or one of our partners. We welcome you to the Winsome Meadows family!
Bloodlines
Sire
Sire Dam
Greetings from Quidam
Sire Sire Sire
Furioso II
Sire Sire Dam
Dame de Ranville
Sire Dam Sire
Quidam de Revel
Sire Dam Dam
Charisma de Sjiem
Dam
Dam Sire
Conquest van de Helle
Dam Dam Sire
Beaulieu's Quissini