Zenia
Zenia is a beautiful mover, very floaty and refined. 15.3, 13 yr old. She's training first level dressage but also has experience as a talented jumper. An intermediate or advanced rider is recommended because she's a sensitive type. On-property lease only at LAEC.
Additional Details
Dressage Training Level
1st Level
Dressage Showing Level
Training Level
Jump Level
Level 5 (4ft 0in)
Terms
Lease must be on-site
Contact Seller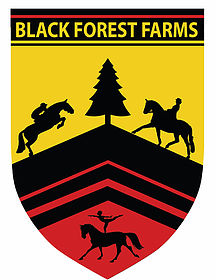 Black Forest Farms
Biggi Bree Krebel grew up in a German sport horse family specializing in Pony Club, Jumpers, Dressage, Vaulting, Parades, Drill Team and Fox Hunting. ​ Her family founded the first horse show administration company in the southern region of Germany in 1982. If she wasn't competing, she was working the horse shows. Her dad served as President of the Pony Club as well as regional horse show clubs for many years. ​ Biggi Bree Krebel successfully competed in Dressage and Jumpers leaving Germany to move the UK with a LK 2 in Springen (Jumping) and LK 4 in Dressur (Dressage). She has won many championships including bareback jumping and was crowned "Athlete of the Year in her region in 1989. She holds the "Reiterabzeichen" - certification from the FN Germany. ​ She has a vast experience from showing, training to German stallion and mare breed approvals as well as long lining, trick horse training and special events, including the Pro Am Costume Class for the Longines Masters Los Angeles in 2015 and 2016. . She also serves as Executive Director during the past two decades, for a charity serving at-risk children and rescued horses. ​ Proven clinician, licensed USEF Technical Delegate as well as acting as a horse agent. She is a California Jockey Club licensed exerciser and holds two Risk-Management and Safety certifications. Specializing in the bio-mechanics of the rider and working with problem horses. Her passion is in rehabilitation, improving the quality of life in horse and rider as well as horsemanship 360. She is a Reiki Master since 2000. ​ Biggi Bree Krebel holds both the German and the Us citizenship since 2009. ​ She is a member of the USEF, USDF, CDS, AVA, California Jockey Club and the German FN. ​ She is available for individual consultation on horse sales, training and for any on or off-site clinics.