2020 IN UTERO GRAND SLAM VDL/ZAPATERO/INDOCTRO
---
Sold
---
2020 IN UTERO GRAND SLAM VDL/ZAPATERO/INDOCTRO
SALE PENDING! Grand Slam has a dream pedigree with top jumping stallions. Cardento father took part in World Championships, European Championships and Olympic Games and is ranked high in the world rankings for sires with progeny such as Nice Stephanie and Cafino. Grandfather Heartbreaker is also among the top sires and third stallion in the pedigree we see Mr. Blue, itself successfully at the highest level and sire of jumping horses like Simon and Zirocco Blue. The fourth and fifth in line, we see the "Stallion of the Century 'Nimmerdor and performance inheriting thoroughbred stallion Erdball xx. They are responsible for many sport horses such as Apollo, Just Malone, Gold Bridge, Heartbreaker, Maple etc.
Mother Wonder A.S. also brought the approved stallion VDL Dallas. Great-grandmother is the preferred performance mare Bonnette, she took the Grand Prix jumper Annette and another 1.35m jumper. Bonnette is a full sister of the international showjumper Drummer.
Grand Slam is a complete stallion with a center of excellence that shows with his technique, reflexes and power. Grand Slam achieved the highest score ever achieved with a total of 90 points in a performance test and was the clear Champion. For jumping technique and reflexes Grand Slam was a 9½ and for jumping ability, rideability and attitude and talent as a jumper he got a 9 for canter and the attitude and balance he got an eight.
The first foals of Grand Slam look good. They are appealing foals with a good type and good movements. They gallop with a lot of balance, power and space. Daughter Kiverna was honored as Champion of the CK Zealand. On the CK Groningen there was a third place for Khan and a fourth place for Kalimba in the finals for the Championship for jumping foals.
Dam, Josefina KF, is by Zapatero out of an imported Indoctro/Nimmerdor mare that competed to 1.40.
As a 3-year old Zapatero was Reserve Champion at the Stallion inspection and as a 4-year old he was Reserve Champion in the Stallion Competition at 1.10m level. Three years later, Zapatero was a finalist in the Dutch Championship for 7-years old Jumpers, and 2nd in the finals of the Youngster Tour at Geesteren.
Ridden by Jessica Kürten, Zapatero won the GP of the KWPN Stallion Show 2015 and the VHO Trophy in 2013. They had amazing results like 6th in the GP Ebreichsdorf, 7th in the Championat of Salzburg, 8th in the GP Oliva and 10th in the WC Zürich.
Then ridden by Robert Vos, Zapatero won the Medium Tour Final in Wierden, won a class at CSI De Wolden and they were 7th in the Championat von Kiel.
Zapatero's offspring have attracted attention in the show ring. They exhibit reflexes, technique, attitude and scope. The first offspring are competing at Grand Prix level.
Datero placed 6th in the Grand Prix Knokke, Dyango VDL was 5th in the GP Treffen and 6th in the GP Vestfold. Ziro Percent was 4th in the GP Ising am Chiemsee and Don Juan H won the Nations Cup of Ciekocinko. Fascinating Fortuna won classes for 7 years olds in Valkenswaard and Opglabbeek. DHI Zulu won a 7 years old class at Zuidwolde.
Also high placed at international shows were among others: Datero H, Eppo G, Ellie 14, Enfant de Kimosa, Ecinthe VDL, Faroso W, Fascinating Fortuna, Fleur, Joe Zapatero etc.
Fernando V was Reserve Champion at the World Championship for 6-year old jumpers. Elrito was 2nd in the Young Jumpers Championship for 7-year olds of the American West Coast, as a 5 year old he had placed 3rd. Eldorado won the Cavan Indoor Championship for 6- & 7 year olds in Ireland. Eesebelle was Dutch Champion for 5-year-olds in 2014 and Das Mooi Man was Champion of the 5-year olds and the 6-year olds of the American West Coast Jumper Series. Maximus won the Championship for 5-year olds of the American East Coast. Dillandra won the 2013 Championship for 5-year olds of the American East Coast. In Belgium, Donna was named Champion of the 4-year olds in 2013.
Zapatero's son, Flying Dream, is a KWPN approved stallion and was Champion of the KWPN 70-Day Stallion Test.
The descendants of Zapatero are also being sought at several auctions: VDL Freedom LAN sold for $175.000 at the WEF Sport Horse Auction, Egmond W sold for € 80.000 in the Wolden Summer Sale 2015, Fascinating Fortuna sold for € 68.000 and Zapco of the 2 Notes Z sold for € 58.000 in the Dutch Sport Horse Sales 2015. In 2014, Ferimain TH was one of the top-sellers of the DSHS for €  235.000.
Additional Details
Name
2020 IN UTERO GRAND SLAM VDL/ZAPATERO/INDOCTRO
Registries
KWPN-NA REGISTRATION INCLUDED IN PURCHASE PRICE
Terms
25% Deposit Holds Foal, 50% due at well foal check, 25% due at weaning
Contact Seller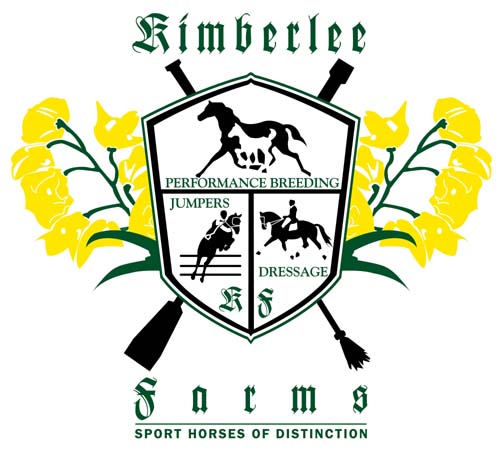 Kimberlee Farms
2014 KWPN-NA Breeder of the Year. Silver Level Breeder of Dutch warmbloods for over 30 years. Multiple national champions and top fives.
Bloodlines
Sire
Sire Dam Sire
Heartbreaker