Anne VL STER
visit our website https://www.blacksterlingfriesians.com/
INCREDIBLE LONG Haired Fairytale Mare For Sale at visit our website
VL Ster (contingent on IBOP), Full Pedigree, Will Give you a Foal in MAY worth more than 1/2 her purchase price!
Height: 16.1 hands
We hardly ever find STER mares with hair THIS LONG, and when we do, they just don't last!
Ideal age of 6 yrs
RINDERT X the KING himself, JASPER (probably where all her immense mane comes from). Anne is confirmed in foal to the hot newly approved stallion in Europe, Fryso 518, and will give you a foal worth 16-20k in the end of May, 2023!
This gorgeous gal is provisionally STER, the Dutch Judges were SO impressed with her conformation and movement, they declared her STER contingent on her completing an IBOP test w/ sufficient scores. An Ibop will be no problem for this gal, she is currently winning in 2nd level dressage and has the winning points to PROVE it!
What more could you ask for---mane reaching to her knees, and......Ideal age of 6
Show record competing in 1st-2nd level dressage and consistently scoring above 65%
Pregnant by an approved stallion that is VERY DESIREABLE in the U.S.!!
165 cm, which translates to her measuring 16.1 hands TALL
L2 Dressage (1st/2nd level) with 12 points, which is excellent 3rd party verification this horse is doing what is required in dressage and consistently scoring above 65% in front of numerous Judges in numerous settings
GREAT price on a full pedigree ster mare, only 6 yrs old, full papered with unbroken ster predicates in motherline, and confirmed in foal to an approved stallion that is in Europe!
You really can't go wrong with this 6 yr old pregnant friesian mare for sale---as she is so very well trained, has an extensive show record, is confirmed in foal, and is a real "in your pocket" sweet demeanor mare.
Anne's motherline is EXCELLENT:
STER-STER+PREF-STER+PREF
Bday 4/3/16
Low 3.71% inbreeding
We are SOOO excited about the Fryso 518 foal Anne has in her belly, because Fryso gets "8's" for propulsion! Anne and Fryso should be quite a match for creating one special foal! Fryso 518 is a Hessel 480 x Jisse 433. We LOVE Fryso 518 because he comes out of Star mare, Marrit van de Pôle ( by Jisse 433), and his granddam is Star mare Aukje A (by Anton 343), followed by a Preferent Doeke 287 daughter. Fryso is a strongly built, light-footed horse. He always gives his best effort and is super easy to work with. Fryso achieved an average point total of 81.8 during the CO in 2020! Mating advice: We choose him to beed with the tall LONG haired well trained Anne because he can improve the conformation of this mare; Fryso himself has nicely muscled loins and his croup is of good length with the very desired position!
Buy Anne NOW, before she completes her IBOP test with high enough scores to become permanently a FULL PEDIGREE Ster mare, as 6 yr old full pedigree ster mares with extensive show records in 1st-2nd level dressage, in foal to an approved stallion in Europe, typically sell for 5k MORE than Anne's current price. Buy her NOW, before her price increases!
Anne is $32,900 delivered to NY. Currently Chicago is $800 more, and LAX is $2300 more than NY (airfare is $2300 more to LAX and currently $800 more to chicago).
Call Janna at our phone number for details on this LONG haired full pedigree VL Star friesian mare for sale. visit our website https://www.blacksterlingfriesians.com/
Additional Details
Dressage Training Level
2nd Level
Dressage Showing Level
2nd Level
Driving Experience
Pleasure
Eventing Training Level
Prospect
Contact Seller
Owner/Trainer:
Farm
fairytale Friesian Finder Service Inc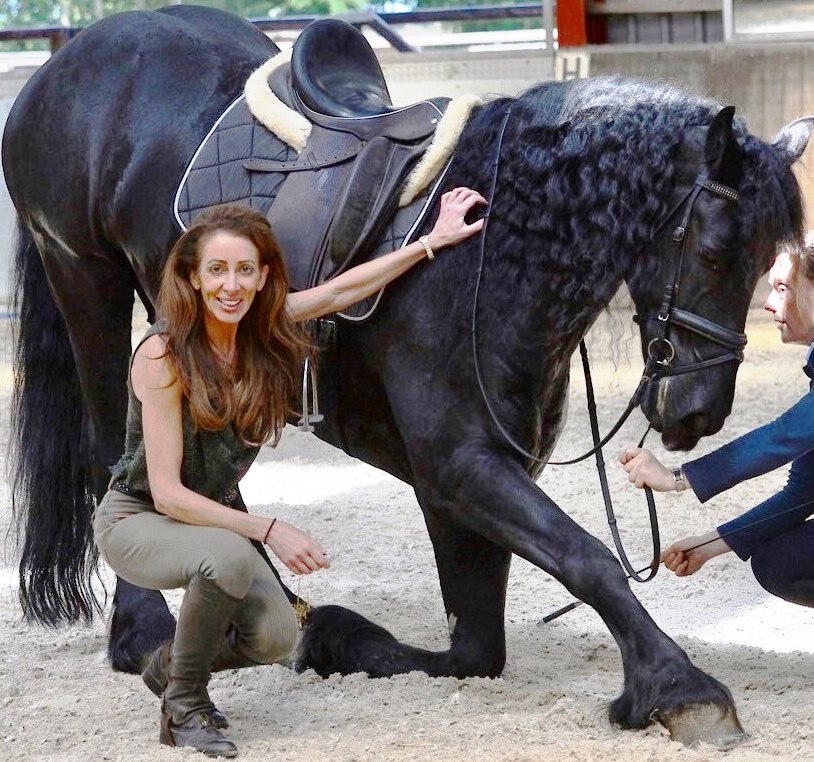 fairytale Friesian Finder Service Inc
Fairytale Friesian Finder Service… helping riders acquire the Friesian that is RIGHT for them. We go to great lengths to match the RIGHT horse with the RIGHT rider, depending on the rider's needs, budget, timing, etc, and Janna has not only won 16 world and national championships with her Friesian horses, and been awarded FHANA's President's Trophy, she has successfully matched more riders than anyone in North America with their dream forever Friesian partners. Janna will go to Europe with buyers on buying trips, if requested, and personally help locate a fairytale Friesian, negotiate the very best price, with contacts she has been purchasing Friesians from for the past two decades, and take care of exchanging funds to euros, arranging all the necessary vet checks and radiographs and bloodwork, arranging for transport of the horse to the Amsterdam airport, and arranging all the necessary import and quarantine services for a customer's exceptional new dream Friesian! We frequently find and import EXCEPTIONALLY beautiful trail/pleasure horses, as well as offer accomplished sport horses with impeccable track records, winning in dressage, ONLY available by us. to Europe, and see and try numerous horses, only picking the best of the BEST, after testing riding, and arranging and paying for thorough vetting with the most renowned veterinarians in Holland,to offer AMAZING one of a kind horses to our discriminate buyers. Call or email Janna, and let her know exactly what you are searching for, and if we don't have it, we will find your fairytale Friesian for you!