Atticus STER
8 Year Old Friesian STER Gelding
Sape381 x Leffert 306
16.2 hands
Competing 3rd Level!!
REAL Teddy Bear Personality
STER Gelding with SOOOOO Much Experience!!!
$39,900
We have been following this special 8 yr old STER gelding for over a year, as his talented rider has trained and shown this remarkable STER gelding up the levels------and used him in all kinds of exhibitions and events!
What a love affair they had---- and AMAZING experiences together--- competing with winning points in Z level (3rd level dressage)---which is PROOF they are scoring ABOVE 65% in 3rd level competition, under various judges, in different settings:)
Bred for perfection in competition, this Sape SPORT x Leffert SPORT & Preferent ster gelding is the most willing partner you can imagine. Not only did the Judges' decide his conformation and movement is the tippy top of ALL friesians, by awarding him the STER predicate, he also has stamped his hoof on the record books by competing, and BEATING, warmbloods in all the levels of dressage, starting at Training Level, then First Level, then Second Level, and this year in 3rd Level----thats a lot of EXPERIENCE in numerous settings!!!
Hessel and his young rider have done all kinds of things--- a friesian race under saddle, riding bareback, driving, used in childrens riding lessons, under saddle in thrilling "show" classes, and so on. You name it, Hessel has been there, done that. Berber and Hessel have had a remarkable partnership, and we are honered to receive the torch, for this special ster gelding, and be able to match this amazing boy with his next owner in the U.S., that can throughly enjoy what a special friesian STER gelding Hessel is!! Hessel was born at Berber's stable. His dam (Welmoed fan Lunia) is still used, to this day, in riding lessons with children at that stable! Hessel is a really sweet horse, he wants to cuddle all the time!! Not only did he go to a lot of different competitions with Berber, in many different settings, moving up the levels, from Training, to First, to Second, and this year with winning points in Third Level..... he also participated in the "Bestgaand Rijpaard".
Buy him fast, ---- he is THAT special. Look at his movement in the video above.....
Super sweet and nice, Hessel is a really teddy bear that wants to be your best friend.
Bday: Jun 22, 2010
Thoroughly vetted and xrayed.
Started on passage and flying changes and working on pirouettes---this is a VERY talented easy going ster gelding.
I cannot tell you how excited we are, Hessel has ARRIVED at our San Francisco stable!!! COME SEE AND TRY HIM FOR YOURSELF---you will be wowed!
Contact us at [email protected]
Additional Details
Dressage Training Level
3rd Level
Dressage Showing Level
3rd Level
Driving Experience
Pleasure
Eventing Training Level
Prospect
Eventing Showing Level
Training
Hunt Level
Schooling Hunter (2ft 0in)
Jump Level
Level 1 (3ft 0in)
Terms
check, bank wire,ETF, or cashiers check accepted, call janna at 415-272-2112 for our wiring instructions, or email
[email protected]
Contact Seller
Owner/Trainer:
Farm
fairytale Friesian Finder Service Inc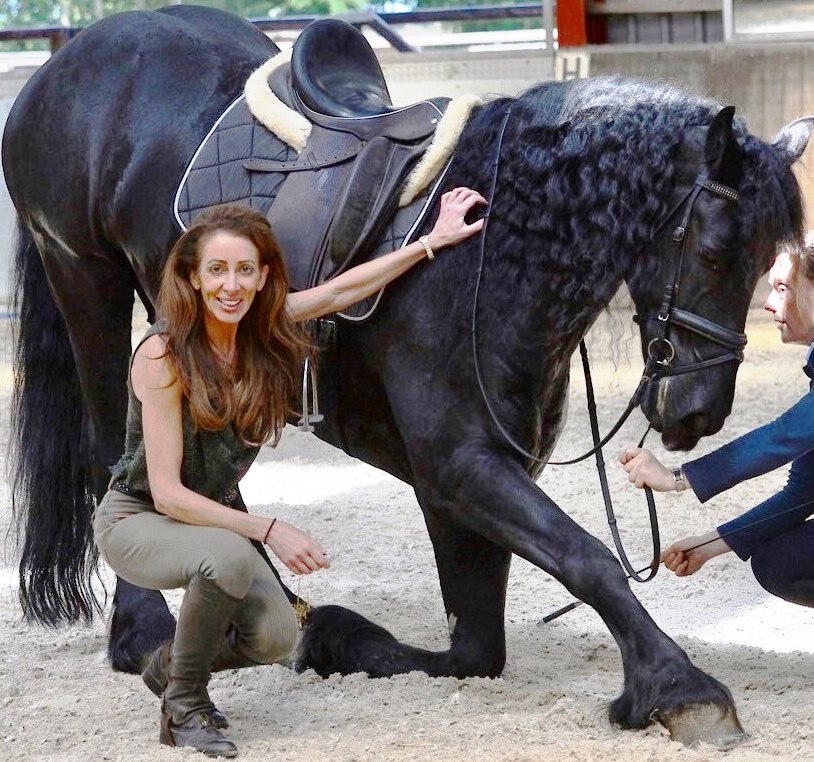 fairytale Friesian Finder Service Inc
Fairytale Friesian Finder Service… helping riders acquire the Friesian that is RIGHT for them. We go to great lengths to match the RIGHT horse with the RIGHT rider, depending on the rider's needs, budget, timing, etc, and Janna has not only won 16 world and national championships with her Friesian horses, and been awarded FHANA's President's Trophy, she has successfully matched more riders than anyone in North America with their dream forever Friesian partners. Janna will go to Europe with buyers on buying trips, if requested, and personally help locate a fairytale Friesian, negotiate the very best price, with contacts she has been purchasing Friesians from for the past two decades, and take care of exchanging funds to euros, arranging all the necessary vet checks and radiographs and bloodwork, arranging for transport of the horse to the Amsterdam airport, and arranging all the necessary import and quarantine services for a customer's exceptional new dream Friesian! We frequently find and import EXCEPTIONALLY beautiful trail/pleasure horses, as well as offer accomplished sport horses with impeccable track records, winning in dressage, ONLY available by us. to Europe, and see and try numerous horses, only picking the best of the BEST, after testing riding, and arranging and paying for thorough vetting with the most renowned veterinarians in Holland,to offer AMAZING one of a kind horses to our discriminate buyers. Call or email Janna, and let her know exactly what you are searching for, and if we don't have it, we will find your fairytale Friesian for you!