Celvin
We are thrilled to be able to offer such an EXPERIENCED beautiful gelding, 9 yrs old. Celvin has gorgeous LONG hair, and is one of the MOST experienced geldings on the market today, scoring well above 70% in 2nd level dressage, with 16 winning points to PROVE it. And 17 hands TALL! Celvin has always been ridden by young junior riders that are small in stature---this is an EASY horse for amateurs to ride or show!
Son of Monte and out of a Doeke Mare, this boy is super safe, GREAT show experience, Not spooky, but also not lazy.
Here is a well trained, hard to find, IDEAL age of 9 yrs, friesian gelding with all the front stepping feathered finery, and charisma and work ethic of a VERY experienced sporthorse. Celvin has Talent for upper level Sport!!! Blue/Black with curls in the mane and feathers. He is refined with long legs, graceful swan neck, beautiful sculpted head and floating motion, with that rare ability to collect AND extend. If you are looking for a SUPER well behaving boy, WITH dressage show experience---here he is!!
He is double trained to ride AND drive,and Celvin LIKES to work, and could easily move farther up the levels--- he is light in your hand, and moves easily off the leg---no whip and spurs needed! Celvin is really a dressage riders dream, because of his work ethic---he is curious, loves to be ridden outside, and is SUPER sweet in the stable.
Here is what the Grand Prix rider training Celvin had to say abot this sweet boy:" Celvin is a nice TALL boy, around 167 cm, with a gorgeous LONG mane and plush full tail. And what a lovely chiseled head!!! He loves to work and is a honest curious horse----VERY friendly!!!!! You can ride him without spurs or whip. He is not lazy---Celvin LIKES to work. He has been to dozens of competitions, showing training level, first level, and now has 16 winning points in 2nd level---PROVING he is scoring above 65% in 2nd level. Not many friesian geldings are THIS experienced! He has a wonderful uphill canter, and excellent counter canter..... You can canter for hours on this friesian gelding! His walk is active and he got good remarks on his trot. He loves his job, and for riders with back problems......Celvin is Easy to sit! And what a sweet, easy going behavior in the stable and in the pasture with other horses---this horse was a delight for us to have."
This is a horse you can literally put in the show ring the week after buying! AND he pleasure/trail rides. GREAT at dressage. Wonderful sweet personality, solid 9 yr old boy!!!
Celvin is a wonderful, kind, giving family horse that is just at home out on the trail and in the woods, as he is pulling a cart and going for a nice Sunday drive. Yep, he is double trained to both ride AND drive, and is the kindest, sweetest, most willing partner you can imagine. His movement and conformation are ideal....Celvin is ready to go to his new forever home, as long as you promise to give him MUCH love! He has 3 wonderful gaits, and talk about IMPRESSIVE, this "always on the bit" boy is hard to miss! We like his uphill conformation, his jet black shiny coat, and his WONDERFUL disposition, and long curly hair. He has no vices whatsoever, and would be an ideal choice for anyone wanting an EXPERIENCED dressage schoolmaster, due to his willingness to please, and experience in all different types of settings.
We just had him thoroughly vetted --- JUST ARRIVED FROM EUROPE and is available for you to see and try at our Bay area stable. call janna at 415-272-2112 for more info or see blacksterlingfriesians.com for more pics and videos
Additional Details
Dressage Training Level
3rd Level
Dressage Showing Level
2nd Level
Driving Experience
Pleasure
Eventing Training Level
Prospect
Eventing Showing Level
Not Showing
Terms
price is not negotiable
Contact Seller
Owner/Trainer:
Farm
fairytale Friesian Finder Service Inc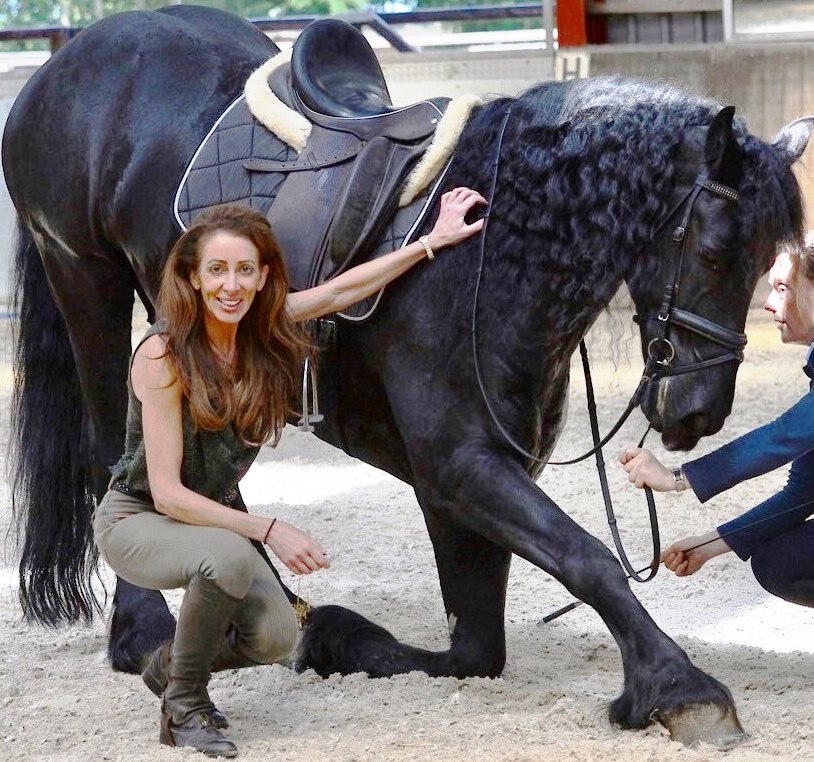 fairytale Friesian Finder Service Inc
Fairytale Friesian Finder Service… helping riders acquire the Friesian that is RIGHT for them. We go to great lengths to match the RIGHT horse with the RIGHT rider, depending on the rider's needs, budget, timing, etc, and Janna has not only won 16 world and national championships with her Friesian horses, and been awarded FHANA's President's Trophy, she has successfully matched more riders than anyone in North America with their dream forever Friesian partners. Janna will go to Europe with buyers on buying trips, if requested, and personally help locate a fairytale Friesian, negotiate the very best price, with contacts she has been purchasing Friesians from for the past two decades, and take care of exchanging funds to euros, arranging all the necessary vet checks and radiographs and bloodwork, arranging for transport of the horse to the Amsterdam airport, and arranging all the necessary import and quarantine services for a customer's exceptional new dream Friesian! We frequently find and import EXCEPTIONALLY beautiful trail/pleasure horses, as well as offer accomplished sport horses with impeccable track records, winning in dressage, ONLY available by us. to Europe, and see and try numerous horses, only picking the best of the BEST, after testing riding, and arranging and paying for thorough vetting with the most renowned veterinarians in Holland,to offer AMAZING one of a kind horses to our discriminate buyers. Call or email Janna, and let her know exactly what you are searching for, and if we don't have it, we will find your fairytale Friesian for you!