Dante HW @ www.HWfarm.com
---
Sold
---
Dante HW @ www.HWfarm.com
Dante HW's bloodlines go back to the big names, Danone, De Niro, as well as Donnerhall and Weltmeyer, so many to name, all the good old, strong competition lines, highly sought after in today's sport horses.
Dante HW himself, is just like ordered: Amazing looks, movement, talent, he's the total package. He will catch your attention with his beauty and elegance. He is a true eye candy, smart and willing to please.
He has three fantastic, rhythmic gaits, with stellar cadence. Dante HW is already working solid at 2nd level, with super steady, always uphill movement.
This boy is super impresses with his stunning, free shoulder, sensational trot movement, uphill canter and swings always nicely through his body, with a soft back and an active hindleg. His walk is always rhythmic, no matter if collected or extended walk. Everybody will love this one, the judges and the audience alike will be excited to see him.
Dante HW is willing to learn daily, very sweet and with his super work ethic and attitude, a horse that fascinates his rider as well as trainer, every day of the year. He is so much fun!
This is a horse, with a very big heart.
He's looking for his life partner to go out, have fun and compete.
He's just a sweetheart. Dante HW is suitable for an amateur, young rider or professional alike to continue his training and go on from there.
He gets along well with other horses, loves human attention, wants to be in your pockets all the time and thrives for his personal grooming time. Loads and bathes, goes in the hot walker and is pleasant all around as well as a super partner. He is ready to go to his new owner and impress with his looks and potential for the upper level. This boy will go his way up the levels with ease and fun, hopefully you will be the one guiding him there. Dante HW will enable you to fulfill your dreams with all his sensational abilities, he will collect all ribbons with ease, high point and more, here we come.
The goal of HW Farm is, to offer highly talented young horses in Germany for riders in the USA and all over the world. This young star will go far in the dressage ring, he is your ticket to the top, as well as a superb Young Horse Candidate.
Priced including import and quarantine to NY, check out his video clip!!!
Please contact Irene: [email protected]
239-772-7722 (ask for Irene, managing member of HorseSales LLC)
We take pride in answering every e-mail right away (at least at the same day) and to return each call. If you don't get a reply - please try again, our spam filter might have gotten in the way?!
Additional Details
Name
Dante HW @ www.HWfarm.com
Dressage Training Level
2nd Level
Eventing Training Level
Prospect
Contact Seller
Owner/Trainer:
Name
Horsesales LLC www.HWfarm.com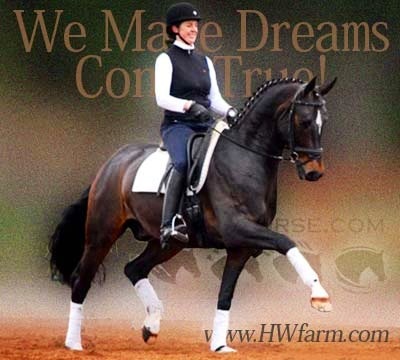 Horsesales LLC
Quality imports for sale from only the best producing bloodlines. Horses are gorgeous and tractable with good manners and great conformation. Most are well started and ready to continue on up the levels. Some horses are available already in the U.S.A. while others are still in Germany. We would be happy to help you in your quest for your next dream horse. Contact Horsesales LLC at: http://www.HWfarm.com for further details, or call Irene (managing member of HorseSales LLC) at: 239-772-7722
Bloodlines
Sire
Sire Dam
St.Pr./El. Rihanna
Sire Sire Dam
St.Pr. Well Done
Sire Dam Sire
Welt Hit II
Sire Dam Dam
Verb.Pr.St. Riconess
Dam
Dam Sire Dam
St.Pr. Las Palmas
Dam Dam Dam
St.Pr.St. Francis