Delphina ISF
Delphina ISF is an impressive 16hh 2017 KFPS Friesian mare sired by Ulbert 390, Sport and out of Yfke fan Fjildsicht, Model, by Harmen 424, Sport. As a foal, Delphina was named 1st Premie and Champion Filly at her FHANA keuring, in addition to placing 2nd in the Friesian IBC at Dressage at Devon with a 76.6%. She loves to connect with her people and is good to work around in the barn for grooming, bathing, and clipping. Due to health history, she is best suited to a lower-level performance home, or could be an interesting broodmare prospect for the Friesian enthusiast with her top-class pedigree. A breeding to an ISF Friesian stallion is included in her asking price. Records available.
Sire Ulbert 390, Sport is an ideal representative of the Friesian breed with a successful career as both a performance horse and as a sire of acclaimed offspring. Following importation to North America, Ulbert claimed numerous wins in dressage, including Third Level Reserve Champion at the 2007 CBLM Championships. He went on to become an accomplished FEI horse and was confirmed through Intermediate I. Ulbert offspring have found great success in both dressage and under harness. He has sired an approved stallion and numerous Model and Crown mares.
Dam Yfke fan Fjildsicht is a celebrated member of the ISF breeding program. Sired by Harmen 424, Sport and out of Edou fan Fjildsicht, Star, by Nanno 372, Yfke was named the North American IBOP Champion in 2013 with an overall score of 85%! In 2015, she was decorated with the prestigious Model predicate after being named Champion Mare and Champion of the Day at her FHANA keuring. Yfke has also posted scores up to 82% in-hand at USDF breed shows, including winning the Four-Year-Old and Older Broodmare Class at Dressage at Devon against all breeds in 2019. Yfke passes on her impressive type and elastic gaits to all of her offspring.
For more details or to set up an appointment to meet Delphina, please call (610) 383-4717 or email [email protected]!
Additional Details
Dam
Yfke fan Fjildsicht, Model
Dressage Training Level
Training Level
Dressage Showing Level
Not Showing
Contact Seller
Owner/Trainer:
Work Phone
(610) 383-4717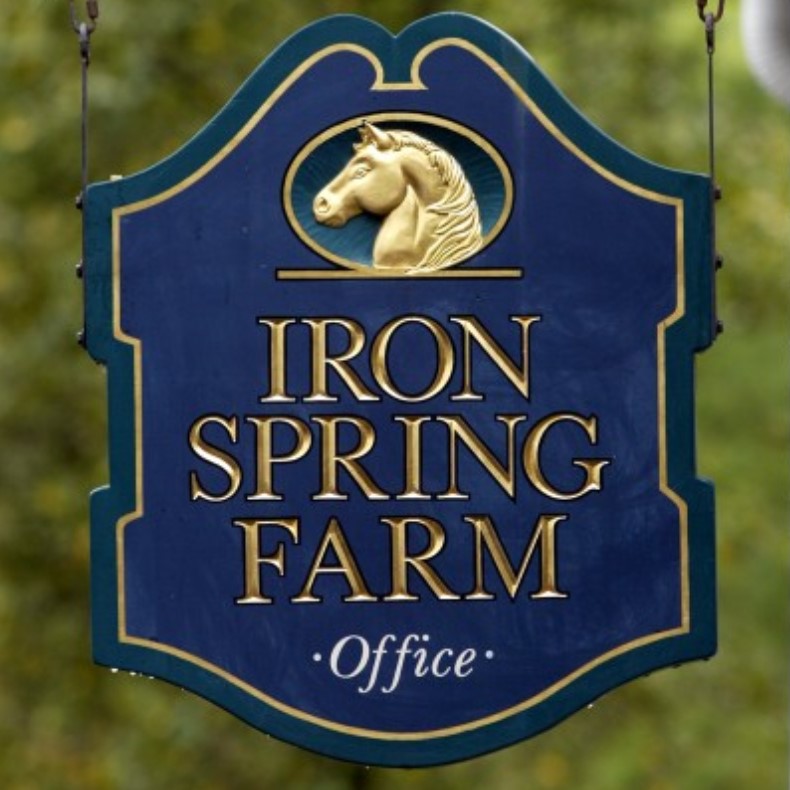 Iron Spring Farm
The Iron Spring Farm Advantage: Buying a horse is an investment, financially and emotionally, so it's not just what you see today that matters. History and a solid foundation for growth are just as important. Iron Spring Farm has over 45 years of experience producing sport horses from exceptional European bloodlines. Our breeding and young horse management protocols are designed specifically for growing athletes and ISF offspring have won literally hundreds of championships around the world. If you're looking for a special horse, you don't need to cross the ocean… just give us a call. Phone: (610) 383-4717 Email:
[email protected]
www.ironspringfarm.com
Bloodlines
Sire
Sire Dam
Famke D., Star/Pref.
Sire Sire Dam
Berbertsje, Star/Pref.
Sire Dam Sire
Leffert 306, Sport/Pref.
Sire Dam Dam
Lady Spray, Star/Pref.
Dam
Dam
Yfke fan Fjildsicht, Model
Dam Sire
Harmen 424, Sport
Dam Dam
Edou fan Fjildsicht, Star
Dam Sire Sire
Teunis 332, Sport/Pref.
Dam Sire Dam
Jildau, Star/Pref.
Dam Dam Dam
Hadewich fan Fjildsicht, Star/Pref.