Dream HW @ www.HWfarm.com
---
For Sale
---
Dream HW @ www.HWfarm.com
Dream HW's sire is the famous stallion Diamond Deluxe, out of an honored dam line. A Young Rising Star with a special touch. Diamond Deluxe's movement is trend-setting for the future of performance breeding. Tact and degree of suppleness are at the maximum of the scale. Diamond Deluxe passed his stallion performance test in 2017 in line with his age.
His first start under Steffi Ahlert in a riding horse test, he recorded a win on his account. For walk, trot and canter he received a score of 9.0 each from the judges.
The sire Diamond Magic by Diamond Hit-Roh Magic-Rheingold received a positive approval at the NRW main licensing and was awarded premium stallion. Grand sire Diamond Hit is an established hero in the ranks of international top sires, one of the most powerful offerings from the Donnerhall sire line. Diamond Hit comes from the best lineage. The sire Don Schufro, for many years the leader in the FN dressage breeding evaluation, was internationally victorious up to Grand Prix and in 2008 bronze medal winner in Hong Kong with the Danish team. The dam Loretta first sired Sandro Hit, further Diamond Hit and finally Royal Hit, so she might be the most influential Oldenburg mare of her generation.
Dam Sunshine Lady (final ring mare in MS-Handorf) a daughter of Samarant, won 3 year old at the Bundeschampionat in Warendorf the final qualification and placed in the final. Sire Samarant, son of Sandro Hit x Brentano II, was Hanoverian Vice State Champion and finalist at the Bundeschampionat Reitpferde. In 2006, he qualified for the Bundeschampionat for 5-year-old dressage horses. In 2008 he was sold to Denmark and presented internationally by Andreas Helgstrand-DEN and others.
Granddam Florida also final ring mare in MS-Handorf descends from the former station stallion Floresco. Under Patrick Kittel, the Florestan-Rosenkavalier son was able to achieve numerous victories and placings at Grand Prix level. The highlight of their joint career was the Olympic Games in Hong Kong, where they finished fourth with the Swedish team and 17th in the individual classification.
Diamond Deluxe descends from the Sielhorst tidal family, bred over generations by Wilhelm Döpke, Rahden-Sielhorst and Wilhelm Rüscher-Konermann, Greven. Besides the Ldb. Aar, over 20 licensed stallions descend from this line. Festival, Feuerglanz, Lantano, Platon I and II, Primeur's Ass and Sandro Boy Junior are just a few we would like to mention here.
Outstanding show mares make this strain more valuable than any other in Westphalia. Alone 4 times the champion mare was sired in MS-Handorf. Fidele by Ehrenschild 1970, Renata by Radetzky 1976, Florina by Floresco 2006, Rhianna by Rocky Lee 2014. 10 more mares were participants of the elite show.
Dream HW's dam is by Captain Fire, he started his career in 2003 as a premium stallion at the NRW licensing in Münster-Handorf. In 2004, he completed an outstanding 30-day test in which he not only convinced in jumping, but also in all three gaits.
Captain Fire has already produced nine licensed and premium stallions. The Holstein line 1446 also produced the licensed stallions Lexington and Con Capitol as well as the internationally successful show jumper Corrada under Peter Charles/IRL.
Since 2010, Captain Fire has been at Zashkov Stud in the Ukraine, where he was Ukrainian Amateur Champion several times with his owner and continues to be shown there.
Before that, he was highly placed in 2009 before and after the breeding season under the saddle of Henrik von Eckermann, including at the international World Cup tournament in Leipzig. He placed in the top ranks in all three Youngster competitions there. With Marco Kutscher in the saddle, he was highly placed at international shows in Stockholm, Munich and Paris.
In 2007, Captain Fire finished second in the Holsteiner Masters Future Prize, only narrowly, after securing the crown for the best five-year-old show jumper at the 2006 Bundeschampionat with a score of 9.4.
Dream HW has truly current, popular, as well as old and steady stallion lines, very famous for their successes, solid foundation bloodlines.
This gentleman shows typical D-line heritage, in looks, movement, brains, temperament, he's the total package. He will catch your attention with his beauty and elegance. He is a true eye candy and smart too!
He has three superb, solid gaits and is amazingly balanced, correctly started, comfortable gaits, and nice in hand. He was prepared for the stallion licensing, lots of handling and work in hand, which was a solid start to his career under saddle.
Dream HW is easy to sit and impresses with his stunning, uphill canter, his trot swings nicely through his body with a soft back and an active hindleg as well as a very free shoulder. His walk is always rhythmic, no matter if collected or extended walk. Everybody will love this one, the judges and the audience alike will be excited to see him. This boy gets along well with other horses and loves human attention. He wants to be in your pocket all the time and thrives for his personal grooming time. Loads and bathes, goes in the hot walker and is pleasant all around as well as a super partner. He is ready to go to his new owner and impress with his looks and potential for the upper level.
He will go his way up the levels with ease and fun, hopefully you will be the one guiding him there and getting all the nice compliments you are looking for.
X-rays on file!
Price is including import and quarantine to NY, check out his video clip!!!
Please contact Irene: [email protected]
239-772-7722 (ask for Irene, managing member, HorseSales LLC)
We take pride in answering every e-mail right away (at least at the same day) and to return each call. If you don't get a reply - please try again, our spam filter might have gotten in the way?!
Please find all info and more top quality horses for sale at www.HWfarm.com
Additional Details
For Sale
Inquire for price
$0 USD
Name
Dream HW @ www.HWfarm.com
Dressage Training Level
1st Level
Contact Seller
Owner/Trainer:
Name
Horsesales LLC www.HWfarm.com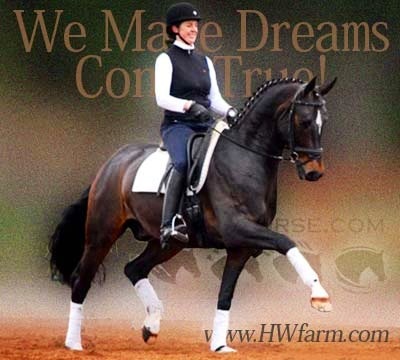 Horsesales LLC
Quality imports for sale from only the best producing bloodlines. Horses are gorgeous and tractable with good manners and great conformation. Most are well started and ready to continue on up the levels. Some horses are available already in the U.S.A. while others are still in Germany. We would be happy to help you in your quest for your next dream horse. Contact Horsesales LLC at: http://www.HWfarm.com for further details, or call Irene (managing member of HorseSales LLC) at: 239-772-7722
Bloodlines
Sire
Sire Sire Sire
Diamond Hit
Dam
Dam Dam Sire
Pik Labionics