Fabregas X Rubinero/Donnerhall
---
Sold
---
Fabregas X Rubinero/Donnerhall
NOW UNDER CONTRACT- SALE PENDING
Black colt with 4 white socks and a big star- born on June 26th.
We expect this black foal to mature in the 16.1 to 16.2 h range at maturity. It is compact and well balanced and so far seems to have a high energy level combined with a certain amount of curiosity and boldness but we will monitor as it matures. He has three good clear gaits and naturally sits to change direction. At this young age that is all we can tell you but these are all nice things! He will enjoy all the benefits of being born here at Formosus and will get plenty of handling and quality feed and large pastures turn out. We encourage you to contact us to hear about other foals we sold over the year and how this one might be the right fit for you.
The combination of the older lines of Rubinstein and Donnerhall with the modern but proven Florencio/ Florestan influence should herald a perfect prospect for those interested in a horse they can ride and enjoy themselves and show up the levels.
If you have never heard of the Hanoverian breeding stallion Fabregas (Florencio/DeNiro)(https://www.oakwoodhanoverians.com/fabregas) you may want to do some research!!! Fabregas has received great accolades for the consistent quality of his youngsters in Germany, Great Britain, Canada, and the US. The looks, refinement and quality gaits his babies inherit have put many at the top in their shows. Fabregas also has many winning show performances on his journey to PSG and I1, now training and showing at the Grand Prix level.
Kreation is a compact, powerful mare very much in the frame of her famous father Rubinero (http://www.hilltopfarminc.com/stallion/rubinero/) famed for his talent, his amateur-friendly temperament and his talent under saddle. We kept Kreation as a broodmare in replacement of her dam that was a fabulous producer. Kreation was a pleasure to start and showed good ethics under saddle, a natural ability to carry herself, and to work through her back and hind end. She has nicely balanced internal qualities combining a desire to go forward with good submission and a clear eagerness to please.
Additional Details
Name
Fabregas X Rubinero/Donnerhall
Terms
Deposit holds until weaning, payment plans accepted.
Contact Seller
Owner/Trainer:
Farm
Formosus Sport Horses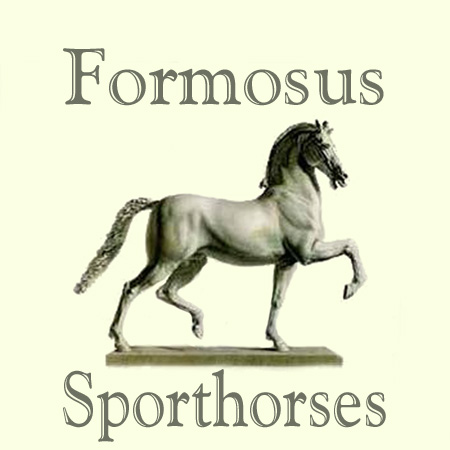 Formosus Sport Horses
We are a small breeder commited to providing good quality sporthorses horses prospect at affordable prices for the discerning amateur.