Fine Dream HW
Fine Dream HW is a charmer and has the best bloodlines, his sire Finest, is the unforgotten "winner of the heart" on the occasion of his licensing in Verden, winner of the series in dressage horse tests and a sire who seeks his equal!
After unique moments at the licensing in Verden this convincing charmer had a more than successful entry into the breeding career. His foal years left nothing to be desired. There was hardly a foal show in which Finest could not make the respective winning foal. His captivating charm, unmistakable character and even the three basic gaits, blessed in equal measure with exceptional quality, he has undoubtedly passed on to his descendants. So it was possible in the last few years to provide several participants at the German Foal Championship in Lienen!
The inheritance of Finest is thus constantly on everyone's lips - this is still reflected on the auction sites of various associations again, an outstanding price spear chasing the next. A highlight was then the approvals last fall, it was raining record numbers in terms of the approved offspring of Finest. We would particularly like to highlight the Verden licensing, in which Finest was represented with 9 of his descendants. One of them was even allowed to decorate himself with the coveted premium sash and changed ownership for € 360,000. Through a total of 8 licensed sons on the most relevant Körplätzen Hannover, Oldenburg & Westphalia, this year's event was marked by Finest's signature. And also on the mare shows were already the first successes to be recorded, as well as numerous class wins and Schausiege were the result. A custom made inheritance performance in every respect.
This picture-book career is also reflected on the sporting level. After his 30-day test in Münster (breeding value of 138 points), Finest developed excellently and became a series winner in dressage horse tests with grades up to 9.0 at the age of four. So far undefeated in all his starts, he was able to win the first qualification for the Bundeschampionat of 5-year-old dressage horses in 2016 as well. Here, Finest received the third highest score of all qualified for the Bundeschampionat participants in his class. Father Fürstenball sets milestones at a very young age - he himself was a brilliant champion stallion of his licensing, HLP winner, Bundeschampion of 5-year-old dressage horses and a high-ranking participant in the world championship of six-year-old dressage horses. The mother Like Princess of the Schwindler's Trakehner family brought with her first three foals two licensed stallions and a top-class state premium Mare. Mother Father Like Weltmeyer himself u.A. attract attention as an Olympian. And Prince Thatch remains in the memory of Allen as the father of the World Cup team gold champion Piccolini under Klaus Husenbeth. More than 30 licensed stallions, numerous elite mares and countless award-winning foals have already emerged from this strain. Finest has no red factor and thus is pure dark in its inheritance (no foxes).
Fine Dream HW's dam sire is Dressage Royal.
Dressage Royal distinguished himself not only because of his excellent conformation, his unimpeachable character and his fantastic pedigree, but also through his own performances: high rideability, his basic gaits and his show jumping skills are of exquisite quality. This was confirmed by the testing committee and the test rider. His rideability for dressage was judged with 8.21 points, his show jumping qualities with a straight 8.00 during his stallion testing.
Dressage Royal was fully trained to Grand Prix level and had show success in Germany as a young horse.
In 2007 Dressage Royal (age 9) was ranked 15th in the top 1% of all dressage breeding sires in Germany.
In 2008 Dressage Royal (age 10) was ranked 17th in the top 1% of all dressage breeding sires in Germany.
In 2009 Dressage Royal (age 11) was ranked 16th in the top 1% of all dressage breeding sires in Germany.
In 2012, Dressage Royal (age 13) was ranked in the top 50 dressage breeding sires in Germany. His breeding value was assessed at 143 points with a 90-99% security.
In 2018, Dressage Royal was ranked in the Top 10 (7th) of the top 1% of breeding stallions in Germany. His breeding value was 151 points assessed.
In 2022, Dressage Royal was 24 years old and sadly passed away.
Westphalian Licensed
Originally owned by Herman and Dorit Kothe, the black Oldenburg bred Dressage Royal was first licensed at the 2000 Westphalian Stallion Licensing in Munster-Handorf, and between 2001 and 2002 he got approved for Hanover, Brandenburg and Oldenburg.
He did his 30-day stallion performance test in March 2001 in Munster-Handorf and scored 8.21 for dressage and 8.0 for show jumping.
He fulfilled his HLP duties through sport in 2002 and 2003.
Sport
Anja Hermelink was the first rider to compete him as a 3-year old in 2001.
In 2002 Christoph Koschel took over the ride, but halfway through the season Ulla Hansen took over, followed by Ramon Dreyer. The latter rode the stallion to a fourth place at the 2003 Bundeschampionate in the 5-year old finals.
In 2004 a show break followed, but Dressage Royal returned to the arena in 2005 under Sonja Franzenburg-Much. She competed him at L-level for a year.
In 2007 he made a second come back to the arena under Hannes Krüger at L-level.
Breeding Stallion
Dressage Royal stood up for stud the majority of his life at his owner's yard, Hengsthaltung Kothe until the couple retired and closed their business.
Martin Sprehe took over Dressage Royal and stood him at stud. As of 2018 the stallion spent his time at the "retirement" center Schemder Bergmark, where he enjoyed his quiet time outside and still covered a few mares live.
"Because his general condition was deteriorating and the treating vets saw no way for improvement, the Kothe family decided with a heavy heart to put him to sleep," Martin Sprehe stated.
Legacy
Dressage Royal lives on through his offspring. He sired 4 licensed sons: Damsey, Doringcourt, Diesel CF, and UNO Don Diego - and 9 state premium daughters.
Although Dressage Royal was not so much a "popular" breeding stallion, his exceptional Donnerhall x Rubinstein pedigree produced an impressive string of top dressage horses! He has 258 offspring registered for sport in Germany, of which 25 compete at S-level.
Louise Leatherdale's Damsey FRH is his most famous son.
Under Helen Langehanenberg the stallion won team gold at the 2017 European Dressage Championships and was third in the 2019 World Cup Finals. Other famous offspring are Grand Prix horses Dandy de la Roche (Antonella Joannou) and Dressman (Wolfgang Schade), the 2008 World Young Horse Champion and 2011 Nurnberger Burgpokal winner Desperado OLD, and FEI horses David du Plessis Belliere (Hana Vasaryova), Darek CH (Stephanie Hartmann), and Darius Rubin (Cesar Parra).
Fine Dream HW's pedigree reads like the Who's Who, a truly mesmerizing horse, he looks like a clone to his sire, "tres chique", noble, with true stallion looks in a gentle gelding package.
Check out that active hind leg!
He has a superb rhythm and swings softly through his back,
he is a young horse and already very promising.
His gaits are just breathtaking and his willingness is unmatched.
The trot is packed with schwung, suspension and elasticity,
totally amazing. The canter comes with a phenomenal uphill movement with lots of air time, jumping well up and out and under every single time.
He is so much fun to watch and ride.
He will be a piaffe and passage machine, that's very obvious already, lateral work as well as flying changes will be a blast.
His walk is pure, rhythmic with a superb over stride.
Fine Dream HW loves to work, he goes effortless through the neck, on the bit,
featherlight for the riders hand.
.
He is just stunning and a horse of a lifetime.
This gentleman is giving his best every single day.
He is in the same hands since he was a foal, correctly fed, raised, handled and trained, making it easy for his new mommy or daddy to concentrate on fun activities and to truly trust each other. His future is a very bright one.
This young man is a "people horse", loves to be pampered and cuddled,
he will wrap his neck around your shoulders and beg for more and more hugs.
He knows everything a young horse needs to know.
Used to the wash rack, hot walker and more.
He is easy to load and travels well.
What a gem, he will bring a smile on your face – every day again and again!
X-rays on file!
US $50,000 to $80,000 - Including import and quarantine to NY, check out his video clip!!!
Please contact Irene: [email protected]
239-772-7722 (ask for Irene, managing member of Horse Sales LLC)
We take pride in answering every e-mail right away (at least at the same day) and to return each call. If you don't get a reply - please try again, our spam filter might have gotten in the way?!
Hand selected, top quality horses for sale, please find all info at www.HWfarm.com
Additional Details
For Sale
Inquire for price
$0 USD
Dressage Training Level
1st Level
Terms
Hand selected, top quality horses for sale, please find all info at www.HWfarm.com
Contact Seller
Owner/Trainer:
Name
Horsesales LLC www.HWfarm.com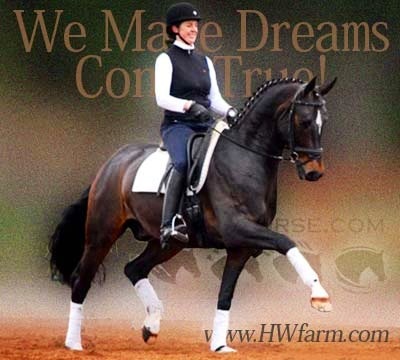 Horsesales LLC
Quality imports for sale from only the best producing bloodlines. Horses are gorgeous and tractable with good manners and great conformation. Most are well started and ready to continue on up the levels. Some horses are available already in the U.S.A. while others are still in Germany. We would be happy to help you in your quest for your next dream horse. Contact Horsesales LLC at: http://www.HWfarm.com for further details, or call Irene (managing member of HorseSales LLC) at: 239-772-7722
Bloodlines
Sire
Sire Sire Sire
Fürst Heinrich
Sire Sire Dam
St Pr El Maradonna
Sire Dam Sire
Wie Weltmeyer
Dam
Dam Sire Dam
St Pr El Rosalie