Finest/Wolkentanz II/Ferro Colt
---
Sold
---
Finest/Wolkentanz II/Ferro Colt
This delightful colt is an amateur dream: friendly, affectionate and an excellent mover in a beautiful black package with a stunning head and expression. Light, balanced and with three good gaits already and a particularly good canter.
He is unfolding beautifully and is correct and supple.
Sire: FINEST
With 7 foal crops now on the ground, Finest is a known quantity. He produces good dressage horses with an amateur-friendly temperament. His breeding index numbers are all favourable and complement and support the quality of our mare Divine. His babies are invariably described as well-tempered and pleasant the ride and train. He also generally refines without adding height. Searching on this site alone or on youtube will show you some of his offspring. He is homozygous for dark and so can only produce black or bay offspring, often with very little white.
Dam: Divine
Divine is a dressage powerhouse. She has three good gaits, a sensitive and responsive nature and a strong push from behind. She is correct conformationally and 16.2hh. This will be her first foal but she comes from a well-understood female line that has produced excellent mounts for dedicated and serious amateurs. The combination of a strong desire to please with a forward energy generally makes these horses a lot of fun to ride.
To read more about this particular pairing please visit:
https://formosussporthorses.ca/blog/formosus-sporthorses-news/expected-…
This foal will benefit from almost 19 years of breeding and raising young horses for the amateur market. All our foals get specialized attention, a balanced diet, access to pasture 24/7 and daily handling. You can see the result of our effort on our webpage under the section "Sold".
www.formosussporthorses.ca
We are happy to share references from our vets or from past clients.
We like to work with potential buyers to ensure this is the right fit and owners get regular and timely updates, plenty of pictures and videos.
Our foals are weaned between 6-8 months of age and can stay for a few months at a reasonable at cost fee until you are ready for them.
Additional Details
Name
Finest/Wolkentanz II/Ferro Colt
Contact Seller
Owner/Trainer:
Farm
Formosus Sport Horses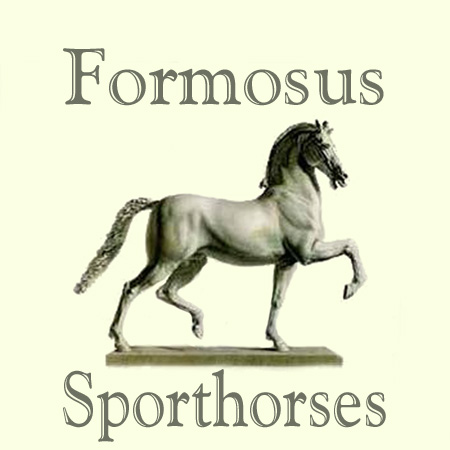 Formosus Sport Horses
We are a small breeder commited to providing good quality sporthorses horses prospect at affordable prices for the discerning amateur.
Bloodlines
Sire
Sire Dam Sire
Wie Weltmeyer