FirstEdition HW
FirstEdition HW, with the finest stallion looks, huge neck and small, chiseled head, is a stunning horse who has all the personality a person could ever hope for, he's easy to ride and handle, no wonder with these bloodlines!!!
Supple and elastic, with his free shoulder and huge grundschwung, he swings nicely through his back. He has a superb, rhythmic and clear walk with an amazing over-stride, light in the bridle and easy to sit. This extremely talented gentleman has a bright future ahead.
FirstEdition HW is so much fun, nice, uphill canter which will make the flying changes easy for him . Check out his amazing hind leg, reaching far under his body and lifting it up in the air with ease. He just glides and barely touches the ground. Ridden inside and outside, always giving 100%, no matter what he's asked to do.
This sweet boy, enjoys to work eagerly under saddle, all concentrated on his job in the dressage arena. Very rideable, sane and trustworthy. FirstEdition HW loves his personal grooming time and puts his head right in your lap, striving for attention. Perfect Junior or Amateur's horse, but with the quality for a professional as well! You will be the star in FEI classes and at clinics. His bloodlines are very much sought after. He has many of the F, D, R and W lines you could dream of. He is used to go in the hot walker, loves his shower and solarium time. Stands for the farrier, loads and appreciates grooming time. FirstEdition HW is as sweet as a puppy dog, but with the attitude of a real gentleman. Fulfill your dreams with all his sensational abilities, he will collect the ribbons with ease, high point and more, here we come. The goal of HW Farm is, to offer highly talented young horses in Germany for riders in the USA and all over the world. This young star will go far in the dressage ring, he is your ticket to the top!
Additional Details
Dam
by Bundeschampion Fidermark
Dressage Training Level
1st Level
Dressage Showing Level
Not Showing
Eventing Showing Level
Not Showing
Terms
Please find all info and other hand selected, top quality horses at www.HWfarm.com
Contact Seller
Owner/Trainer:
Name
Horsesales LLC www.HWfarm.com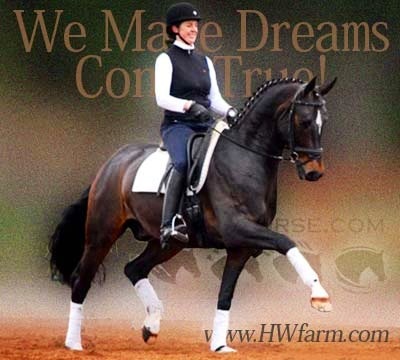 Horsesales LLC
Quality imports for sale from only the best producing bloodlines. Horses are gorgeous and tractable with good manners and great conformation. Most are well started and ready to continue on up the levels. Some horses are available already in the U.S.A. while others are still in Germany. We would be happy to help you in your quest for your next dream horse. Contact Horsesales LLC at: http://www.HWfarm.com for further details, or call Irene (managing member of HorseSales LLC) at: 239-772-7722
Bloodlines
Dam
Dam
by Bundeschampion Fidermark
Dam Sire
Bundeschampion Fidermark