Flirtini HW @ www.HWfarm.com
---
For Sale
---
Flirtini HW @ www.HWfarm.com
Flirtini HW is by Finnegan. Finnigan is a stunning liver chestnut Hanoverian stallion sired by Floriscount. Floriscount is a very popular sire with regards to both breeding and sport, he has competed very successful in dressage competitions to the Grand Prix level with his rider Oliver Oelrich and has the breeding value in dressage of 151. Through his dam line Finnigan brings the top blood, as well as highly sought after blood of the International Grand Prix stallion and top sire Don Schufro, along with one of our all time favourites Rubinstein, and a splash of TB blood! Very successful descendants, such as Wilander-Star (by Wanderkönig), Wasco (by Waltdisney) and Lucrosus (by Lemon xx), also come from the mare line of Nada.
Finnigan himself fascinated the crowd at his Verden licensing with his outstanding gaits! He then went on to win his 2016 14 day test with the high score of 8.96 for dressage, and a respectable 7.23 for showjumping, total 8.35.some highlights include 10,0 character/temperament, 9.5 for rideability, 9.25 outside rider, 9.0 for his trot, 9.0 walk, 8.5 canter.
At his 2018 Sports Test Finnigan again showed his beautiful gaits, rideability and ability scored 8.44.
In 2019 Finnigan was awarded the Weltmeyer Prize as one of Hanover's best young dressage stallions!!
Finnigan is a tall leggy correct stallion with beautiful type, combined with 3 excellent elastic gaits, he also clearly shows a high level of rideablity and an excellent work ethic. All qualities highly sought after by breeders.
Finnigan has been widely used by Hanoverian breeders, and his offspring are proving to be consistently of very good quality, showing excellent gaits, good type, and minds. In 2020 Finnigan had his first licensed stallion son. He has already numerous foals have won foal shows, been selected for auctions, he has had sons selected for the licensing, his oldest (2017) are just starting their under saddle careers and are showing a lot of promise, already several have been selected for auctions as well. We know in the next several year we are going to see his offspring excel in the show ring as well as the breeding as they mature. This is a stallion for the future
Flirtini HW's dam sire is by Dancier. Performing alongside his approved sons,
Don Nobless and Dancing World, Dancier impressed everyone at the 2014 Gala Evening show at the 130th Elite Auction in Verden where he was awarded with the Grand-Prize from the Hanoverian Breeding Committee.
This prize honors Hanoverian stallions aged ten to twelve. This is an important age for a stallion since the first reliable facts about his hereditary qualities are available as the eldest offspring of a stallion can be evaluated under saddle.
As a young stallion, Dancier qualified twice for the Warendorf National Championships where he celebrated the first of many successes. He was the authoritative winner of his performance test and stallion licensing and had already been proclaimed in 2006 to be the best 4 yr-old Hanoverian stallion. This was due in part to winning the bronze medal at the Bundeschampionate in Warendorf as well as being the reserve champion at the Hanoverian State Championships in Verden. His success in sport and breeding has also won him the "Freiherr von Stenglin" and "Burchard Mueller" awards. As a six year-old stallion, Dancier qualified for the finals at the Bundeschampionate in Warendorf and celebrated his first successes in the advanced class at the youthful age of eight.
Dancier is a son of the top class dressage progenitor, De Niro, this noble, attractive black stallion appears on the way to his own excellence as a sire. He won the Hamburg Derby Grand Prix and was the 2008 Hanoverian Stallion of the Year due to his own performance in sport and his outstanding success as a sire. At the 2013 Oldenburg licensing, a son of De Niro out of a Rosario – Feiner Stern mare was the crowned as the champion of the licensing. He was then sold for the incredible price of 910,000 Euro to Olympic rider, Andreas Helgestrand of Denmark. Damsire Lancier is by the venerable Laurie's Crusador xx, Hanoverian Stallion of the Year 2006, a rare honor for a Thoroughbred stallion. Dancier was awarded the perfect score of 10 for his walk, 9.5 for his canter and 9.2 for his walk. As a four year old he placed third in the Bundeschampionate. He is noted for his exceptional temperament and good ability to work from behind. Dancier's performance talent is matched by his talent as a sire with no ifs, ands, or buts! His strength as a sire has been documented year after year in very high breeding value index scores from the German FN, and in 2014, his scores showed he is one of the best sires for rideability.
His son Danciero placed fourth in the 2019 Bundeschampionship for 3-year-olds with Eva Möller (8.50 9 8.50 9 8.50 --- 8.70)
In 2017 Dancier's offspring, Dschamilja and Devonport, became a finalist for the Bundeschampionate in Warendorf, Germany. Devonport went on the win the title for four year old stallions scoring a 9 for trot, canter, walk and test rider score, and he scored a 9.50 for training.
At the 2013 Hanoverian Stallion Licensing, Dancier presented exceptionally talented and beautiful offspring. His son out of a Weltmeyer mare was honored as a Premium stallion and was sold to the Bonhomme studfarm for 305,000 euros.
In 2011, his son, De L'Or, out of a Rotspon dam, was not only a premium stallion, but wowed the crowd with his outstanding gaits and character. De L'Or sold for the top price of 315,000 euros to Kristin Andresen of Norway. Dancier repeated this feat again in 2012 producing another top selling Premium son out of a Rotspon mare. The beautiful black son sold to Paul Schockemoehle and Andreas Helgestrand for a resounding 320,000 euros.
Dancier has also produced 85 State Premium Mares/Candidates, over 20 licensed sons, and has had 21 offspring in the Hanoverian Elite Riding Horse Auctions. The Grand-Prize given to Dancier is bound up with the hope that the stallion may sustainably influence the Hanoverian breed for a long time. Considering the successes achieved by Dancier so far, it is certainly a justified hope.
Flirtini HW, is a breathtaking horse, equipped with absolutely phenomenal gaits, presenting himself with wonderful self-carriage.
His stallion type (he is a gelding!!) will mesmerize everybody alike.
He is a horse who casts his spell on every single person, a super fancy mover who knows to impress due to his type and unbelievable hind leg.
He is supple and has a ton of air time. He just floats above the ground, with his free shoulder and huge grundschwung, he swings nicely through his back,
is light in the bridle and easy to sit.
This extremely talented gentleman has definite international potential.This extremely talented gentleman has definite international potential, he is a fast learner and already solid at 2nd level.
A stunning horse with all the looks a person could ever hope for.
He has a super nice, chiseled head, big stallion neck (he's a gelding!), lots of chrome, you'll fall in love at first sight.
Flirtini HW has cat like movement and is super elastic.
His hooves barley touch the ground. He does an amazing job in the dressage arena and with his quick, far reaching hind leg,
passage and piaffe will come naturally to him.
He loves his personal grooming time and puts his head right in your lap, striving for attention and searching for treats.
Outstanding, mesmerizing gaits.
He will be the star in FEI classes and at clinics,
the judges and onlookers will remember him where ever he goes.
Flirtini HW is used to go in the hot walker, loves his shower and solarium time.
Stands for the farrier, loads and appreciates grooming time.
Flirtini HW has the attitude of a real gentleman.
This young stunner will go far in the dressage ring, he is your ticket to the top!
The goal of HW Farm is, to find highly talented young horses in Germany
for riders in the USA and all over the world.
Buy him now and show him yourself in the Young Horse Championships or take him to the BundesChampionships.
X-rays on file!
Price is including import and quarantine to NY, check out his video clip!!!
Please contact Irene: [email protected]
239-772-7722 (ask for Irene, managing member of HorseSales LLC)
We take pride in answering every e-mail right away (at least at the same day) and to return each call. If you don't get a reply - please try again, our spam filter might have gotten in the way?!
Please find info/pics/video of him and other horses for sale at www.HWfarm.com
Additional Details
For Sale
Inquire for price
$0 USD
Name
Flirtini HW @ www.HWfarm.com
Dressage Training Level
2nd Level
Eventing Training Level
Prospect
Eventing Showing Level
Not Showing
Contact Seller
Owner/Trainer:
Name
Horsesales LLC www.HWfarm.com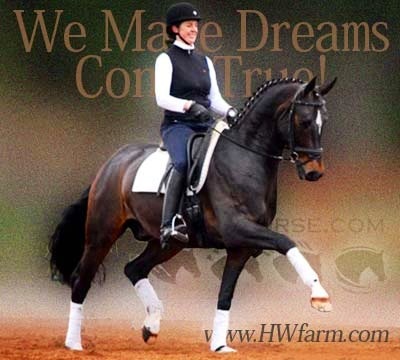 Horsesales LLC
Quality imports for sale from only the best producing bloodlines. Horses are gorgeous and tractable with good manners and great conformation. Most are well started and ready to continue on up the levels. Some horses are available already in the U.S.A. while others are still in Germany. We would be happy to help you in your quest for your next dream horse. Contact Horsesales LLC at: http://www.HWfarm.com for further details, or call Irene (managing member of HorseSales LLC) at: 239-772-7722
Bloodlines
Sire
Sire Sire Sire
Florencio I
Sire Sire Dam
Elite St Arkona
Sire Dam Sire
Don Schufro
Dam
Dam Sire Dam
St Pr Larcana TS
Dam Dam Dam
St Pr Bo-Laika