Fürst HW @ www.HWfarm.com
---
Sold
---
Fürst HW @ www.HWfarm.com
Fürst HW is by Fürst Wallerstein, a stallion by Fürst Nymphenburg out of Florestan lines, who appears elegant and elastic.
In the 70-day performance test at the State Stud Celle, he was consistently rideable and eager to learn. Regardless of challenging whether and under to him unknown riders, Prince Wallerstein loved to please. Equipped with three very good basic gaits, he maintains superb suitability for dressage, which earned him an outstanding rating of 143.
He also demonstrates this in his further training and success. In just a short amount of time, this Hanoverian was educated all the way to 4th level and shown very successfully.
This stallion has an amazing exterior and interior. His character and temperament scored extra well at the Landesgestüt Celle. His positive attributes can also be found in his offspring, they show themselves interested at work and shine with a steady temperament.
Fürst Wallerstein's sire is the famous Fürst Nymphenburg. The type liver chestnut stallion has not only an expressive, correct conformation, but also well-shaped lines he knows how to use in movement. He displays ground-covering, always uphill going canter, and he combines his trot, powerful from behind, with the swinging back and lots of freedom of the shoulders. His sire Florencio was World Champion of Young Dressage Horses in 2004 and 2005: canter 10, trot 9.7, suppleness 9.6, overall impression 9.9 "like from a different world" – overall score 9.8 – new championship record! Florencio was represented with the biggest contingent of five sons at the Oldenburg Stallion Licensing in 2008: Dam's sire De Niro is the current Hanoverian Stallion of the Year.
"Fürst Nymphenburg – a prince with perfect character and dreamlike movements."
As the celebrated reserve champion of the licensing in Verden in 2007 he became the dressage and overall winner of his stallion performance test in Adelheidsdorf one year later.
He was carefully brought up to the difficult class of dressage by his rider Tessa Frank. This perfect couple can be credited with many victories, placements and titles. In 2004 they brilliantly won the qualifiers for the Nürnberger Burg Pokal.
In addition to his impressive performance you can also find many successful descendants of Fürst Nymphenburg: licensed sons, state premium mares and successful sport horses can be found as well as many auction horses.
Fürst Nymphenburg – a stallion to die for!
The great-great grandsire of Fürst Nymphenburg, Furioso, arrived at Station Vorwerk in Cappeln in 1968 and was an immediate success. For years his offspring dominated the German competition and prize money statistics. Interestingly, the sire line of Furioso II delivers both dressage and jumping horses – especially interesting since the common belief is that French horses are no good for dressage. Furioso's best known jumping stallions are his sons, For Pleasure and Voltaire, in dressage there is his son, Purioso and his grand-son, Florestan I.
Currently one of the more striking heirs of the Furioso II line is the Hanoverian stallion Fürst Nymphenburg, bred from a Thoroughbred line and a son of the double World Champion and elite sire Florencio I. There is depth in the pedigree – De Niro, currently the most prominent dressage sire, can be found on the dam line, and in third generation there is Argentinus, another who delivered both dressage and jumping horses. The dam line leads to one of the main branches of the Thoroughbred family 16. This family produced important stallions such as Aberglaube xx (Oldenburg), Amerigo Vespucci xx (Celle), Atatürk xx (Neustadt-Dosse) and Aufwind xx (Rhineland-Pfalz).
Fürst Nymphenburg was reserve champion at the Hanoverian licensing in Verden in 2007.
In the 2008 competition season he won several riding horse classes with scores of up to 8.7 and qualified for the Bundeschampionate. In the autumn of 2007 he won his stallion performance test in Adelheidsdorf, with the highest dressage index of 147.23 points.
According to the Hanoverian Stallion Book 2015, he has won four dressage classes at S level with his trainer Tessa Frank, for winnings of €4,356. As of the 2015 book, he had produced 97 competition horses, all of them dressage horses, for earnings of €10,532.
Fürst Nymphenburg commenced stud duties at Hadeln/Oberndorf in 2008 and was immediately one of the most popular stallions in Hanover. He produced successful foal crops, including numerous foal show and championship winners as well as the top-priced lots at auction. Since 2013 Fürst Nymphenburg I has been standing at Aller-Weser in Verden.
Five of Fürst Nymphenburg's sons have been licensed, including a black stallion from his first crop (2009), Fool's Paradise (Wolkentanz I-Thronfolger), who has already won riding and young dressage horse competitions, and Fürst Wallerstein (Walt Disney I/Lemon xx), licensed in 2013 and competing successfully under the banner of the State Stud in Celle. Fürst Nymphenburg's other sons include First Row (Hitchcock/Matcho AA), Fürst Weedern (Rotspon/Matcho AA) and Fürstenstern (Sterntänzer/Donnerschlag), who was sold to the USA following the 2012 southern German saddle licensing.
So far 122 daughters of Fürst Nymphenburg have been registered, of which 60, received the state premium tag and several of these were victorious at mare shows – a high success rate.
Fürst Nymphenburg has an 2014 FN dressage breeding value of 160 points and placed in the top one percent of German dressage stallions. He is third on the 2015 Hanoverian list for Riding horse type with a score of 156. His Hanoverian dressage value is 145, with scores of 134 for trot, 153 for canter, 139 for walk and 135 for rideability. He has obviously missed out on the Furioso jumping talents, with an FN jumping breeding value of 84, and a Hanoverian one of 83.
In the 2016 Hanoverian Stallion book he is recorded with 171 competitors with earnings of €26,122. He has an FN breeding value of 148 and a jumping value of 84. His Hanoverian breeding values are 140 for dressage and 84 for jumping, with a score of 147 for type.
Performance
It is the combination of brilliant movements, highest rideability and best character which make Fürst Nymphenburg a very valuable breeder. He is stationed at Landgestüt Celle and was called the 1st Reserve Champion of the dressage slot at Verden in 2007 and confirmed this assessment with serial wins in young riding horse classes with Wolfhard Witte.
As Hanoveranian Vice riding Champion he was part of the Bundeschampionat 2008 where he received great marks (8.5 for exterior, 8.0 for each canter, training, and presentation) and became 9th.
Subsequently he superiorly won the stallion performance test in Adelheidsdorf where he decided the dressage index with 147.23 points.
Carefully developed the stallion always showed high motivation and proved his quality as a dressage horse in Germany whilst being in breeding.
Today he can look back to many placings and victories in class S (GER) and was qualified for the finals of the Nürnberger Burgpokal in 2014. In 2015 he achieved first successes in short-grand-prix.
Pedigree
His sire Florencio I was Westfalion Champion and Vice Champion at the Bundeschampionat of the four-year-old stallions in 2003. In 2004 he secured the Dutch Pavo-Cup with Hans-Peter Minderhoud/NED and won the World Cup of Young Horses of the five-year-olds in Verden with a record-breaking result: A total of 9.8 where the canter was marked with a 10. In 2005 he defended his title in the six-year-old class. Florencio I became the dressage main premium winner in Oldenburg in 2004. Meanwhile, placings in advanced dressage levels are recorded. More than 30 sons received the breeding permission including the 2nd Reserve Champion Fackeltanz OLD.
Fürst HW is fabulous and easy to ride.
Super nice to sit and light in the bridle.
Ideal for a AA, young rider, or professional alike, everybody wants fun!
Fürst HW, equipped with phenomenal competition genes, is a horse of amazing quality and super fancy mover who knows to impress due to his type and work ethic. This stunning horse has it all, pretty head,
big stallion neck (even as a gelding!), a total dream come true.
His hooves barley touch the ground.
He loves to please his handler and rider and is a very fast learner. This gentleman eagerly works under saddle and does an excellent job, with his free shoulder and huge suspension, he swings nicely through his back.
He is breathtaking to watch in the dressage arena and with his quick, far reaching hind leg, passage and piaffe will come naturally to him.
Fürst HW is supple and has a ton of air timed is already at 3rd level!
This extremely talented gelding has true FEI potential.
With his great ride ability, he makes a lasting impression on whom ever sees him. He loves his personal grooming time and puts his head right in your lap, striving for attention and searching for treats. With this horse, you will be the star in FEI classes and at clinics, the judges and onlookers will remember him where ever he goes.
This horse is definitely a ticket to the top!
Fürst HW is used to go in the hot walker, loves his shower and solarium time. Stands for the farrier, loads and appreciates grooming time.
He is a superb Young Horse Candidate, just what the judges are looking for and will make his way up the levels.
X-rays on file!
Price is including import and quarantine to NY, check out his video clip.
Please contact Irene: [email protected]
239-772-7722 (ask for Irene, managing member of HorseSales LLC)
We take pride in answering every e-mail right away (at least same day) and to return each call. If you don't get a reply - please try again, our spam filter might have gotten in the way?!
Additional Details
Name
Fürst HW @ www.HWfarm.com
Dressage Training Level
3rd Level
Contact Seller
Owner/Trainer:
Name
Horsesales LLC www.HWfarm.com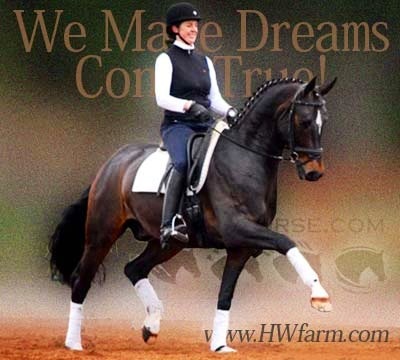 Horsesales LLC
Quality imports for sale from only the best producing bloodlines. Horses are gorgeous and tractable with good manners and great conformation. Most are well started and ready to continue on up the levels. Some horses are available already in the U.S.A. while others are still in Germany. We would be happy to help you in your quest for your next dream horse. Contact Horsesales LLC at: http://www.HWfarm.com for further details, or call Irene (managing member of HorseSales LLC) at: 239-772-7722
Bloodlines
Sire
Sire Sire
Fürst Nymphenburg
Sire Sire Sire
Florencio I
Sire Sire Dam
Donner de Nero
Sire Dam Sire
Wald Disney I