Heart Song - EH Herzensdieb/Grand Cru
---
Sold
---
Heart Song - EH Herzensdieb/Grand Cru
NEW VIDEO ADDED!
Happy will be a fantastic partner for a dressage or eventing career. His sire EH Herzensdieb is an incredible dressage horse producer with a 142 FN value. His dam's Grand Cru line can also jump like a cat, and her 2014 colt is an approved stallion jumper (Citadel).  We estimate Happy will mature to 16.3/17 hands. He is a medium bay with hind socks and unique star/stripe/snip. He is a well balanced and agile colt and it is exciting to watch his gaits develop. Registration is pending with AHS.
Raised on a small family farm, Happy receives plenty of interaction with people. He is doing very well with all of his milestones so far - bathing, haltering, picking up his feet. His had his first trim at 4 weeks and is on a 5 week schedule. He has a very willing temperament and enjoys being around people. Our 2017 filly by the same sire is also very personable and trainable as a young horse. He moves about on our hilly pastures all day and night, and enjoys twice daily stall-naps for a few hours. He's used the excitement of farm animals, playing children and ponies. He's gaining a great base for strong tendons and exposure to lots of life's occurrences. First foal vaccines and boosters are done and he has started fence-line weaning. He is just about ready to go! We have many references from trainers/owners who purchased their foals from us over the last 9 years.
About his dam, Premium- Eligible Galalea:
Gala is a German Hanoverian, imported to the States as a young mare. She has produced many incredible foals - both from dressage sires and jumpers. Her foal by Clinton is now a BWP-approved breeding stallion, Citadel. Gala is a large mare, 16.3h, with excellent elasticity in the back and shoulders, which seems to be on the decline in much of today's popular warmblood breeding stock, in lieu of the snappy high knee. She has a kind and gentle nature.  Gala's sire, Grand Cru, comes from the Grande sire line which are know for their versatility in both jumping and dressage, and their excellent character. Grand Cru sired 8 approved stallions. His dam line includes the Trakehner Abglanz and is closely related to Admiral 1 & 2. At Grand Cru's stallion testing, he was said to have excellent rideability, rhythm, and cadence. Gala's dam line is classic, substantial, and charismatic German Trakehners. The tough stock that survived the incredible toll placed on the horses that made the trek across Poland in WW2. If you haven't read about the history of the mid-20th century Trakehner, I encourage you to do so!
About Happy's sire, E.H. Herzensdieb:
Herzensdieb, by Tambour is one of the only Elite Hengst Trakehner stallions standing in the US. He was the licensing champion at Neumunster, Germany in 2005. He has a dressage FN breeding value of 142 and is in the top 10% of all German dressage sires!
Imported to the US by the Leatherdales, they report that, "In all his offspring, an elegant type, rideability and refinement can be seen. Herzensdieb not only adds spectacular movement and conformation, but he also passes along strength, rideability and a kind temperament." More information, photos, and videos  are available here: http://www.leatherdalefarms.com/e-h-herzensdieb
~~~
We offer flexible terms and all board & health care is included through weaning, which is generally between 5 and 7 months of age. We also offer foal raising here on our farm with other young horses and plenty of hilly pasture to grow strong bones and ligaments. 
Happy will be registered AHS, and will have his USEF and USDF lifetime numbers and a microchip.
Additional Details
Name
Heart Song - EH Herzensdieb/Grand Cru
Terms
Flexible Terms and Foal Raising board available
Contact Seller
Owner/Trainer:
Farm
Telos Farm Warmbloods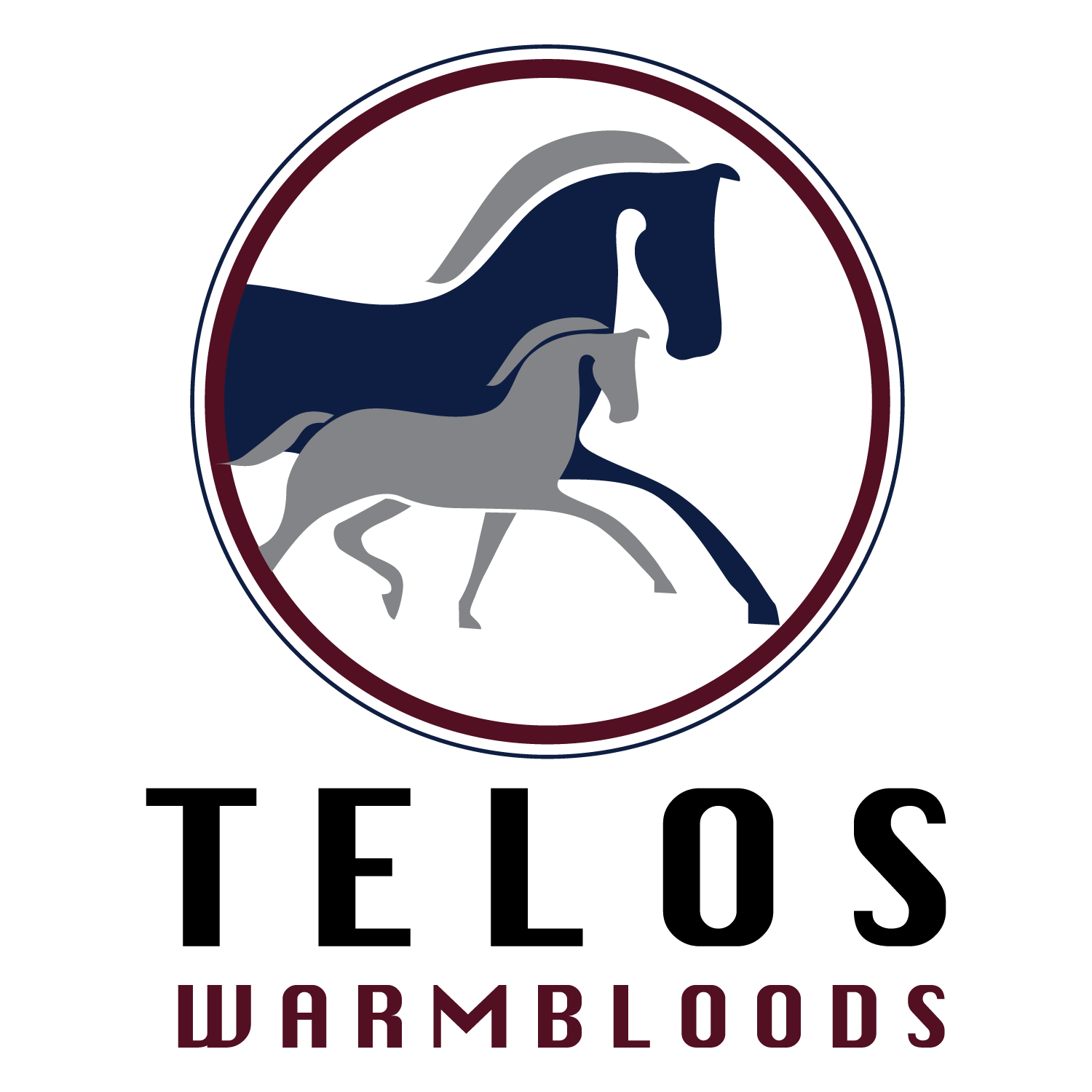 Telos Farm Warmbloods
Telos Farm Warmbloods, LLC is a breeding farm located in the beautiful rolling countryside of Columbia City, Indiana. We strive to produce quality warmblood horses (Trakehner and Hanoverian heritage) with excellent temperaments, athleticism and longevity. While our primary focus is dressage, we often have eventers or hunters for sale and will thoroughly evaluate each horses's potential for the various show rings. We prefer horses with calm, trainable temperaments, but still possessing good gaits and rideability for dressage, particularly the walk. Potential "keeper" broodmares are brought to their mare performance testing to achieve the elusive 'elite mare' status. Other broodmares come to our farm following a successful sport career. Telos was founded and is managed by Sarah Randolph who competed through 4th level dressage and evented through Preliminary . Her working student experience as a youth with 4* FEI Judge and stallion owner/breeder Jeanne McDonald gave her a great basis for developing young horses and choosing the right mares and stallions for the Telos program. Sarah continues to run the gamut of needs on a breeding farm, from choosing the best pairings, ultrasounding and inseminating mares, designing the broodmare nutrition program, foaling out, and then the fun part - working with the foals and young horses so they learn how to be excellent riding partners for their years to come. Sarah also begins long-lining late 2 year olds, and starts them under saddle as late 3 year olds, early 4. She works with talented trainers to help bring out the best in them, taking clinics with Jeanne McDonald, Whitney Peterson-McIntosh, and a classical focus from Lynda Weese. Thank you for reading about our program! We believe that quality should come over quantity when raising horses the right way, and we appreciate horses bred for athleticism, temperament, and longevity.
Bloodlines
Sire
Sire Sire Sire
Hohenstein
Dam
Dam Sire Sire
Grand Garcon
Dam Dam Sire
Sonnenstrahl