HERMIONE
See https://www.blacksterlingfriesians.com/ for a list of all of our CURRENT friesians for sale
Or feel free to give Janna a call for more information on any of our friesians currently available at 415-272-2112
NEW PREGNANT FRIESIAN MARE ALERT, great 2 for 1 value! Hermione has a gentle character. She is 4 years old and has been ridden and driven extensively in heavy traffic. Read: not a spooky type, and confirmed IN FOAL to Ulbran 502! This lovely gal is FULLY PAPERED, meaning she has unbroken STER predicates in her motherline. You just cannot beat this mare's motherline... her dam MODEL AND Preferent, having had 6 offspring that have become STER or better AND her grand dam is MODEL Pref AND Prestatie 13, which means she has had 13 offspring that have done the SAME and her great great grand-momma is Ster Pref with 5 offspring, the SAME, and Gr Gr Gr grandma is ALSO STER---DOES IT GET ANY BETTER!?!?!? This is a Pregnant mare that would BE IDEAL as a foundation mare to start a TOP NOTCH breeding program with---she is BRED for GREATNESS!! She has a low inbreeding coefficient which means you can breed her to just about any approved stallion!
Hermione is a terrific pleasure /trail/or dressage horse and has a very willing attitude, she WANTS to please you. Equally well trained to drive, this gal has these gorgeous eyes that will simply melt your heart! You won't find a perfect age, WELL TRAINED to ride and drive, stunning mare like this often! Buy her NOW, this one, at THIS PRICE, won't last!!
This 4 yr old mare is REALLY nice, and reasonably priced at $29,900 delivered to NY, $2800 more delivered to Chicago, or LAX. And what a fabulous opportunity to acquire TWO FRIESIANS for the price of ONE, Hermione will give you an Ulbran foal worth 15-18k! If you are looking for a VERY well bred Friesian mare, reasonably priced, give me a call at 415-272-2112 about this one. See https://www.blacksterlingfriesians.com/friesian-horses.../ for vids
Additional Details
Dressage Training Level
1st Level
Driving Experience
Training
Terms
Deposit is 10%, balance due before taking possession
Contact Seller
Owner/Trainer:
Farm
fairytale Friesian Finder Service Inc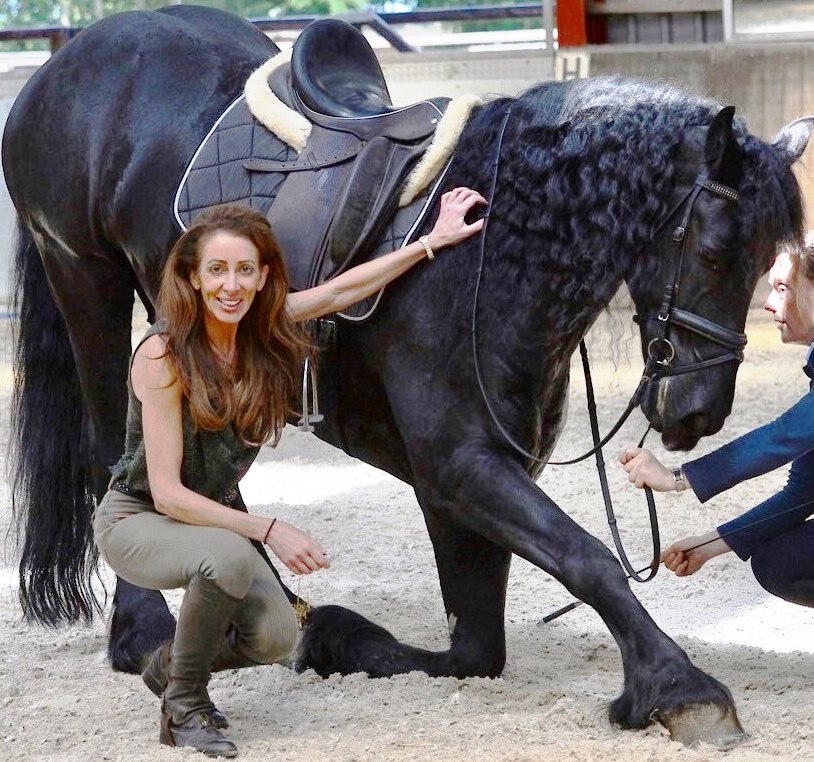 fairytale Friesian Finder Service Inc
Fairytale Friesian Finder Service… helping riders acquire the Friesian that is RIGHT for them. We go to great lengths to match the RIGHT horse with the RIGHT rider, depending on the rider's needs, budget, timing, etc, and Janna has not only won 16 world and national championships with her Friesian horses, and been awarded FHANA's President's Trophy, she has successfully matched more riders than anyone in North America with their dream forever Friesian partners. Janna will go to Europe with buyers on buying trips, if requested, and personally help locate a fairytale Friesian, negotiate the very best price, with contacts she has been purchasing Friesians from for the past two decades, and take care of exchanging funds to euros, arranging all the necessary vet checks and radiographs and bloodwork, arranging for transport of the horse to the Amsterdam airport, and arranging all the necessary import and quarantine services for a customer's exceptional new dream Friesian! We frequently find and import EXCEPTIONALLY beautiful trail/pleasure horses, as well as offer accomplished sport horses with impeccable track records, winning in dressage, ONLY available by us. to Europe, and see and try numerous horses, only picking the best of the BEST, after testing riding, and arranging and paying for thorough vetting with the most renowned veterinarians in Holland,to offer AMAZING one of a kind horses to our discriminate buyers. Call or email Janna, and let her know exactly what you are searching for, and if we don't have it, we will find your fairytale Friesian for you!
Bloodlines
Dam
Dam Sire
Tsjerk SPORT Pref
Dam Dam
MODEL Pref Prest13
Dam Sire Sire
Feitse Pref
Dam Sire Dam
MODEL Pref Prest