Jack Black STER
Make sure to check out ALL of our current sale horses at Blacksterlingfriesians.com
It's safe to say, this is the MOST CHARISMATIC, BEST MOVING friesian ster gelding we have seen in the last decade!! He is FANTASTIC!
Champion in EVERYTHING he has touched--- single, pairs, leader in 4 in hand, leader in unicorn, tandem, pulling a sleigh, 2nd level dressage with confirmed lateral work (shoulders in/side pass, etc, GREAT uphill canter)
This boy has been shown a lot---and is a proven WINNER---what a sport horse!! And phenomenal mover under saddle, currently 2nd level, with potential to go all the way---just look at his ability to collect and EXTEND....
This boy is IMPRESSIVE--170 cm, that's 16.3 hands of WOW!!
And a fantastic character! He has the soooo sought after EXPERIENCE in many many situations and settings, and a GOLDEN character---absolutely suitable and safe for every single rider.
This is a once in a lifetime horse that has done everything. Showing, and WINNING, as a single, in a pair, in a four in hand, in a tandem and the leader with 3 horses, AND under saddle! You can put him anywhere--- left, right, front, back. Pull out the stops with a professional rider, or safely be shown in dressage by a novice----All is good with this AMAZING STER FRIESIAN gelding for sale! He has an easy canter to sit, and fantastic extended trot:)
Jack Black is very very sweet, and is super with other horses. He made it to the 3rd round at the stallion keuring..... So he was in the FINALS of the approved stallion selection, with the best 35 stallions in the Netherlands, and he became STER!
FANTASTIC pedigree, motherline is INCREDIBLE:
STER-STER-STER+Pref-STER
B-day 3/24/11
LOW 2.34% inbreeding
Stam line 133
What a phenomenal son of world grand champion and STER and PREFERENT approved stallion, Norbert 444---this boy was BRED to be a winner!
We just had this AWESOME boy castrated and have him scheduled to arrive in LAX on May 14th---if you prefer he fly to NY, Chicago, or Canada, please let us know right away!
and we just had him thoroughly vetted and xrayed, xrays available for review with your vet. This one WON'T last!See BlackSterlingFriesians.com for more photos and information or call 415-272-2112
Additional Details
Dressage Training Level
2nd Level
Dressage Showing Level
2nd Level
Driving Experience
Pleasure
Eventing Training Level
Prospect
Eventing Showing Level
Not Showing
Contact Seller
Owner/Trainer:
Farm
fairytale Friesian Finder Service Inc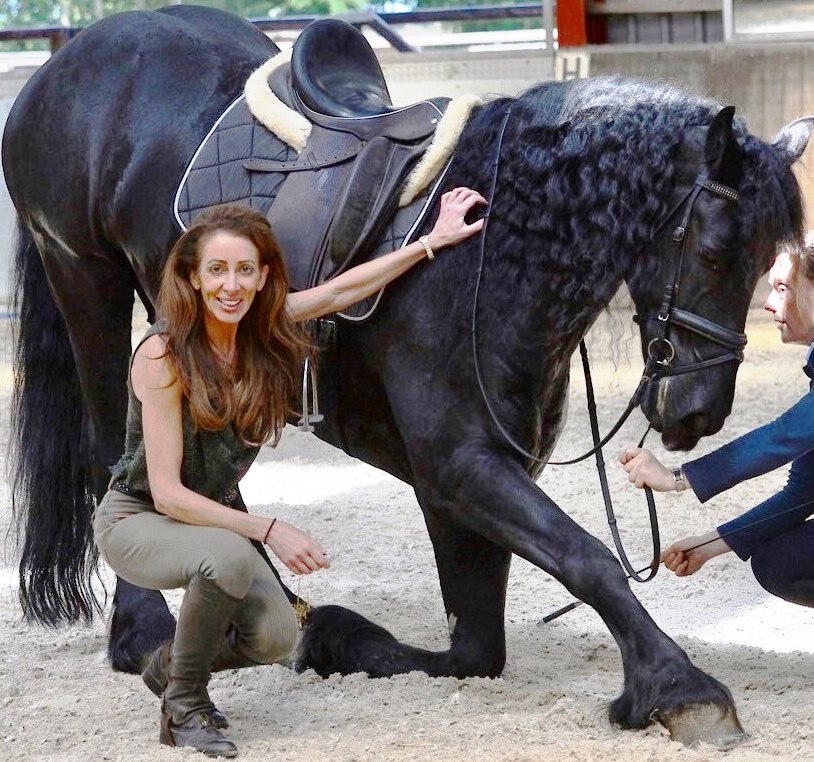 fairytale Friesian Finder Service Inc
Fairytale Friesian Finder Service… helping riders acquire the Friesian that is RIGHT for them. We go to great lengths to match the RIGHT horse with the RIGHT rider, depending on the rider's needs, budget, timing, etc, and Janna has not only won 16 world and national championships with her Friesian horses, and been awarded FHANA's President's Trophy, she has successfully matched more riders than anyone in North America with their dream forever Friesian partners. Janna will go to Europe with buyers on buying trips, if requested, and personally help locate a fairytale Friesian, negotiate the very best price, with contacts she has been purchasing Friesians from for the past two decades, and take care of exchanging funds to euros, arranging all the necessary vet checks and radiographs and bloodwork, arranging for transport of the horse to the Amsterdam airport, and arranging all the necessary import and quarantine services for a customer's exceptional new dream Friesian! We frequently find and import EXCEPTIONALLY beautiful trail/pleasure horses, as well as offer accomplished sport horses with impeccable track records, winning in dressage, ONLY available by us. to Europe, and see and try numerous horses, only picking the best of the BEST, after testing riding, and arranging and paying for thorough vetting with the most renowned veterinarians in Holland,to offer AMAZING one of a kind horses to our discriminate buyers. Call or email Janna, and let her know exactly what you are searching for, and if we don't have it, we will find your fairytale Friesian for you!