Kitty Hawk SSH
We are proud to offer Kitty Hawk SSH, a strikingly beautiful 2 year old holsteiner filly! Gorgeous gaits - correct and elastic! Kitty has a kind and engaging personality with a splash of spice. Smart and quick to learn. Radiographs available!
Kitty is registered with AHHA. She received superlative Premium scores of 8 for conformation and 8 for movement at her AHHA inspection! The judge was very impressed by her all around high quality, modern build, and supple movement.
Conifer! Sire of the outstanding young stallion, Cadogen; producer of 100% premium AHHA foals and 3(!) top scoring AHHA youngsters. Conifer is the complete package. He is a leggy, elegant and extremely well-balanced stallion. He is a great mover with three fluid, light and rhythmic gaits. He also possesses the scope, bravery and technique for big jumps. His offspring inherit his natural balance, rhythm and confidence. They are versatile horses competing in dressage, hunters, jumpers, and eventing.
Conifer`s dam's side traces to the great stallion WELT AS. Welt As was the sire of Bonfire who was the dressage individual gold medalist at the 2000 Olympic games. He also earned multiple Olympic team silver medals as well as an individual silver and was a veteran of 3 games. Conifer's dam side also traces back to the Thoroughbred improvement sire Marlon whose descendants have competed successfully in eventing, dressage, and jumpers.
Conifer's sire side is the highly influencial C-Line of the Holsteiner breed, his tracing back to CALYPSO I. This line has been in the bloodlines of the top jumping horses in the world for many years. Conifer combines the best of the Holsteiner bloodlines to produce top quality, athletic offspring.
Waltz Across Texas! Premium mare; premium producer; wonderful pedigree. See the Who's Who in Holstein. She has excellent gaits, a good mind, and is fun to be around! She is by Camiros! GRAND CHAMPION stallion, l994 Holsteiner stallion approvals in Neumunster, Germany. 54 bonit Premium stallion with a 9 on Brilliance and Impulsion. Camiros is by CONTENDER, a most influential stallion! Equally important is that Camiros is out of the dam Valeska IV by Fernando/Lord/Ramiro. Valeska IV is an important dam in Holstein having produced both Camiros and champion stallion COROFINO. His stamm of 318 D2 is one of the best known and respected stamms in Holstein. Camiros' breeding record is most impressive with 17 approved mares, 2 of which are Statespremium, and 7 Premium. He produced l8 Premium foals his first year of breeding in Holstein. Written by Kaye Smarslik in 1997 at the annual stallion presentation, she said: "Camiros was the most impressive dressage prospect of all. He was totally concentrated, relaxed and absolutely correct in all his wonderful gaits-soft and happy in the bridle. A magnificent horse." Karen, owner of Fox Fire Farm can attest to the above. He is the best riding horse I have ridden.
Waltz Across Texas' damsire is Ariadus! This stallion is strikingly beautiful, has a super temperament and absolutely correct conformation. Most importantly, Ariadus is from ACORD II, 100 Day Test champion, and contains no close Cor de la Bryere or Landgraf blood. He received a "9" on type and "8's" on both front and hind legs; a score seldom seen.
Ariadus is by Acord II(Ahorn) out of a Latus II (Landgraf)/Laertes mare. Ariadus' granddam is the dam of CAPITOL, legendary sire from Holstein. Ariadus was 4th at the 1995 stallion approvals in Neumunster. He is a Premium rated stallion with 54 bonits. Ariadus is the most beautiful stallion we have seen.
We proudly support stallions standing in North America!
Additional Details
Sold
Inquire for price
$0 USD
Dam
Waltz Across Texas (HOL)
Terms
Generous payment terms available. Discount for cash purchase. Price includes USEF lifetime number, microchip, 2 months free board, current coggins and vaccines.
Contact Seller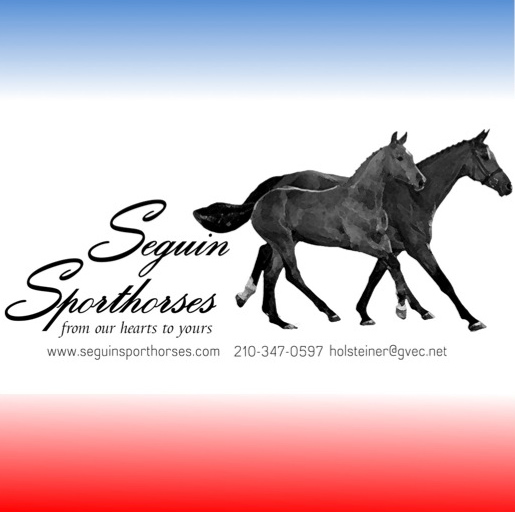 Seguin Sporthorses
Bloodlines
Sire
Sire Dam
Evening Primrose (HOL)
Sire Sire Sire
Calme (HOL)
Sire Sire Dam
Mahogoni (HOL)
Sire Dam Sire
Merano (HOL)
Sire Dam Dam
Wildflower (OLD)
Dam
Dam
Waltz Across Texas (HOL)
Dam Sire Sire
Contender (HOL)
Dam Sire Dam
Valeska IV (HOL)
Dam Dam Sire
Ariadus (HOL)
Dam Dam Dam
Caprice III (HOL)