Luna
**Sale Pending**
Trakehner mare in foal to the Hanoverian "Escher DFEN" for an eventing prospect foal. Sale includes the mare and her in utero foal.
Luna is a 5 year old 16.2 Trakehner mare by the TB Sporthorse Duckhorn and out of a Donnerkeil/Postillion Trakehner mare. Duckhorn goes back to Deputed Testamony which many old-time eventers (Denny Emerson etc.) express quite an affinity for with their boldness, jump, and disposition. Luna has large feet and good bone - her mother is a solid Trakehner type, from before much TB was infused into the registry. Despite being 50% blood, Luna has the most laid back and relaxed temperament, similar to old-style warmblood horses like her dam. Luna is an EASY keeper - just a quart of Ultium Growth twice a day and we have to watch her weight even with that. She loves to live out 24/7 and she is not at all herd-bound. She is easy enough to handle, load, vaccinate, deworm - she is one of the only horses on our farm that my non-horsey husband is completely comfortable. Luna is a pro for palpation and was checked in foal at 16 days and heartbeat. Just a super sweet, easy girl - one of the simplest mares we have ever had on the farm.
Escher is the EurEquine stallion by Escudo I (Hanoverian) and out of a TB mare, Apt to Please. Apt to Please was an eventer herself, and also won her AHS inspection, and completed her Mare Performance Test (MPT). A full sibling to Escher, Eleanor, had the highest Hanoverian MPT test score that year and is competing at USEA events now. Escher himself was the highest scoring 2 year old colt in the US in 2018 at USEA young horse, and had no scores lower than 8.2. Escher recently completed his first year of the North American Stallion Testing in November 2019 and scored overall 7.7 with 8's for rideability and canter. More information about Escher is here: https://www.eurequine.com/escherdfen
Escher is approved with the American Hanoverian, American Rhineland, and Oldenburg-NA/ISR studbooks. The foal can be registered along with Luna's entry into their mare book.
Photos are - Luna (grey), Escher (dark bay). Some Luna photos courtesy of Jessica Schmitz. Escher photos from Eurequine.com
Negotiable to the right home.
Transport available within 350 miles in box stall for $2 a loaded mile.
Price subject to increase in proximity to foaling.
Additional Details
Terms
Negotiatable to the right home. Can accept payments, but mare must be insured and stay with us until paid in full.
Contact Seller
Owner/Trainer:
Farm
Telos Farm Warmbloods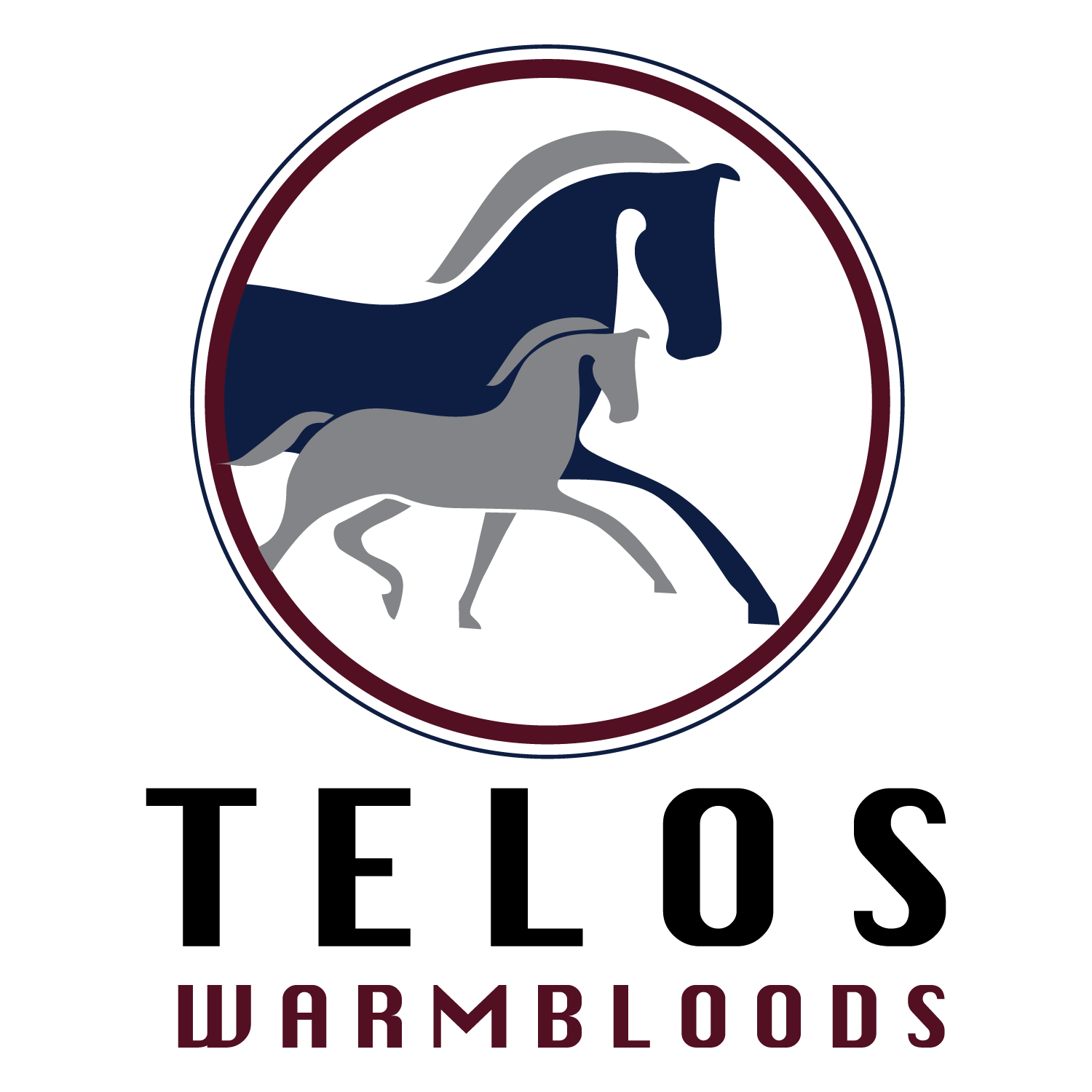 Telos Farm Warmbloods
Telos Farm Warmbloods, LLC is a breeding farm located in the beautiful rolling countryside of Columbia City, Indiana. We strive to produce quality warmblood horses (Trakehner and Hanoverian heritage) with excellent temperaments, athleticism and longevity. While our primary focus is dressage, we often have eventers or hunters for sale and will thoroughly evaluate each horses's potential for the various show rings. We prefer horses with calm, trainable temperaments, but still possessing good gaits and rideability for dressage, particularly the walk. Potential "keeper" broodmares are brought to their mare performance testing to achieve the elusive 'elite mare' status. Other broodmares come to our farm following a successful sport career. Telos was founded and is managed by Sarah Randolph who competed through 4th level dressage and evented through Preliminary . Her working student experience as a youth with 4* FEI Judge and stallion owner/breeder Jeanne McDonald gave her a great basis for developing young horses and choosing the right mares and stallions for the Telos program. Sarah continues to run the gamut of needs on a breeding farm, from choosing the best pairings, ultrasounding and inseminating mares, designing the broodmare nutrition program, foaling out, and then the fun part - working with the foals and young horses so they learn how to be excellent riding partners for their years to come. Sarah also begins long-lining late 2 year olds, and starts them under saddle as late 3 year olds, early 4. She works with talented trainers to help bring out the best in them, taking clinics with Jeanne McDonald, Whitney Peterson-McIntosh, and a classical focus from Lynda Weese. Thank you for reading about our program! We believe that quality should come over quantity when raising horses the right way, and we appreciate horses bred for athleticism, temperament, and longevity.
Bloodlines
Sire
Sire Sire Sire
Mr. Prospector
Sire Sire Dam
Dance Number
Sire Dam Sire
Deputed Testamony
Dam
Dam Sire
Donnerkeil (US Trk)
Dam Dam
Hostess (GER Trk)
Dam Sire Sire
Graditz (GER Trk)
Dam Sire Dam
Donauweise (US Trk)
Dam Dam Sire
Postillion (GER Trk)
Dam Dam Dam
Hollunda (GER Trk)