Martin Ster
See https://www.blacksterlingfriesians.com/for more info!
Martin STER is a real eye-catcher---and my FAVORITE horse of all the horses i saw on my most recent Holland buying trip!!
THIS HORSE IS SPECIAL!!!!!
With his imposing appearance, beautiful neck and lush mane he immediately attracts your attention. He is a "10"!!
We are very very excited to be able to offer this special STER BIG boy.
Martin is a modern boy and we absolutely LOVE his uphill build and conformation!
This star boy has more quality than any other friesian horse we saw in the Netherlands recently---he trots with lots of expression and has a VERY good use of his hind legs. Martin's canter is strong and uphill and shows a lot of balance.
He is now 3rd level dressage and training piaffe and passage. The bonus is that he is also a champion driving horse, in the limit class in show driving.
He also likes outside trail rides. This is a RARE friesian with the talent and work ethic to really be an amazing show horse, not to mention his drop dead GORGEOUS dazzling looks!
Fabulous textbook perfect pedigree, bred for athleticism, this Tsjalle X Ulbert 8 yr old boy is over 16.3 hands tall. Super long forelock and mane, shiny jetblack coat, and one of the SWEETEST, kindest, most gentle boys to handle. Yet his movement is electrifying!
This boy has the goods to be an FEI horse for someone---his movement is conducive to performance---with his looseness in the shoulder, and active hind leg, and strong work ethic and incredible heart. Martin STER will give you his ALL.
Are you looking for a partner that is willing to work and wants to please?? Martin is really interesting because he can reach forward and sideways, not just up in the shoulder. We like his strong canter with good jump in the hind end and his ability to travel light and forward willingly.
In short, Martin STER has IT ALL: Perfect conformation, a superb disposition, excellent movement in all 3 gaits, balance, self carriage, and flexibility. AND he is sweet, and just soooo charismatic... the world is this 8 yr old STER geldings oyster!!! Oh, and did we mention that he has clean xrays available for review with your vet, and comes with a brand new physical pre purchase exam....
This is a HORSE OF THE YEAR kind of friesian!!!! He is just THAT good.
Give Janna a call if you are seriously interested, at 415-272-2112.
Martin STER has ARRIVED FROM EUROPE and is HERE for you to see and try!!! https://www.blacksterlingfriesians.com/
Additional Details
Dressage Training Level
3rd Level
Dressage Showing Level
3rd Level
Driving Experience
Recreational
Eventing Showing Level
Not Showing
Contact Seller
Owner/Trainer:
Farm
fairytale Friesian Finder Service Inc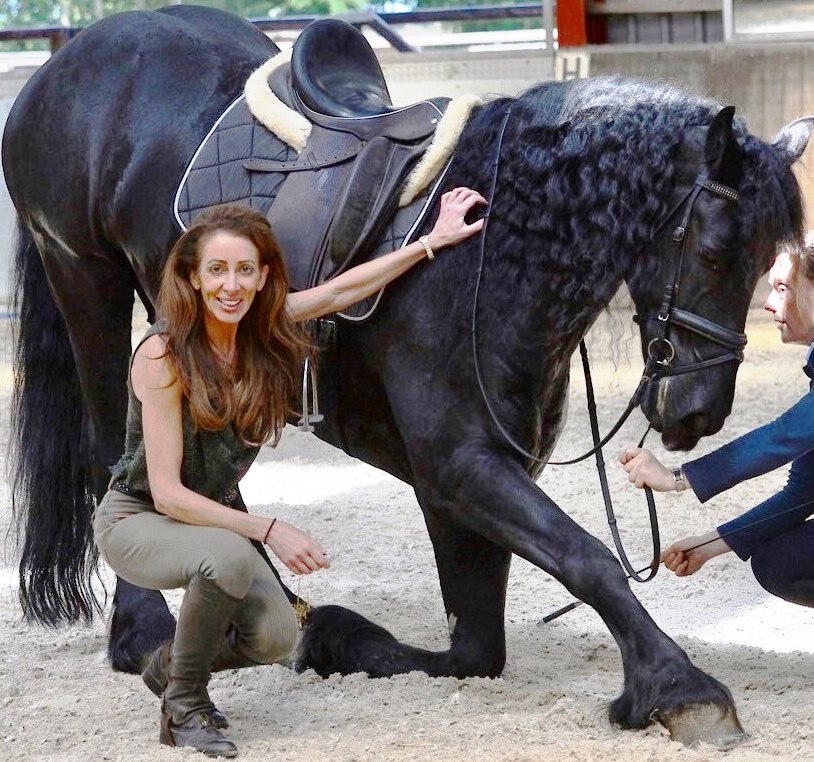 fairytale Friesian Finder Service Inc
Fairytale Friesian Finder Service… helping riders acquire the Friesian that is RIGHT for them. We go to great lengths to match the RIGHT horse with the RIGHT rider, depending on the rider's needs, budget, timing, etc, and Janna has not only won 16 world and national championships with her Friesian horses, and been awarded FHANA's President's Trophy, she has successfully matched more riders than anyone in North America with their dream forever Friesian partners. Janna will go to Europe with buyers on buying trips, if requested, and personally help locate a fairytale Friesian, negotiate the very best price, with contacts she has been purchasing Friesians from for the past two decades, and take care of exchanging funds to euros, arranging all the necessary vet checks and radiographs and bloodwork, arranging for transport of the horse to the Amsterdam airport, and arranging all the necessary import and quarantine services for a customer's exceptional new dream Friesian! We frequently find and import EXCEPTIONALLY beautiful trail/pleasure horses, as well as offer accomplished sport horses with impeccable track records, winning in dressage, ONLY available by us. to Europe, and see and try numerous horses, only picking the best of the BEST, after testing riding, and arranging and paying for thorough vetting with the most renowned veterinarians in Holland,to offer AMAZING one of a kind horses to our discriminate buyers. Call or email Janna, and let her know exactly what you are searching for, and if we don't have it, we will find your fairytale Friesian for you!