Maverick SPORT
UNBELIEVABLY TALENTED and RARE opportunity to own a Fairytale 8 year old 4th level Schoolmaster gelding!
Meet Maverick SPORT, at only 8 years old, he is competing at fourth level dressage- Incredible! Maverick is doing beautiful flying changes every 3 and 4 strides. He is SO easy to do flying changes. His flying changes and canter pirouettes really are unbelievable. He is the PERFECT age, and has all the training- What a schoolmaster.
Why do we love this horse so much? He is super talented for the upper levels of dressage- with the talent for moving up even higher in FEI dressage, he has all the training… and he can be ridden by ANY type of rider. He can be ridden no hands, bareback, beginner riders, or very experienced dressage riders that want to compete in the upper levels. This horse has a lot of potential! He is versatile- he loves dressage, loves to trail ride, and even more loves the beach:) He really checks all of the boxes and someone is going to have so much fun on him. He is just beautiful with long curly hair. He has such a presence about him. Whoever gets this awesome boy is going to be luckiest person in the world!!
Maverick is a big boy, standing at 16.1 hands- but is a real gentle giant. He is never pushy and has great ground manners.
Maverick has very good gaits, and transitions in the gaits are easy for him. Half-pass is big and easy. When you are looking for an upper-class horse, easy to ride, this is the one! He is great with kids and great around dogs and farm animals. Maverick loves to trail ride, LOVES the water and even knows how to swim. We really cannot say enough good things about this AMAZING horse!
Maverick's old owner was devastated to have to sell him. She wrote the following note about him, she was very sad to say goodbye.
"Goodbye my friend! Maybe ever see you soon... you're going well! ?? ??
Let's get on your path, what you deserve! A horse from thousands!!!!
Today has my Maverick is leaving our stables. At our farm, we work with horses every day. That's our job. Because we often train them, often from our own breeding, it often takes a while. But at Maverick leaves, he will leave a tear. Maverick was born and raised at our farm and bred from our Sports mare Saakje W (v. Jillis). He has been mine for 8 years and I realize that he has never taken a bad step, not even a day stiff after intensive labor, or irregular after losing an shoe. For 8 years, never been colic or ill! The vet only visited him to vaccinate. That does make him extra special. I had never ridden ZZ-light and he brought me to this level. The construction for the flying changes he had received from his mother. What was / am I proud of his changes!
3 breaks he got during my 3 pregnancies. And yet we achieved our coveted Sport last summer! I never drove him with reluctance! Never has he left me in a test! I could always rely on his commitment! I sincerely hope that the next owner can have as much fun with him! And otherwise at least respects him as much as I do. What an honest horse is it!!! I will dry another times my tears and smile and think of what a great future there is for you on the other side of the big ocean."
Maverick is only being sold to an approved home. He is perfect in every way!!!
Additional Details
Dressage Training Level
4th Level
Dressage Showing Level
4th Level
Eventing Showing Level
Not Showing
Contact Seller
Owner/Trainer:
Farm
Friesian Marketplace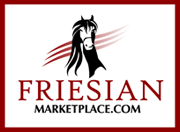 Friesian Marketplace
At Friesian Marketplace we specialize in selecting and importing the highest quality friesians for sale. Our focus at Friesian Marketplace is to match clients only with the perfect friesian for their needs. Our emphasis is on our clients and their needs rather than the volume of friesians sold. We rely on our REPUTATION, and have hundreds of happy customers, please check out our remarkable testimonials! We keep a variety of the highest quality friesian horses for sale at our facility. If your passion is dressage, driving, saddleseat, western, or you are looking for the perfect companion to enjoy and trail ride, we can help you find your dream horse! We have friesians for sale for every equestrian enthusiast! We have a selection of many friesian geldings for sale, friesian mares for sale and friesian stallions for sale. We have a huge variety of english, western, and trail Friesians for sale.