Morricone X Rubinero/Donnerhall-Due in 2022
---
Sold
---
Morricone X Rubinero/Donnerhall-Due in 2022
UNDER CONTRACT
MORRICONE (sire)
Currently showing at Intermediare level in Europe, Morricone has already made his mark. At his stallion test the judges had this to say about the then 3 yrs old stallion:
"Three fantastic basic gaits, rhythm and a striking engagement of the hindquarters, but on the other hand is the rideability and the imperturbable strength of character, which is absolutely unique for such a youthful stallion."
Since then he has gone on to produce 6 spectacular foal crop that has confirmed his quality as a sire. This is what the german judges have to say about his foals:
"Morricone's offspring exceeded all expectations. They stand out with their beautiful and noble type like they were all of a piece. Remarkable is the excellent character of his offspring, which present themselves as very drawn to people, with strong nerves and easy to handle."
KREATION (dam)
Kreation was retained for our breeding program to continue the legacy of her dam Donation, a direct daughter of Donnerhall, and because she consolidates the D and R lines that we like so much for their high rideability and good temperament for amateurs. What she lacks in size (she is 15.3) and elasticity (she is an average mover) she makes up for her aplomb (pretty much spook proof), never-ending desire to please, and sensitivity and responsiveness.
So far she has passed on pretty consistently her type to her foals: black (she is homozygous), pretty, compact with strong loins, not too tall, and with a lovely neck and frame. Pictured are her foals: by Fabregas and by Secret.
Morricone is very stamping for frame, size (he is 17.1hh), and elasticity as well as a top-quality mind, as you can read above, so the two should complement each other very well to produce what should be a nice mix for those interested in brains, trainability, as well as movement and size for the common mortals.
This foal is expected in May/June and will benefit from our 18 years of experience raising foals and getting them ready for their new homes.
Our foals are handled every day and benefit from a natural setting with excellent forage and plenty of exercises and regular farrier visits.
You will be given regular updates with pictures and videos.
Please visit our website for more information.
Additional Details
Name
Morricone X Rubinero/Donnerhall-Due in 2022
Terms
Contact us for our in-utero contract.
Contact Seller
Owner/Trainer:
Farm
Formosus Sport Horses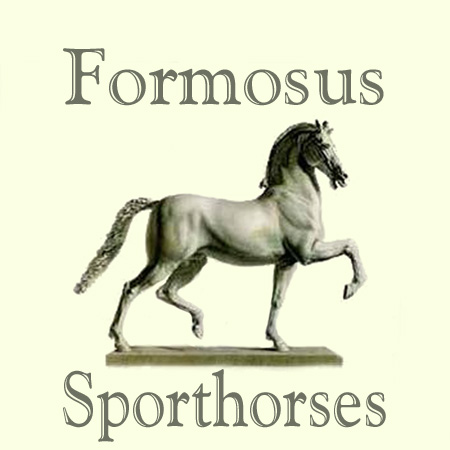 Formosus Sport Horses
We are a small breeder commited to providing good quality sporthorses horses prospect at affordable prices for the discerning amateur.