NATHAN
See BlackSterlingFriesians.com for pics and clips of all of our CURRENT sale horses. Janna handpicked this one and is proud to present this Amazing TALL 6 yr old Gelding that recently performed in an exhibition at the stallion show in Leeawarden!! He is a gorgeous TALL impressive horse!!!!
Tate has quite a regal look, a true gentle giant. Jet black in color, long and thick mane and tail, and is trained to ride AND drive! He is well trained to ride out on the trails and in traffic as well!
This is a very big and impressive gelding." Measuring 168 cm (16.2 hands!). He has developed into a really really fancy dressage horse, should you choose to show, get ready to clean up with the ribbons!! - This is very reasonably priced big impressive dressage/all around pleasure/family horse. A super boy with MUCH experience!!!! 16.2 hands. And REASONABLY PRICED, particularly for a horse already doing exhibitions and perfect age, 6 yrs old!!!!! This is a RARE EXPERIENCED boy, and what a beauty..... Tate is super willing and SWEET as can be, gelding with three easy to sit gaits, and a GREAT canter for a friesian.
Pedigree is impeccable, JASPER X LEFFERT
b-day 5/20/12
He is also well trained to drive as a single, pair and 4 in hand, also experienced in traffic, and excellent out on the trails, by himself, and with other horses. He tracks very well underneath himself, and he is just an amazing horse to work with. He is always happy and always wants to do 100% his best for you! Tate was my absolute favorite horse to ride, on a recent buying trip to the Netherlands. He is just amazing..... such a sweet horse...I love how he WANTS to work for you. And he learns so quickly. Amazing light in his mouth. Tate is a horse that really wants to PLEASE his rider, and has the talent and trainability to go far. Comes with a recent pre-purchase exam. He is a "Black Labrador" type horse.
In the videos above, at the stallion keuring, he is the left leader in the four in hand! Thoroughly vetted and recently xrayed, all good!! Xrays available for review with your vet.
If you are looking for a reasonably priced imported friesian gelding that is safe and very level headed, with EXPERIENCE, you need to look at this horse. Tate is a good honest horse, a wonderful choice if you would like a very handsome pleasure/trail horse, that will get you around town in HIGH fashion!! And dressage lovers--- here is a show horse you can literally start winning with THIS SEASON!!! Because of his willing temperament, Tate is a good choice for those just getting back into riding, or anyone needing a super safe, easy to ride boy.
This one will NOT last..... located at 59 baywood canyon rd in fairfax, for you to see and try (near san francisco or oakland airports!)
Additional Details
Dressage Training Level
2nd Level
Dressage Showing Level
1st Level
Driving Experience
Combined
Eventing Training Level
Novice
Eventing Showing Level
Not Showing
Terms
price is FIRM, we are happy to help arrange transport from our stable to yours
Contact Seller
Owner/Trainer:
Farm
fairytale Friesian Finder Service Inc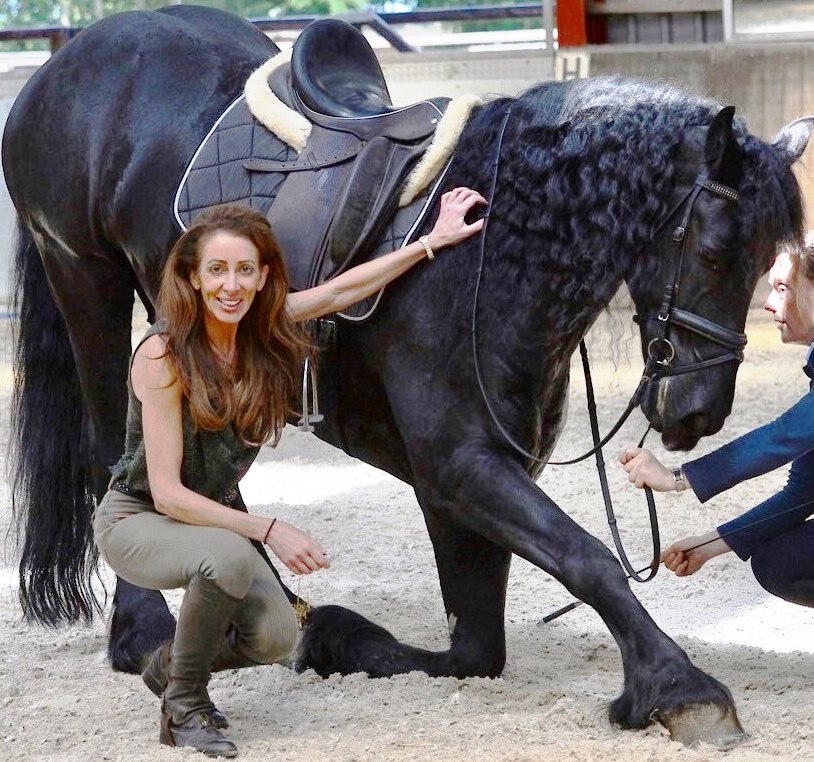 fairytale Friesian Finder Service Inc
Fairytale Friesian Finder Service… helping riders acquire the Friesian that is RIGHT for them. We go to great lengths to match the RIGHT horse with the RIGHT rider, depending on the rider's needs, budget, timing, etc, and Janna has not only won 16 world and national championships with her Friesian horses, and been awarded FHANA's President's Trophy, she has successfully matched more riders than anyone in North America with their dream forever Friesian partners. Janna will go to Europe with buyers on buying trips, if requested, and personally help locate a fairytale Friesian, negotiate the very best price, with contacts she has been purchasing Friesians from for the past two decades, and take care of exchanging funds to euros, arranging all the necessary vet checks and radiographs and bloodwork, arranging for transport of the horse to the Amsterdam airport, and arranging all the necessary import and quarantine services for a customer's exceptional new dream Friesian! We frequently find and import EXCEPTIONALLY beautiful trail/pleasure horses, as well as offer accomplished sport horses with impeccable track records, winning in dressage, ONLY available by us. to Europe, and see and try numerous horses, only picking the best of the BEST, after testing riding, and arranging and paying for thorough vetting with the most renowned veterinarians in Holland,to offer AMAZING one of a kind horses to our discriminate buyers. Call or email Janna, and let her know exactly what you are searching for, and if we don't have it, we will find your fairytale Friesian for you!