Olivia
KWPN Registered 3 year old black filly, Olivia.
Pros looking for a special youngster to move along should not over look this filly! KWPN blood, SPORT type with fluid gaits. Outstanding suspension and movement. Her canter is excellent. Really nice walk with plenty of tracking up.
Super clean legs, gorgeous strong feet (barefoot).
***** More photos and video to come. Very informal ad right now, I just wanted to get it started.
Price to increase with training.
Olivia is extremely athletic.
As far as KWPN (DHH) bloodlines go, this is a VERY nicely bred filly. As far as a sport horse prospect goes, she has outstanding natural movement, more like what we look for in a dressage horse. She is very elegant, spirited, sensitive, and has the most beautiful huge kind eyes I have ever seen. Although she's 15.3+ now, and right in the middle of a growth spurt, I am inclined to think she'll grow to be 16.1 or 16.2. The string test at 2 yrs had her clearing 17hh, but I hope not.
Olivia is the low gal in the pecking order. She likes her "human time". I have spent the last year civilizing her and turning her into a filly I am proud to offer. I suggest that her sensitivity and youth reflects the need for a more experienced hand. That's who will get the most out of working with her. She is still a confident filly, and very sweet.
I work with my horses in a home type situation. This is not a fancy farm. I just happen to have a very fancy filly available. If you are a professional, don't overlook the quality in this one. There are some out there, with 1/2 the movement and double the price. Judge for yourself.
Additional Details
Terms
Price to increase with training
Contact Seller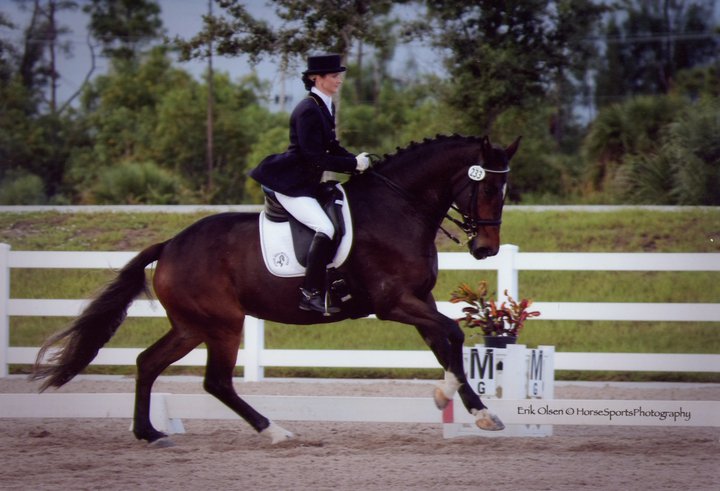 Professional sculptor. Amateur dressage rider, through 4th Level. Competed 9 years in Wellington, FL. Lives in Aiken, SC. www.beverlyzimmer.com