Quintano HW @ www.HWfarm.com
---
For Sale
---
Quintano HW @ www.HWfarm.com
Quintano HW is a total sweetheart, very kind and forgiving. Beautiful in and outside with three rhythmic, big, expressive gaits. He is fabulous and easy to ride, light in the bridle and super nice to sit. Already working at 3rd level, confirmed at 2nd level movements and progressing rather fast.
A lady's horse, young rider, AA or professional alike, everybody wants fun!
Quintano HW, equipped with phenomenal competition genes, is a horse of amazing quality and super fancy mover who knows to impress due to his stunning type and work ethic. This ahhhh-mazing horse has it all. He has a super nice, chiseled head, big stallion neck (even as a gelding). A dream come true.
Lofty movement and his hooves barley touch the ground. He loves to please his handler and rider and is a fast learner. This gentleman eagerly works under saddle and loves his job. He is breathtaking to watch in the dressage arena and with his quick, far reaching hind leg, passage and piaffe will come naturally to him. Quintano HW is supple and has a ton of air time. He just floats above the ground. With his free shoulder and huge suspension, he swings nicely through his back. His canter is an additional highlight to a solid walk and mesmerizing trot.
This extremely talented gentleman has international potential. The great ride ability, makes a lasting impression on whom ever sees him, everything looks just pleasant and easy. He loves his personal grooming time and puts his head right in your lap, striving for attention and searching for treats.
With this horse, you will be the star in FEI classes and at clinics, the judges and onlookers will remember him where ever he goes. His bloodlines are very much sought after, he is your ticket to the top!
Quintano HW is used to go in the hot walker, loves his shower and solarium time. Stands for the farrier, loads and appreciates grooming time. He is a great Young Horse Candidate, just what the judges are looking for and will make his way up the levels.
X-rays on file!
Price includes import and quarantine to NY, check out his video clip!!!
Please contact Irene: [email protected]
239-772-7722 (ask for Irene, managing member, HorseSales LLC)
We take pride in answering every e-mail right away (at least at the same day) and to return each call. If you don't get a reply - please try again, our spam filter might have gotten in the way?!
Additional Details
For Sale
Inquire for price
$0 USD
Name
Quintano HW @ www.HWfarm.com
Dressage Training Level
3rd Level
Contact Seller
Owner/Trainer:
Name
Horsesales LLC www.HWfarm.com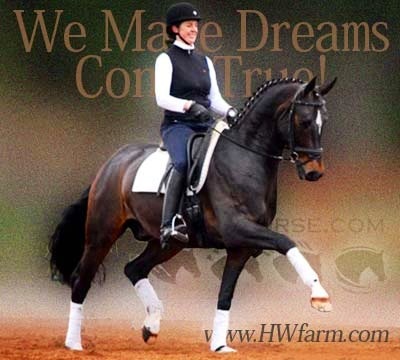 Horsesales LLC
Quality imports for sale from only the best producing bloodlines. Horses are gorgeous and tractable with good manners and great conformation. Most are well started and ready to continue on up the levels. Some horses are available already in the U.S.A. while others are still in Germany. We would be happy to help you in your quest for your next dream horse. Contact Horsesales LLC at: http://www.HWfarm.com for further details, or call Irene (managing member of HorseSales LLC) at: 239-772-7722
Bloodlines
Sire
Sire Dam
St.Pr. Fleet-Street
Sire Sire Dam
St.Pr.LP Passionata
Sire Dam Sire
Fürst Piccolo
Sire Dam Dam
Verb. Pr. St. Scarlett
Dam
Dam Sire Dam
St. Pr. Contenance D
Dam Dam Sire
Lord Liberty G
Dam Dam Dam
St. Pr. St. Gretja