Riekkelt SPORT
See Blacksterlingfriesians.com for more pics and videos. Or call 415-272-2112
7 yrs old Year Old Friesian For sale, to an approved home only
Wobke x Thomas
Has acquired the highly coveted SPORT predicate!!!
All Around Pleasure, UPPER level Dressage---with many scored 65% and higher in 3rd Level Dressage
Its no wonder this fella looks the way he does---he has a phenomenal pedigree chock full of high performance horses.
Good for amateur or beginner/timid riders, and also has much dressage training, going 3rd level!! He is SUPER QUIET and gentle.
Read: EXPERIENCED. IDEAL AGE of 7 yrs!!!
This boy is a CONFIDENCE BUILDER.
This is a rare GORGEOUS boy who has the so sought after experience doing many different things, solid dressage show record and the highly COVETED SPORT Predicate, --- very easy to ride and take on trail rides by himself, super for a novice!
Not only is he an amazing horse to ride, he also has an athletic build, which makes him a great performance horse for any discipline. You will get lost in his sparkling eyes, and watch him FLOAT. His coat is black as can be, with poodle like feathers.
This is a rare friesian, this boy has the natural ability to take YOU up the levels in whatever discipline you want to do! In dressage, he is already beating warmbloods at 3rd level---- very responsive to the aids. Really a dream horse to ride.
Talk about SAFE SAFE SAFE, safely rides in loud traffic---this 7 yr old is a NO BRAINER if you are looking for an all around, been there, done that, pleasure, trail, dressage horse!
Once in a lifetime horse in his Beauty and Behavior is the only way I can think of to describe him! Really a special price, most horses like this dreamboat are priced in the 50k range. Pretty sure he wont last long, as we have him priced for a quick sale, only $45,900! To LAX, Chicago, Ontario or Calgary, $47,900.
We will deliver as a gelding (unless you prefer a stallion), just let us know if you prefer he fly into NY or LAX or Canada for you?
Give janna a call at 415-272-2112 for more info!
and see blacksterlingfriesians.com for more info on ALL of our other sale horses! Note, this special boy is on consignment, to an approved home only, and NOT currently featured on our website. Call janna at 415-272-2112 for more info on Riekkelt, and other dressage friesians that may meet YOUR needs.
Additional Details
Dressage Training Level
3rd Level
Dressage Showing Level
3rd Level
Driving Experience
Combined
Terms
cash, check, bank wire, or ACH deposit only. This horse will sell quickly due to his very reasonable price tag for a STER friesian gelding with SPORT predicate and flying changes. No payment plans or leases accepted. No payment plans/leases
Contact Seller
Owner/Trainer:
Farm
fairytale Friesian Finder Service Inc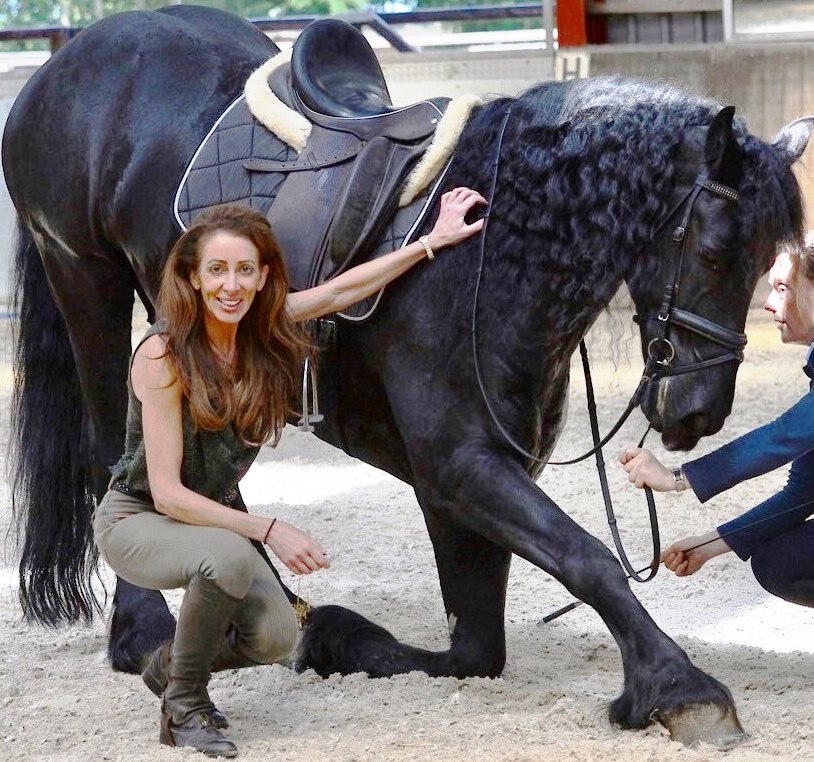 fairytale Friesian Finder Service Inc
Fairytale Friesian Finder Service… helping riders acquire the Friesian that is RIGHT for them. We go to great lengths to match the RIGHT horse with the RIGHT rider, depending on the rider's needs, budget, timing, etc, and Janna has not only won 16 world and national championships with her Friesian horses, and been awarded FHANA's President's Trophy, she has successfully matched more riders than anyone in North America with their dream forever Friesian partners. Janna will go to Europe with buyers on buying trips, if requested, and personally help locate a fairytale Friesian, negotiate the very best price, with contacts she has been purchasing Friesians from for the past two decades, and take care of exchanging funds to euros, arranging all the necessary vet checks and radiographs and bloodwork, arranging for transport of the horse to the Amsterdam airport, and arranging all the necessary import and quarantine services for a customer's exceptional new dream Friesian! We frequently find and import EXCEPTIONALLY beautiful trail/pleasure horses, as well as offer accomplished sport horses with impeccable track records, winning in dressage, ONLY available by us. to Europe, and see and try numerous horses, only picking the best of the BEST, after testing riding, and arranging and paying for thorough vetting with the most renowned veterinarians in Holland,to offer AMAZING one of a kind horses to our discriminate buyers. Call or email Janna, and let her know exactly what you are searching for, and if we don't have it, we will find your fairytale Friesian for you!