Roman
Roman is a young but EXPERIENCED tall friesian, with show experience, competing in 2nd Level dressage. We really like this handsome fella because he has a very good character and EXCELLENT movement!
Not only is he showing dressage with winning points, Roman has a very very sweet temperament, and he is super light to ride. Very good trot and canter. The pictures don't do him justice! He reminds me a lot of the stallion we recently imported, Rio, who has an amazing thick upright neck, and small throat latch. What a super sweet young boy!!!
And there is MORE....Roman is also trained for pulling a carriage, both as a single and in a pair. We had him thoroughly vet checked two weeks ago, and he has been xrayed, which our vet said were all good!
This beautiful boy is a great opportunity! Roman has that SO RARE to find dressage show experience!!! He is a very easy and safe boy who is also exceptionally friendly and LOVES people. He is that kind of horse with a golden character and everybody can ride him without problems. He knows all the exercises of 2nd level dressage and has 3 very good gaits, excellent impulsion and smooth transitions. He knows shoulder in, travers, counter canter, and has perfect lateral work, and walk pirouettes and simple changes, and is training flying changes. He is an uncomplicated horse who will teach you! He is not spooky...he nicely goes forward and he gives a comfortable and trustful feeling to his rider.
Roman is safe in traffic and loves to go on trail rides, or for hacks in the woods, or to the beach. We think Roman suits many people, he has a fantastic character in every way, with the so sought after SHOW experience, being ridden by a teenager!
The combination number is: 827451MA
B-Day 5/28/13, soon to be 5 yrs old! And Roman currently measures 16.2 hands AND is still growing! See More pictures and videos of all of our CURRENT sale horses at blacksterlingfriesians.com or call 415-272-2112
Additional Details
Dressage Training Level
2nd Level
Dressage Showing Level
1st Level
Driving Experience
Pleasure
Eventing Training Level
Prospect
Eventing Showing Level
Not Showing
Contact Seller
Owner/Trainer:
Farm
fairytale Friesian Finder Service Inc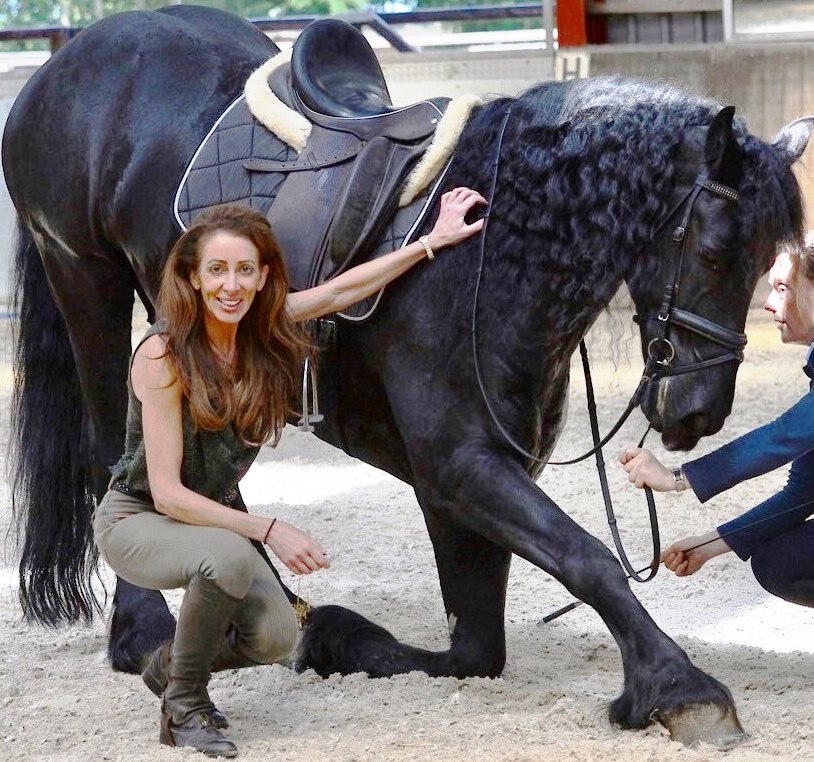 fairytale Friesian Finder Service Inc
Fairytale Friesian Finder Service… helping riders acquire the Friesian that is RIGHT for them. We go to great lengths to match the RIGHT horse with the RIGHT rider, depending on the rider's needs, budget, timing, etc, and Janna has not only won 16 world and national championships with her Friesian horses, and been awarded FHANA's President's Trophy, she has successfully matched more riders than anyone in North America with their dream forever Friesian partners. Janna will go to Europe with buyers on buying trips, if requested, and personally help locate a fairytale Friesian, negotiate the very best price, with contacts she has been purchasing Friesians from for the past two decades, and take care of exchanging funds to euros, arranging all the necessary vet checks and radiographs and bloodwork, arranging for transport of the horse to the Amsterdam airport, and arranging all the necessary import and quarantine services for a customer's exceptional new dream Friesian! We frequently find and import EXCEPTIONALLY beautiful trail/pleasure horses, as well as offer accomplished sport horses with impeccable track records, winning in dressage, ONLY available by us. to Europe, and see and try numerous horses, only picking the best of the BEST, after testing riding, and arranging and paying for thorough vetting with the most renowned veterinarians in Holland,to offer AMAZING one of a kind horses to our discriminate buyers. Call or email Janna, and let her know exactly what you are searching for, and if we don't have it, we will find your fairytale Friesian for you!