Secret Spice HW @ www.HWfarm.com
---
For Sale
---
Secret Spice HW @ www.HWfarm.com
Secret Spice HW, is one of a kind, a very rare find, his sire is the 2020 Bundeschampion Secret and outstanding National German 6yo Champion, as well as
World Champion for young dressage horses Ermelo 2019 – Secret – an exceptional horse and even Vice World Champion!
Secret and his rider Jessica Lynn Thomas delivered a spectacular first round in the qualification of the five-year-old dressage horses. They received an 8.8 for the permeability, the step 9.5, the gallop 9.7, the perspective 9.8 and even 9.9 for the trot. All in all, this gave a total result of 9.54 points and the victory was not to be taken from the two. In the final, Secret had to give up just under 0.02 points, despite a further increase. The pair won the silver medal of the five-year-old dressage horses with 9.64 points. The judge's comment: "A fantastic horse! Always in the flow, always easy. It is a pleasure to judge such a horse. "
In terms of breeding, the descendants of the Secret also seamlessly linked to his father's success in 2019. Country after country was heard from his descendants. In the far north, in Schleswig-Holstein, Secret set one of the price peaks at the Glanz and Gloria auction in Delingsdorf with € 21,000. In Verden, Status Quo was one of the most sought-after youngsters at € 25,000. With the appropriate name Somebody to Dance, Secret was also among the price peaks in Münster on the occasion of the Westphalia Week. In Vechta, Serge Gainsbourg triumphed as the most expensive foal in 2019 with a hammer price of 150,000 euros. The price structure was followed by Secret Emperor, another son of the Secret. This went to Austria for € 42,000.
And also in the south of Germany in Nörtlingen, it was once again a subsidiary of our Secret, which was one of the top prices of the auction with a hammer price of € 25,000. The fact that his offspring are also in demand abroad was demonstrated by a filly from Secret, which took the reserve winner classification of dressage-stressed filly at the Swiss Sport Foal Championships and then found a new owner with a surcharge of 28,000 francs (about 25,000 €). In the Netherlands it was the colt with the appropriate name – One to Remember- that became the top foal in the auction at € 22,000
"The highlight of the day comes from Schwaiger and bears the appropriate name Sensation, from Secret – Fürst Grandios. A colt with a value of
9.67 (type / stature: 10, exterior / correctness: 9, movement: 10) really leaves nothing to be desired and makes words superfluous. "This is how the Austrian Horse Breeding Association described its winning foal 2019.
Secret easily met the expectations placed on him. He completed his 14-day test in Schlieckau with a dressage final score of 9.5. He was able to shine again at the Bundeschampionat in Warendorf, where he was only named Vice Bundeschampion due to the rider marks.
No more words need be said about father Sezuan, the celebrated triple world champion of young dressage horses. The mother line of the Secret, line 853 of the Sudette, produced numerous internationally represented performance horses. Already 38 other licensed stallions originate from this dam line. As the dam's sire, we find St. Moritz, which has only been well remembered at our station, and which, due to the fact that it was too short to work at Gestüt WM, produced a whole range of interesting, sporty and successful offspring.
The maternal pedigree is rounded off by the proven successful combination of the Celler state stud stallions Rotspon, Argentan, Woermann and Lugano. Another flagship of this mother line is the Bundeschampion of five-year-old dressage horses and world champion of six-year-old dressage horses Lordwoods Dancing Diamond. Due to the genetic blood combination of the top class in this flagship pedigree, coupled with the high level of commitment of this rough diamond, we offer today's savvy dressage horse breeder a very special offer.
Secret Spice HW's dam sire is Come On, first competed by Harm Thormählen, he continued his career in 1991 with Carsten-Otto Nagel. With Ludger Beerbaum and Ralf Schneider, numerous international successes were added, such as the victory at the German Masters, a second place in the Grand Prix of Göteborg/SWE, a third place in the Hickstead Derby/GBR and a fourth place in the Hamburg Jumping Derby. Ridden by Her Royal Highness Princess Haya of Jordan, Come On was very successful from 1997, notably at the CHIO Aachen. Come On produced eight licensed stallions from his time at stud, including Clever Boy, Come Well and Checker, and Cosmic FRH, Champion of the Nuremberg Burg Cup.
Come On, a tough international competitor with Ludger Beerbaum and Ralf Schneider, yet gentleman enough to be a pleasant partner on the international stage for Princess Haya.
Secret Spice HW, a brave gentleman with a golden heart,
check out that freedom in the shoulder and active hind leg!
He has a superb rhythm and swings softly through his back, he is very easy to sit.
His gaits are just breathtaking, he barely touches the ground. The canter comes with a phenomenal uphill movement with lots of air time, jumping well up, out and under every single time. He is so much fun to watch and ride. The trot is supple and as elastic as it gets, his front legs reach far out and up, totally amazing. His active hind end enables him to look effortless and his hind legs are reaching far under his body.
He will be a piaffe and passage machine, that's very obvious already.
A modern dressage horse as it should be.
Secret Spice HW loves collected work, he goes easily through the neck, on the bit,
featherlight for the riders hand. He is just stunning and a horse of a lifetime.
Secret Spice HW is giving his best every single day, always in a good mood.
He is in the same hands since he was a foal, prepared for the stallion licensing 2021, intensively handled in hand and long line, he is very personable and loving.
His future is a very bright one.
This young man is a "people horse" and enjoys to be pampered and cuddled,
he will wrap his neck around your shoulders and beg for more and more hugs.
He knows everything a young horse needs to know.
Used to the wash rack, hot walker and more.
He is easy to load and travels well.
Looking for a true Young Horse Candidate? Or something for the Bundeschampionat? The answer can only be: Secret Spice HW
A true gem, he will bring a smile on your face – every day again and again!
X-rays on file!
Price is including import and quarantine to NY, check out his video clip!!!
Please contact Irene: [email protected]
239-772-7722 (ask for Irene, managing member of Horse Sales LLC)
We take pride in answering every e-mail right away (at least at the same day) and to return each call. If you don't get a reply - please try again, our spam filter might have gotten in the way?!
Please find all information and other top quality horses at www.HWfarm.com
Additional Details
For Sale
Inquire for price
$0 USD
Name
Secret Spice HW @ www.HWfarm.com
Dressage Training Level
1st Level
Contact Seller
Owner/Trainer:
Name
Horsesales LLC www.HWfarm.com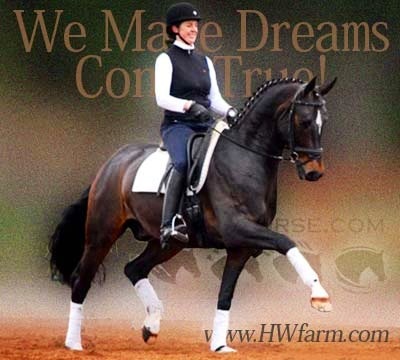 Horsesales LLC
Quality imports for sale from only the best producing bloodlines. Horses are gorgeous and tractable with good manners and great conformation. Most are well started and ready to continue on up the levels. Some horses are available already in the U.S.A. while others are still in Germany. We would be happy to help you in your quest for your next dream horse. Contact Horsesales LLC at: http://www.HWfarm.com for further details, or call Irene (managing member of HorseSales LLC) at: 239-772-7722
Bloodlines
Sire
Sire Sire Sire
Blue Hors Zack
Sire Sire Dam
Boegegaardens Don Romina