Synergy HW @ www.HWfarm.com
---
For Sale
---
Synergy HW @ www.HWfarm.com
Synergy HW, by Secret, the outstanding National German 6yo Champion, plus at the
World Championships for young dressage horses Ermelo 2019 – Secret – a truly exceptional horse, became Vice World Champion!
Secret and his rider Jessica Lynn Thomas delivered a spectacular first round in the qualification of the five-year-old dressage horses. They received an 8.8 for the permeability, the step 9.5, the gallop 9.7, the perspective 9.8 and even 9.9 for the trot. All in all, this gave a total result of 9.54 points and the victory was not to be taken from the two.
In the final, Secret had to give up just under 0.02 points, despite a further increase. The pair won the silver medal of the five-year-old dressage horses with 9.64 points. The judge's comment: "A fantastic horse! Always in the flow, always easy. It is a pleasure to judge such a horse. "
In terms of breeding, the descendants of the Secret also seamlessly linked to his father's success in 2019. Country after country was heard from his descendants. In the far north, in Schleswig-Holstein, Secret set one of the price peaks at the Glanz and Gloria auction in Delingsdorf with € 21,000.
In Verden, Status Quo was one of the most sought-after youngsters at € 25,000. With the appropriate name Somebody to Dance, Secret was also among the price peaks in Münster on the occasion of the Westphalia Week. In Vechta, Serge Gainsbourg triumphed as the most expensive foal in 2019 with a hammer price of 150,000 euros. The price structure was followed by Secret Emperor, another son of the Secret. This went to Austria for € 42,000.
And also in the south of Germany in Nörtlingen, it was once again a subsidiary of our Secret, which was one of the top prices of the auction with a hammer price of € 25,000.
The fact that his offspring are also in demand abroad was demonstrated by a filly from Secret, which took the reserve winner classification of dressage-stressed filly at the Swiss Sport Foal Championships and then found a new owner with a surcharge of 28,000 francs (about 25,000 €). In the Netherlands it was the colt with the appropriate name – One to Remember- that became the top foal in the auction at € 22,000
"The highlight of the day comes from Schwaiger and bears the appropriate name Sensation, from Secret – Fürst Grandios. A colt with a value of
9.67 (type / stature: 10, exterior / correctness: 9, movement: 10) really leaves nothing to be desired and makes words superfluous. "This is how the Austrian Horse Breeding Association described its winning foal 2019.
Secret easily met the expectations placed on him. He completed his 14-day test in Schlieckau with a dressage final score of 9.5. He was able to shine again at the Bundeschampionat in Warendorf, where he was only named Vice Bundeschampion due to the rider marks.
No more words need be said about father Sezuan, the celebrated triple world champion of young dressage horses. The mother line of the Secret, line 853 of the Sudette, produced numerous internationally represented performance horses. Already 38 other licensed stallions originate from this dam line. As the dam's sire, we find St. Moritz, which has only been well remembered at our station, and which, due to the fact that it was too short to work at Gestüt WM, produced a whole range of interesting, sporty and successful offspring.
The maternal pedigree is rounded off by the proven successful combination of the Celler state stud stallions Rotspon, Argentan, Woermann and Lugano. Another flagship of this mother line is the Bundeschampion of five-year-old dressage horses and world champion of six-year-old dressage horses Lordwoods Dancing Diamond.
Due to the genetic blood combination of the top class in his flagship pedigree, coupled with the high level of commitment of this rough diamond, we offer today's savvy dressage horse lovers,
something truly special.
Synergy HW's dam sire is is the BundesChampion Quaterback, it's the same dam who produced the BundesFoalChampion Ferdinand HW. and She's Magic HW.
Quaterback is a stallion that seems like he could only come from another planet - with his light-footed, brilliant movement and perfect cadence, all eyes become riveted on Quaterback when he appears.
his stallion career by being named Champion of his licensing in Neustadt/Dosse in 2005.
In 2006, after the Bundeschampionate, he went on to win his 30 day test at Neustadt/Dosse with outstanding scores:
Int. 9.0
Trot 9.25
Canter 9.75
Walk 7.63
Riding qualities 9.75
Jumping 7.75
He was the radiant Bundeschampion of the three year old riding horses in 2006 with the highest scores for his trot and canter. The test riders in Warendorf even gave him this dream score of 10.0. Prior to this test, he had won several tests for young riding horses.
He was also the winner of his 30-day test with a final score of 9.14 in dressage, an 8.43 for jumping and an overall score of 8.88. As if it were not enough to have unbelievably dynamic movement, he was also blessed with an outstanding type.
Quaterback comes from one of the most successful mare lines of modern day. His dam Passionata is a half-sister of the unforgettable World Champion and double Bundeschampion, Poetin. Her full brothers Samba Hit I to IV put on convincing presentations at the Bundeschampionate. Samba Hit I was also a finalist in the 2006 Nürnberg Burgpokal and the sire of Samba's Diamond who became the Champion Stallion of the licensing in Berlin-Brandenburg and Sachsen-Anhalt that same year.
Quaterback's successful advanced (S) level sire Quaterman also participated in several Bundeschampionats and is deemed one of the best sires for passing on good movements in the new German States. The grandsire Quando-Quando took 15th place at the World Championships in Aachen in 2006 under Kristy Oatley-Nist. With a pedigree geared for performance from all sides and from the famous Neustädter P family, all doors are open for Quaterback.
He passes his big and fleet-footed movement to his offspring, and therefore has produced a lot of foal champions and auction foals. One of them was sold for 120.000 euros at a Hanoverian auction.
His off-spring are very popular, due to their modern, noble looks, outstanding rideability and strong movements and they also have the good jumping ability his pedigree promises.
All of these characteristics are impressively documented in the FN's 2004 Predicted Breeding Value statistics.
In 2012, Quaterback was the sire of a Vice-Bundeschampion. Quarterback uses his body as nothing you have ever seen. He is the talk of the town in Germany, with movements that can only be described as incredibly supple, strong and uphill. Over 50 sons of Quaterback are now licensed, including the 2009 and 2010 young stallion champions in Neustadt/Dosse. In addition, Quaterback has produced several premium stallions at almost all German licensing's.
Scores for the Bundeschampionat:
Trot; 9.5you wrote his dam (not) mother
Canter: 10 walk
7.5 Conformation
9.5 Overall Impression
9.5 Licensed for Berlin-Brandenburg, Oldenburg , Hanoverian This exceptional moving young stallion has already started his winning ways. Paired with the talented young rider, Christian Flamm of Hessen, Quaterback galloped away from the competition at the Bundeschampionate in 2006.
Synergy HW himself, is a breathtaking horse of definite Champion quality, equipped with absolutely phenomenal gaits, presenting himself with wonderful
self-carriage. 100% rideability and a super character
His stallion type (he is a gelding!!) will mesmerize everybody alike.
He is a horse who casts his spell on every single person, a super fancy mover who knows to impress due to his type and work ethic. He is supple and has a ton of air time. He just floats above the ground, with his free shoulder and huge grundschwung, he swings nicely through his back,
is very light in the bridle and easy to sit.
This extremely talented gentleman has definite international potential.
Multiple victories with scores of up to 8.30, just an all around super cool and impressive horse.
A stunning horse whom has all the looks and personality a person could ever hope for. He has a super nice, chiseled head, big stallion neck (he's a gelding!),
if he blinks with his beautiful kind eye, you'll fall in love at first sight.
Synergy HW has cat like movement and is as elastic as they get.
His hooves barley touch the ground. He loves to please his handler and rider, to learn new things is his hobby as well as eagerly working under saddle.
He does an amazing job in the dressage arena and with his quick,
far reaching hind leg, passage and piaffe will come naturally to him.
He is a very sweet boy, easy to handle and loves his personal grooming time and puts his head right in your lap, striving for attention and searching for treats.
Uncomplicated on the ground and under saddle, easy to ride and an amateur,
YR or professional will enjoy him just the same.
Outstanding personality, gaits, looks and temperament.
He will be the star in FEI classes and at clinics,
the judges and onlookers will remember him where ever he goes.
Synergy HW is used to go in the hot walker, loves his shower and solarium time.
Stands for the farrier, loads and appreciates grooming time.
Synergy HW has the attitude of a real gentleman.
This young stunner will go far in the dressage ring, he is your ticket to the top!
The goal of HW Farm is, to find highly talented young horses in Germany
for riders in the USA and all over the world.
Buy him now and show him yourself in the Young Horse Championships or take him to the BundesChampionships.
X-rays on file!
Please inquire for price - including import and quarantine to NY, check out his video clip!!!
Please contact Irene: [email protected]
239-772-7722 (ask for Irene, managing member of HorseSales LLC)
We take pride in answering every e-mail right away (at least at the same day) and to return each call. If you don't get a reply - please try again, our spam filter might have gotten in the way?!
Please find all info and other HWfarm horses for sale at www.HWfarm.com
Additional Details
For Sale
Inquire for price
$0 USD
Name
Synergy HW @ www.HWfarm.com
Dressage Training Level
2nd Level
Dressage Showing Level
1st Level
Terms
Top quality, hand selected horses, all information can be found at www.HWfarm.com - We love what we do!
Contact Seller
Owner/Trainer:
Name
Horsesales LLC www.HWfarm.com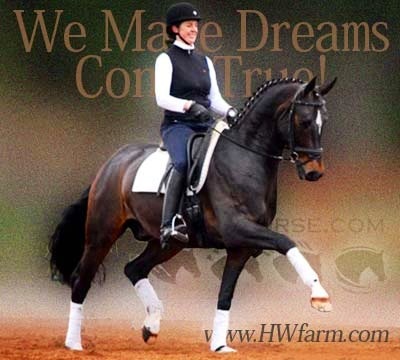 Horsesales LLC
Quality imports for sale from only the best producing bloodlines. Horses are gorgeous and tractable with good manners and great conformation. Most are well started and ready to continue on up the levels. Some horses are available already in the U.S.A. while others are still in Germany. We would be happy to help you in your quest for your next dream horse. Contact Horsesales LLC at: http://www.HWfarm.com for further details, or call Irene (managing member of HorseSales LLC) at: 239-772-7722
Bloodlines
Dam
Dam Dam
Verb Pr St Findra
Dam Dam Sire
Fuerst Piccolo