Tabe STER and SPORT
We are VERY excited to offer such a high quality and hard to find STER AND SPORT friesian gelding, now available for the discerning dressage enthusiast!!
Another HOT find from our recent horse shopping trip in the Netherlands....this exceptional PROVEN boy is certain to NOT last ...
Star and Sport Friesian Gelding
He is 16.1 hands tall/ 165cm AND is still growing, he is just 6 Years old and has already accomplished SOOO much!!
Nice full pedigree, with lots of sport predicates in it!!! The SPORT predicate is difficult to attain, friesians must acquire at least 5 winning points (a point is given for a score over 60%) in 3rd level (Z level in Holland) dressage, and there are very few friesians that have acquired the highly coveted STER predicate for having the tippy top BEST conformation and movement of all friesians, as determined by the Dutch Judges, AND have acquired the SPORT predicate for their extroadinary achievements in dressage competition, and even FEWER are only 6 yrs old, like Tabe!!
The world is the talented boy's oyster!!
Tabe does dressage, and he does it WELL, already started on flying changes. And thats not all, he is also an experienced trail horse, and likes riding outside--he is a good worker!!!
What i really like about this talented boy---he is super sweet, gentle, kind, a real "old" soul.
The Judges remarked about his very good gaits---his walk has a lot of space, he has the rare ability to collect AND extend, and his canter is a "10" , which is rare for a friesian!
What a beautiful head and very friendly eyes. Tabe is exceptional, and he has a nice long mane and full tail. We just had him thoroughly vetted and xrayed, ALL GOOD, and xrays are available for review with your vet.
Tabe STER and SPORT is a very good choice for most level riders, but what is especially rare for a friesian...he ALSO really has the potential for upper level/FEI!
He is not a "hot" horse, but he also is not too slow. Its no surprise Tabe is an exceptional performance horse, his sire is former World Champion Tsjalle SPORT, by Mintse SPORT, by Leffert SPORT pref, and his dams sire is Folkert SPORT...that is a LOT of SPORT predicates in his blodlines! and the mare line is equally as impressive: Ster+Pref-Ster+Pref-Ster-Ster+Pref.
See more vids at: http://www.blacksterlingfriesians.com/salehorses.php
The first time Tabe competed in Z level (3rd level in Europe) , he finished first and second place!!!! This proven competitor is very easy to compete, and traveling to new places is NO problem for this superstar.
Tabe is good for amateur riders, as he has much dressage show experience!! QUIET and gentle. Read: EXPERIENCED.
See: http://www.blacksterlingfriesians.com/salehorses.php
This is a rare GORGEOUS boy who has the so sought after upper level competition experience, competing in 3rd level (Z level) dressage with high scores--- has acquired not olny the STER predicate, but also the SPORT predicate, and he is very easy to ride and show at competitions, super schoolmaster!
Not only is Tabe an amazing horse to ride, he also has a sporty build, which makes him a great performance horse for any discipline. You will get lost in his sparkling eyes, and watch him FLOAT. His coat is black as can be, with poodle like feathers. Tabe STER and SPORT is a rare friesian, at a mere 6 yrs of age!
This boy has the natural ability to take YOU up the levels in whatever discipline you want to do! In dressage, he is already doing much work of even higher levels. He is very responsive to the aids. Really a dream horse to ride, and in a snaffle!
Tabe has JUST ARRIVED FROM EUROPE an is located in san francisco for you to see and try! Full set of xrays available for review with your vet.
see more friesian dressage horses for sale at http://www.blacksterlingfriesians.com/salehorses.php
Additional Details
Dressage Training Level
3rd Level
Dressage Showing Level
3rd Level
Driving Experience
Combined
Terms
cash, check, bank wire, or ACH deposit only. This horse will sell quickly due to his very reasonable price tag for a STER friesian gelding with SPORT predicate and flying changes. No payment plans or leases accepted. No payment plans/leases
Contact Seller
Owner/Trainer:
Farm
fairytale Friesian Finder Service Inc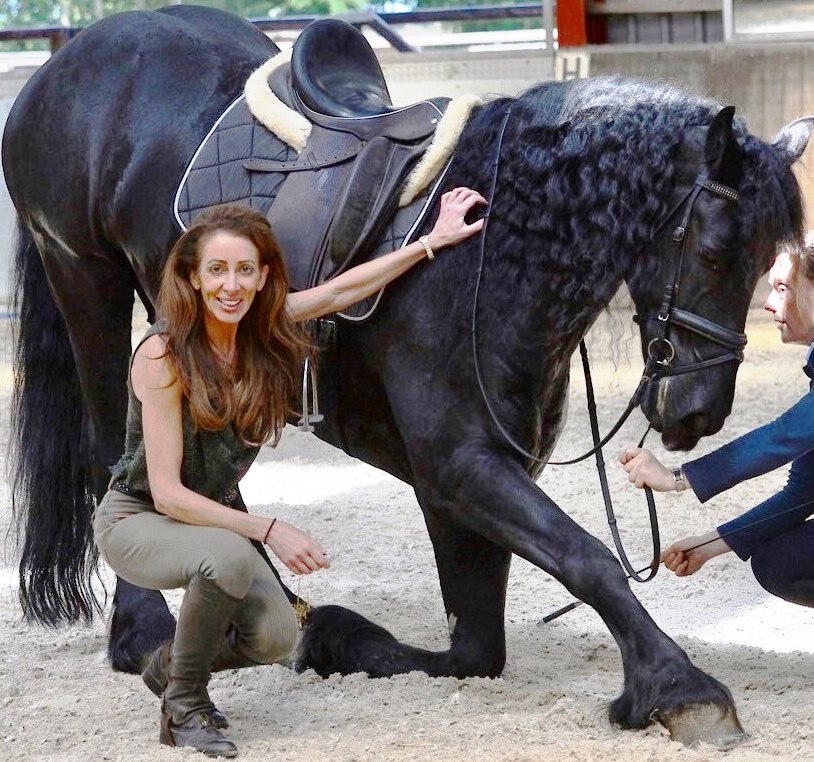 fairytale Friesian Finder Service Inc
Fairytale Friesian Finder Service… helping riders acquire the Friesian that is RIGHT for them. We go to great lengths to match the RIGHT horse with the RIGHT rider, depending on the rider's needs, budget, timing, etc, and Janna has not only won 16 world and national championships with her Friesian horses, and been awarded FHANA's President's Trophy, she has successfully matched more riders than anyone in North America with their dream forever Friesian partners. Janna will go to Europe with buyers on buying trips, if requested, and personally help locate a fairytale Friesian, negotiate the very best price, with contacts she has been purchasing Friesians from for the past two decades, and take care of exchanging funds to euros, arranging all the necessary vet checks and radiographs and bloodwork, arranging for transport of the horse to the Amsterdam airport, and arranging all the necessary import and quarantine services for a customer's exceptional new dream Friesian! We frequently find and import EXCEPTIONALLY beautiful trail/pleasure horses, as well as offer accomplished sport horses with impeccable track records, winning in dressage, ONLY available by us. to Europe, and see and try numerous horses, only picking the best of the BEST, after testing riding, and arranging and paying for thorough vetting with the most renowned veterinarians in Holland,to offer AMAZING one of a kind horses to our discriminate buyers. Call or email Janna, and let her know exactly what you are searching for, and if we don't have it, we will find your fairytale Friesian for you!