Talbot
Talbot is an amazingly nice four year old FRIESIAN for sale. Who says Friesian Cant Jump?!? Just check out the video above of this SWEET boy being ridden bareback while the rider CARRIES his bridle in her hand!!!!!! They dont come much sweeter or gentle than this!!!!
We took him to Leeuwarden for exhibition practice with a group of stallions running free... Check out the YouTube video above----Talbot comes in first in the videoclip!
What a sweet boy being ridden in the middle of a young group of stallions!
In dressage, Talbot won last Sunday in the selection of the Friesian championships. In a big group of 25 riders, most were on warmbloods; Talbot came out on TOP competing in dressage---this 1st premie boy is top notch!
Talbot is a very easy stallion, price INCLUDES cost of castration before import---we will likely import him as a gelding; his temperament is to DIE FOR!
Clean X-rays.
Talbot was very well bred and raised with the utmost care and attention, and is double trained to both RIDE and DRIVE, with dressage SHOW and exhibition experience! His incredible pedigree is just what the dutch Judges are looking for...
The quality of this stallion is evident in his very athletic build and his amazing disposition! Even the dutch judges confirmed this---1st premie! We will likely castrate Talbot before import, as most boarding facilities do not allow stallions.
Talbot is bred out of the tall and elegant MODEL mare Berber (an incredible Ritse daughter, Talbot is a gorgeous FRIESIAN that is a joy to work with. This young stallion is very trusting, calm and relaxed. He has no stallion manners whatsoever.
Talbot has a strong work ethic, ideal conformation, and beautiful movement, and is very suitable for competitive dressage AND is already beating every other horse in the dressage competitions we have taken him to!!!
He is still growing, and is just under 16.0 hands.
Talbot is a VERY reasonably priced young stallion, price INCLUDES castration; he is already showing all the majestic, masculine beauty of the Friesian breed, and he sports an excellent pedigree with a disposition to die for - already showing dressage!
Buy him now, before his price goes up!!
Talbots stam line has some pretty famous Approved stallions to it's credit: Stam Line 220----this boy has 3rd party confirmation he is TOP notch, being chosen as the tippy top 5%, and 1st premie!!!
LOW 1.37% in breeding
stam line 220
Price includes import and quarantine to NY, LAX, or Canada as a gelding. Import as a stallion is an additional 30 day cem quarantine, approx additional $6500 USD.See BlackSterlingFriesians.com for all of our current friesian horses for sale!
Additional Details
Dressage Training Level
2nd Level
Dressage Showing Level
1st Level
Driving Experience
Pleasure
Eventing Training Level
Prospect
Eventing Showing Level
Not Showing
Hunt Level
Pre-Green Hunter (3ft 0in)
Jump Level
Level 1 (3ft 0in)
Contact Seller
Owner/Trainer:
Farm
fairytale Friesian Finder Service Inc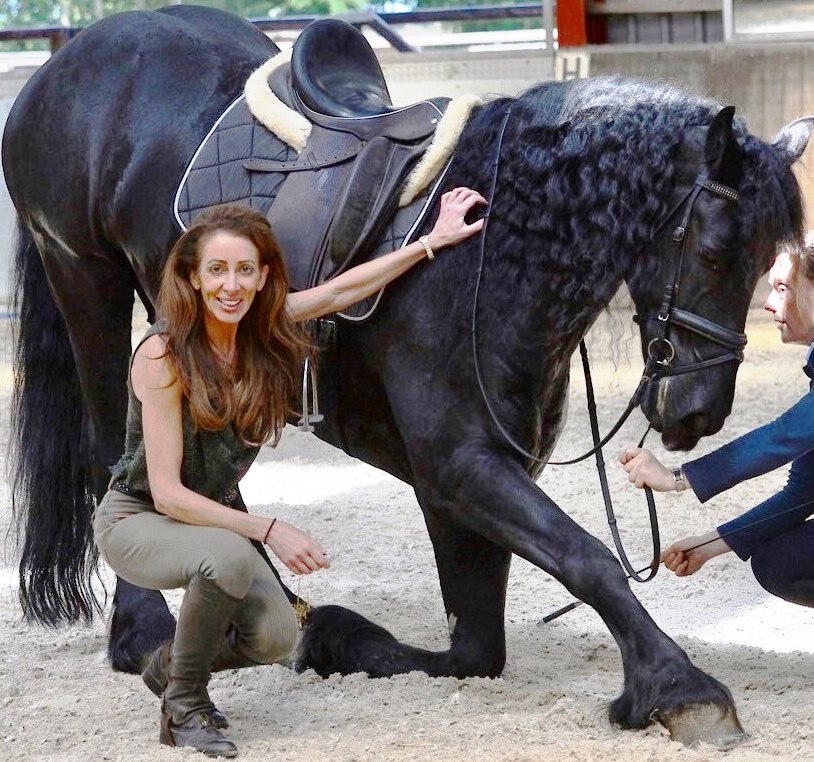 fairytale Friesian Finder Service Inc
Fairytale Friesian Finder Service… helping riders acquire the Friesian that is RIGHT for them. We go to great lengths to match the RIGHT horse with the RIGHT rider, depending on the rider's needs, budget, timing, etc, and Janna has not only won 16 world and national championships with her Friesian horses, and been awarded FHANA's President's Trophy, she has successfully matched more riders than anyone in North America with their dream forever Friesian partners. Janna will go to Europe with buyers on buying trips, if requested, and personally help locate a fairytale Friesian, negotiate the very best price, with contacts she has been purchasing Friesians from for the past two decades, and take care of exchanging funds to euros, arranging all the necessary vet checks and radiographs and bloodwork, arranging for transport of the horse to the Amsterdam airport, and arranging all the necessary import and quarantine services for a customer's exceptional new dream Friesian! We frequently find and import EXCEPTIONALLY beautiful trail/pleasure horses, as well as offer accomplished sport horses with impeccable track records, winning in dressage, ONLY available by us. to Europe, and see and try numerous horses, only picking the best of the BEST, after testing riding, and arranging and paying for thorough vetting with the most renowned veterinarians in Holland,to offer AMAZING one of a kind horses to our discriminate buyers. Call or email Janna, and let her know exactly what you are searching for, and if we don't have it, we will find your fairytale Friesian for you!