Taproot Gold Tax
---
For Sale
---
Taproot Gold Tax
Searching for your next upper level eventing partner? We bred Gold Tax just for you! Awesome liver wrapping is just a bonus!
Gold Tax is the product of the perfect cross of 3/4 Thoroughbred and 1/4 Irish Draught highly sought after by the eventing community. His pedigree is a 'who's who' of proven performance bloodlines.
Silver Mine's sire, Silver Tax, was picked because of his fantastic pedigree. 'Snowman' follows in the line of New Zealand's champion racing and eventing stallion, Aberlou. His sire, Aberjack, was handpicked by 'Horseman of the Century," and two time Olympic gold medalist, Mark Todd as his personal mount and breeding stallion. After competing Advanced, Aberjack stood at Tamarack Hill Farm with Denny Emmerson. Silver Tax's dam was an Irish Draught bred in the US from Suma Stud breeding stock imported by The Fork in NC. Suma's Poll Tax was crowned IDHSNA Supreme Show Champion. Her dam The Thatcherite won Millstreet as a 5 y/o with Poll Tax at foot. Arguably, it's one of the strongest ID dam lines in the world. Silver Tax has almost identical Irish Draught pedigree as Class 1 stallion, Diamond Power.
Aberlou:http://www.rainbowstud.co.nz/rainbowstud/Kurdistan_%26_Aberlou_Story.ht…
Aberjack: http://tamarackhill.com/Stallions/aberjack.htm
Gold is Due has very interesting bloodlines appealing to eventers. She broke her fetlock on the track and had to be retired early but she was an absolutely magnificent animal; 17h, legs for days, beautiful head and eye, correct legs, lofty soft movement, very easy temperament; everything you could ask for in a TB mare. She has Damascus twice, Private Account, Danzig, Halo, Nearco, lots of IRE, UK and FR blood. Quite a few horses by her sire are now competitively eventing.
This fella is going to be tall and leggy like his dam. He has the easiest temperament of any foal I've bred. He was sleeping flat out the whole time the dentist was working on his dam; you really would never guess he's 75% TB! He's got great conformation. You would be hard pressed to fault him for much.
Gold Tax is entered in late summer Future Event Horse yearling classes and we think he'll qualify for East Coast Championships. We may also take him to a Young Horse Show to see him in the jump chute.
We expect Taproot Gold Tax to mature around17h hands with a Thoroughbred build.
Full Pedigree: https://www.allbreedpedigree.com/taproot+gold+tax
He's available to a competitive eventing home. I would like to see him brought up through FEH and YEH. Considerations made for young professional motivated to compete, with limited budget. He will be recorded with USEA and microchipped included in the sale. Price to increase as he develops.
*****Taproot Sport Horses*****
Nestled just under the Catoctin Mountains in Walkersville, Maryland, TSH specializes in breeding quality Irish Draught Sport Horses for the North American market. We stand 2 IDSH stallions and have several young stallion prospects in production. Our mares have been hand selected to bring you Irish, Thoroughbred, Warmblood and traditional performance Arabian bloodlines. Most of our youngstock has sold to Eventing and Foxhunting homes appreciating a well built, sound, versatile horse bred with longevity as well as performance in mind. You can follow us on Facebook www.facebook.com/TaprootSportHorses and our website www.TaprootIrishSportHorses.com
Additional Details
Registries
Irish Draught Horse Society of North America
Contact Seller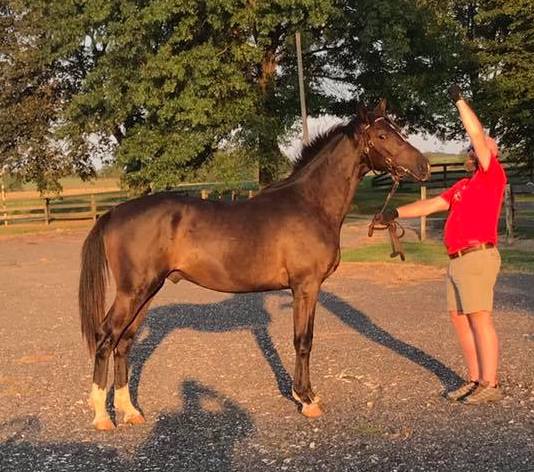 TSH is a small Irish Sport Horse breeding operation. Taproot's goal is to breed sound, sane athletes to be competitive jumpers, event and first flight field hunters suited to the ambitious amateur rider. We breed for movement, jump and stamina to be competitive in the big rings. We use a combination of Irish Draught with Thoroughbred and 'blood' warmbloods to create an elegant, noble horse with the aesthetic and performance of a classic Irish hunter. TSH has limited youngstock for available for sale. If you are interested in one of our horses please let us know. Preference is given to show homes.
Bloodlines
Sire
Sire Sire Dam
Miss Charlie
Dam
Dam Sire
This Fleet is Due
Dam Sire Sire
Devil His Due
Dam Sire Dam
Northern Fleet