Taproot Pinnacle
---
For Sale
---
Taproot Pinnacle
This exciting boy has all the chrome and a cute, 'almost dishy' face! Nic was born July 2020 and is an inquisitive, beautiful moving hunter prospect for a lucky JR or AA. He is short coupled and has wonderful shoulder and hip angles allowing him to be a true athlete. He has a big step and comes from two of the kindest, most generous, family friendly horses.
Pinnacle's sire, Taproot Prime, is our homebred freshman stallion. Prime is by the internationally renowned Furioso jumping line that wins again and again in Hunters, Jumpers, Eventing and Dressage. His dam, is a non-traditional Irish Draught Sport, has Polish Arabian, Performance ID and Thoroughbred blood. She is the most adorable flat kneed hunter mover and very honest to a fence. She is also a proven kid's horse. Prime is just 2 and already has handled himself professionally both off property and covering our mares. Fall of 2020 he will be showing in FEH and YHS classes.
PL Annie joined our breeding program last year and passed her Irish Draught Sport Horse Inspection and is approved for breeding. All of her foals are eligable for IDSH papers. Judges noted she had strong bone and topline, free movement and good angles for producing foals for sport. She is also registered 1/2 Arabian, opening up Pinnacle to awards from the Arabian Sport Horse Alliance. Her sire, It's the Luck of the Irish, has a reputation for producing amateur friendly animals. We have had a lot of success breeding with the King of Diamonds/ Flagmont King bloodline. Annie was a dressage mount before an injury retired her to breeding. We are thrilled to have such a classy, all-purpose mare at TSH.
Taproot Pinnacle has a non-traditional Irish Sport pedigree which makes him well suited for the hunter arena. A little Arab influence lightens up movement and adds presence for the show ring. His perfect, classic markings attract a lot of attention! Nic would be equally well suited in the dressage arena with a smaller AA.
We expect Taproot Pinnacle to mature around 14.3 hands with a strong, midweight build.
Full Pedigree:https://www.allbreedpedigree.com/taproot+pinnacle
********************** Taproot Sport Horses********************
Nestled just under the Catoctin Mountains in Walkersville, Maryland, TSH specializes in breeding quality Irish Draught Sport Horses for the North American market. We stand 2 IDSH stallions and have several young stallion prospects in production. Our mares have been hand selected to bring you Irish, Thoroughbred, Warmblood and traditional performance Arabian bloodlines. Most of our youngstock has sold to Eventing and Foxhunting homes appreciating a well built, sound, versatile horse bred with longevity as well as performance in mind. You can follow us on Facebook www.facebook.com/TaprootSportHorses and our website www.TaprootIrishSportHorses.com
Additional Details
Registries
Irish Draught Horse Society of North America
Eligible for Arabian Sport Horse Alliance Awards
Terms
Colt will stay with his dam on our farm until weaning board free.
Contact Seller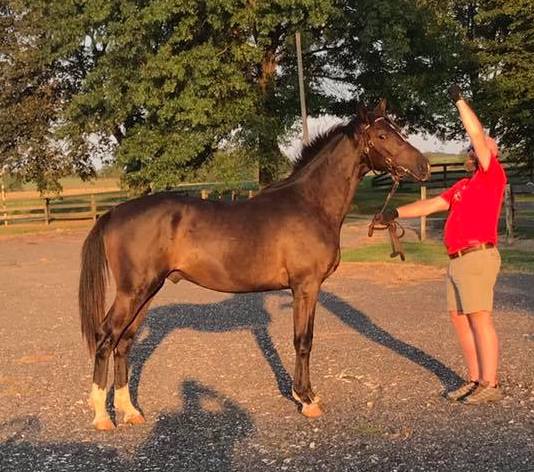 TSH is a small Irish Sport Horse breeding operation. Taproot's goal is to breed sound, sane athletes to be competitive jumpers, event and first flight field hunters suited to the ambitious amateur rider. We breed for movement, jump and stamina to be competitive in the big rings. We use a combination of Irish Draught with Thoroughbred and 'blood' warmbloods to create an elegant, noble horse with the aesthetic and performance of a classic Irish hunter. TSH has limited youngstock for available for sale. If you are interested in one of our horses please let us know. Preference is given to show homes.
Bloodlines
Sire
Sire Dam
Ahtractiv Starfire
Sire Sire Sire
Now or Never M
Sire Sire Dam
Now or Never M
Dam
Dam Sire
It's the Luck of the Irish
Dam Sire Sire
Flagmont King
Dam Sire Dam
Maggie's Last
Dam Dam Sire
AM Gypsy Vision
Dam Dam Dam
PL Grandeur Lady