Taproot Silver Mine
REDUCED TO MAKE WAY FOR 2021 FOALS
Who doesn't love a handsome, classic gray Irish horse??? Quari is 3rd generation of our breeding program, combining proven performance Irish Draught with well admired warmblood and Thoroughbred blood. He was bred for eventing or hunting with an AA preferring a safe, medium+ bodied mount, that can easily clear a 4' fence.
Silver Mine's sire, Silver Tax, was picked because of his fantastic pedigree. 'Snowman' follows in the line of New Zealand's champion racing and eventing stallion, Aberlou. His sire, Aberjack, was handpicked by 'Horseman of the Century," and two time Olympic gold medalist, Mark Todd as his personal mount and breeding stallion. After competing Advanced, Aberjack stood at Tamarack Hill Farm with Denny Emmerson. Silver Tax's dam was an Irish Draught bred in the US from Suma Stud breeding stock imported by The Fork in NC. Suma's Poll Tax was crowned IDHSNA Supreme Show Champion. Her dam The Thatcherite won Millstreet as a 5 y/o with Poll Tax at foot. Arguably, it's one of the strongest ID dam lines in the world. Silver Tax has almost identical Irish Draught pedigree as Class 1 stallion, Diamond Power.
Aberlou:http://www.rainbowstud.co.nz/rainbowstud/Kurdistan_%26_Aberlou_Story.ht…
Aberjack: http://tamarackhill.com/Stallions/aberjack.htm
Taproot Strike the Bell is a Bronze Merit Awarded Approved Irish Draught Sport mare by the stunningly gorgeous, Bridon Belfrey. The Bronze Merit is a distinction for strong jumping ability by the IDHSNA. When you Google, Irish Draught, the shinny photo of Belfrey at inspection as a 3 y/o is one of the very first results. Belfrey always passes his substance, movement and presence to his offspring and Strike the Bell passes the same to her foals. Her dam was sired by Voltaire, who rarely needs introduction in the warmblood world. He continually produces top level competitors in Hunters/Jumpers and Dressage. He produced over 200 State Premium Mares over 70 Approved sons.
Bridon Belfrey: https://www.ceruleanfarmkentucky.com/bridon-belfrey-rid
Voltaire: https://en.wikipedia.org/wiki/Voltaire_(horse)
If you are looking for a strong, masculine, well bred colt to bring into your breeding program, Silver Mine is a great prospect. If you 'just' want a gelding to hunt or event around the mid-levels, he would love to do that job too. He's everything the AA could want in a 50% Irish Draught.
We expect Taproot Silver Mine to mature around 16.1-16.2h hands with a strong, mid-weight build.
Full Pedigree: https://www.allbreedpedigree.com/taproot+silver+mine
*****Taproot Sport Horses*****
Nestled just under the Catoctin Mountains in Walkersville, Maryland, TSH specializes in breeding quality Irish Draught Sport Horses for the North American market. We stand 2 IDSH stallions and have several young stallion prospects in production. Our mares have been hand selected to bring you Irish, Thoroughbred, Warmblood and traditional performance Arabian bloodlines. Most of our youngstock has sold to Eventing and Foxhunting homes appreciating a well built, sound, versatile horse bred with longevity as well as performance in mind. You can follow us on Facebook www.facebook.com/TaprootSportHorses and our website www.TaprootIrishSportHorses.com
Additional Details
Dam
Taproot Strike the Bell
Contact Seller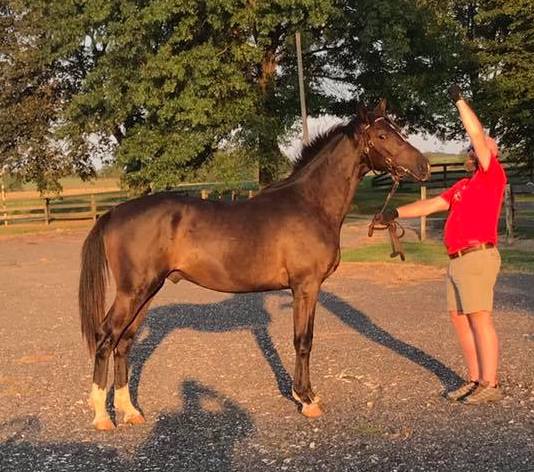 TSH is a small Irish Sport Horse breeding operation. Taproot's goal is to breed sound, sane athletes to be competitive jumpers, event and first flight field hunters suited to the ambitious amateur rider. We breed for movement, jump and stamina to be competitive in the big rings. We use a combination of Irish Draught with Thoroughbred and 'blood' warmbloods to create an elegant, noble horse with the aesthetic and performance of a classic Irish hunter. TSH has limited youngstock for available for sale. If you are interested in one of our horses please let us know. Preference is given to show homes.
Bloodlines
Sire
Sire Sire Dam
Miss Charlie
Dam
Dam
Taproot Strike the Bell
Dam Sire Sire
Snowford Bellman
Dam Sire Dam
Flagmont Belle