TIMEN STER
See https://www.blacksterlingfriesians.com/friesian-horses-for-sale/
for our CURRENT line up of well trained friesian horses for sale!
Height: 16.2 hands
Timen STER has it all!
A real eye catcher and super nice for ANYONE to ride OR drive!
Solid 2nd Level Dressage
Double Trained to Ride AND Drive, he is marvelous pulling a carriage as a single, in a pair, and in a 4 in hand.
1st premie
Timen is a super sweet 16.2 hand friesian for sale---we LOVE his BEAUTIFUL chiseled head and small ears that point towards each other!
He has a complete teddy bear personality, what a darling animal---he loves attention! Under saddle and pulling a carriage, he is super easy, light in the hand and responds well to the aids.
This guy can literally DO IT ALL. Timen STER is our EVERYTHING horse.
And not only does he have a solid 2nd level dressage foundation, he recently drove, pulling a carriage, with our Pinot Noir in a pair--and literally stopped traffic! Timen did a great job, super, in fact! What a well behaved, GOOD THINKING, gorgeous, TALL, with looks that look like he just walked out of a dream, and ONLY 7 yrs old!
Wanna go on a trail or for a spin down your local streets??? Traffic is no problem for Timen Ster, and he likes to go for trail rides outside, in the forest, and at the beach, or any place YOU desire!
Excellent pedigree with a motherline that is textbook:
STER+Pref-STER-STER+PREF-STER+PREF
Bday 4/19/14
He is so sweet and very easy to work with!!! I love Timen because he is not lazy, not too forward, just simple and very light in your hand!!:)
If you are seeking an INCREDIBLY handsome, LONG HAIRED, tall, sweet, forgiving Friesian that is versatile and you can do anything with--- you really need to consider Timen STER. He is a true lover that will be your forever best friend.
Not only is Timen STUNNING, with great movement, talent, and an excellent temperament for a timid rider; he has the BEST personality. He really is a GEM.
This 1st premie STER friesian doesn't JUST have a heart of gold, he has exceptional conformation, build, and an absolutely beautiful head and neck. He loves his work, and is SAFE for all riders. He is not the spooky type, and is very brave, even when ridden on the road with VERY loud trucks going by!!
Comes with a full set of excellent xrays available for review with your vet and thorough pre purchase exam.
Call Janna at 415-272-2112 for details. This Special Dream horse will NOT last!
$59,900 delivered to NY as a gelding, or $61,900 into Miami, Chicago, or LAX.
See https://www.blacksterlingfriesians.com/friesian-horses-for-sale/
for our CURRENT line up of well trained friesian horses for sale! Or call Janna at 415-272-2112 for more info.
Additional Details
Dressage Training Level
2nd Level
Dressage Showing Level
2nd Level
Driving Experience
Pleasure
Eventing Training Level
Prospect
Eventing Showing Level
Training
Terms
cash, check, bank wire, or ACH deposit only. This horse will sell quickly due to his very reasonable price tag for a STER friesian gelding with SPORT predicate and flying changes. No payment plans or leases accepted. No payment plans/leases
Contact Seller
Owner/Trainer:
Farm
fairytale Friesian Finder Service Inc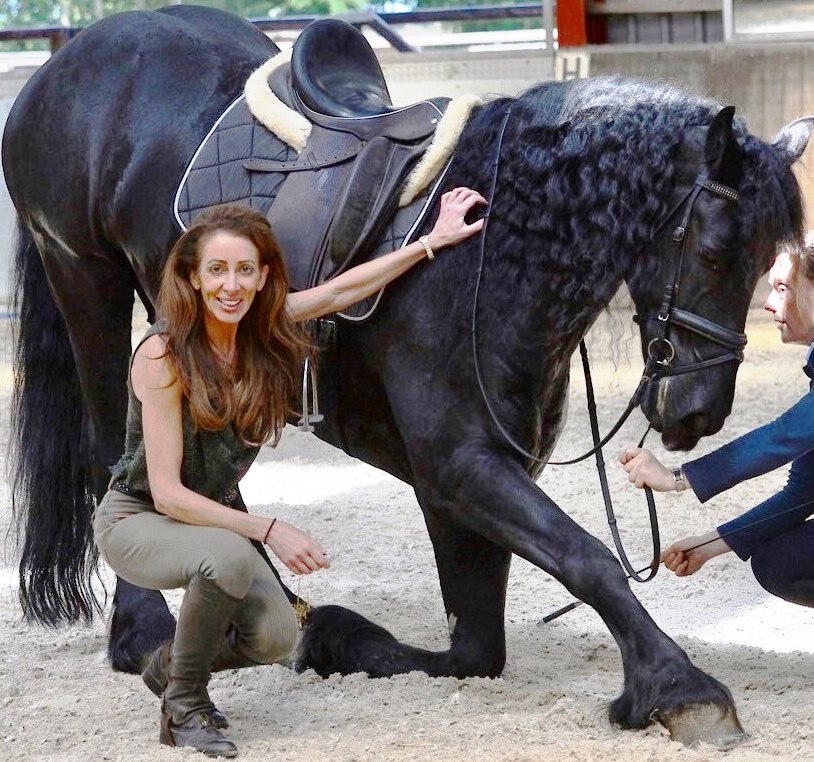 fairytale Friesian Finder Service Inc
Fairytale Friesian Finder Service… helping riders acquire the Friesian that is RIGHT for them. We go to great lengths to match the RIGHT horse with the RIGHT rider, depending on the rider's needs, budget, timing, etc, and Janna has not only won 16 world and national championships with her Friesian horses, and been awarded FHANA's President's Trophy, she has successfully matched more riders than anyone in North America with their dream forever Friesian partners. Janna will go to Europe with buyers on buying trips, if requested, and personally help locate a fairytale Friesian, negotiate the very best price, with contacts she has been purchasing Friesians from for the past two decades, and take care of exchanging funds to euros, arranging all the necessary vet checks and radiographs and bloodwork, arranging for transport of the horse to the Amsterdam airport, and arranging all the necessary import and quarantine services for a customer's exceptional new dream Friesian! We frequently find and import EXCEPTIONALLY beautiful trail/pleasure horses, as well as offer accomplished sport horses with impeccable track records, winning in dressage, ONLY available by us. to Europe, and see and try numerous horses, only picking the best of the BEST, after testing riding, and arranging and paying for thorough vetting with the most renowned veterinarians in Holland,to offer AMAZING one of a kind horses to our discriminate buyers. Call or email Janna, and let her know exactly what you are searching for, and if we don't have it, we will find your fairytale Friesian for you!