Valerius HW @ www.HWfarm.com
---
Sold
---
Valerius HW @ www.HWfarm.com
Valerius HW was sired by Valerius Ymas, he was sold to Yeguada de Ymas, his sire Vitalis is producing high quality Grand Prix offspring, he transmits the winning gene: Valesco/Fabienne Müller-Lütkemeier/GER was unbeatable in his first Grand Prix season in the CDI4* Tour at the CHIO Aachen, came third in the Louisdor Prize Final and was awarded the Otto Lörke Prize for the best young dressage horse. Valencia AS/Fabienne Müller-Lütkemeier was placed second in the final of the Louisdor Prize. Vayron/Helen Langehanenberg/GER won the Grand Prix in Ankum. Vamos Amigos/Cathrine Dufour/DEN took the fourth place in the World Cup Freestyle in Lyon/FRA. First-Step Valentin/Larissa Pauluis/BEL took part in the European Championships. Vinay NRW/Ellen Richter/GER won the team gold medal in the U25 European Championships and won the gold medal in the U25 German Championships.
Van der Veen was victorious in Small Tour with Carl Hedin/SWE. In 2016, Victoria's Secret became World Champion in Ermelo after winning the German Championships the year before. Valentin H/Ines Knoll won the gold medal at the DSP Championships and at the Baden-Württember Regional Championships (3y.o.). Violetta D won the silver medal and Vanilla Sky won the bronze medal.
The number of Vitalis' licensed sons now amounts to over 50, with the stallions Valverde NRW (Champion Stallion, triple Westphalian Champion, German Champion and fourth at the World Championships for young dressage horses), Vogue (Westphalian Reserve Champion, 940,000 Euro Stallion Market top price), Vitalos (German and Hanoverian Champion 4y.o.) and Viva Vitalis (Mecklenburg Champion Stallion), as well as Villeneuve (Reserve Champion, Vice World Champion, third at the German Championships and eighth in the Burg Cup), Vaderland (Westphalian Reserve Champion and Regional Championships bronze medallist) and Va'Pensiero (German and Hanoverian Champion 3y.o.) clearly standing out.
The Champion Mares Va'Pensiera (Hanover), Vienna (Westphalia), Virginia K (Rhineland) and Valerie (Baden-Württemberg) stand out amongst around 100 state premium mares. The latter also secured gold at the DSP Championships with Nicola Haug and bronze at the Baden-Württemberg Regional Championships (3y.o.).
Vitalis' foals often reach top prices: the colt Vardy was sold for 120,000 Euros at the Oldenburg Elite Auction. With a knock-down price of 61,000 Euros, Vermeer was the price highlight of the Elite Foal Auction in Vechta in 2021.
Vitalis was Champion Foal in the Netherlands in 2007, Reserve Champion of the NRW licensing in 2009, winner of the dressage index of his stallion performance test in 2010, placed at the World Championships and Pavo Cup final in 2012, Champion in the USA and again qualified for the World Championships with a record number of points in 2013 and victorious in the International Small Tour at only seven years old in 2014. He came back to Germany and, in 2016, ridden by Isabel Freese, he won the Burg Cup final in Frankfurt and the "Stallion of the year" competition at Inter I level at the World Championships in Ermelo/NED.
Vitalis was Vivaldi's first licensed stallion. Vivaldi was Reserve Champion of his stallion performance test in the Netherlands. In 2007, he won the Pavo Cup for five-year-old dressage horses and in 2008 and 2009, ridden by Hans Peter Minderhoud/NED, he won the KNHS/KWPN stallion competition, where he was awarded 10 for his trot. He was then internationally successful up to Prix St. Georges. In 2013, he won the VHO trophy at the KWPN licensing. After that, he was predominantly used for breeding and Vivaldi produced numerous exceptional stallions, namely in the Netherlands with Desperado N.O.P./Emmelie Scholtens/NED, Glock's Dream Boy N.O.P./Hans Peter Minderhoud/NED, Expression/Diederik van Silfhout/NED, Eye Catcher and Ferdinand, and in Germany with Van Vivaldi (Westphalian Reserve Champion), Versace (Oldenburg Reserve Champion), Cennin/Madeleine Witte-Vrees/NED (Oldenburg Ic main premium stallion), Veneziano/Daniel Bachmann Andersen/DEN (second Oldenburg Reserve Champion), Livaldon (Hanoverian premium stallion) as well as Vivino, record top price of the Stallion Market, sold for over two million euros and Hanoverian premium stallion.
His dam Tolivia was the three-year-old Champion Mare in the Netherlands. Vitalis' full brother My Vitality is a Danish premium stallion and won the gold medal at the Danish Championships for four-year-old dressage horses in 2021.
The dam's sire D-Day was Oldenburg premium stallion in 1994, and winner of his stallion performance test in Neustadt/D in 1996. In sport, he won competitions up to Small Tour. From a breeding perspective, he particularly left his mark in the Netherlands and in Sweden.
The great-grand-sire Argus was successful in Grand Prix in dressage but also in show jumping and Aktion J, who follows in the fourth generation counts as one of the most successful dressage stallions of his generation ridden by Gyula Dallos/HUN.
Valerius HW's dam is by the 2005 Hanoverian Stallion of the year, Argentinus. In 1996 he was the youngest millionaire among Germany's stallions and is now the most successful sire still active in breeding in Germany. A successful advanced level jumper himself, this Performance Class I, Main Premium Champion stallion has effectively enriched the breeding and sport scene with a versatility that is probably unique anywhere.
Breeding
Numerous Argentinus off-spring have been found with the best in international show jumping and dressage for years. More than 20 licensed sons (including the stallion performance test winner and Vechta price-breaker, August der Starke) and numerous State Premium mares many of which have proved themselves at national level (including the German Broodmare Show, FN Performance Studbook) add up to make him an absolutely exceptional stallion. Argentinus is licensed for all German breeding associations (with the exception of Holstein), O.S.I., Austria, Switzerland, Sweden, France, Belgium, the Netherlands EXand Italy.
Performance
Following his successful stallion performance test, Argentinus achieved many successes in showjumping up to advanced (S) class.
Progeny
He was awarded the I a main premium on account of his superb progeny in 1984. In 1996 he was the youngest millionaire of Germany's top stallions, and is meanwhile the most successful living sire in Germany. Argentinus is omnipresent whether it is in breeding or sport, at mare shows or approvals, in the dressage arena or on the showjumping course. More than 30 of his sons have been approved, including Arko III (private stallion GBR; eleventh in the 2004 Olympic showjumping final under Nick Skelton/GBR, and third most successful showjumper of the season) and Adlantus As FRH (private stallion Hesse; with his rider Lars Nieberg part of the German showjumping team at the WEG in 2002 Jerez/ESP, which took fourth place). Furthermore, he presented Asti Spumante (state stallion Bavaria; under Thomas Mühlbauer winner of the 2004 Grand Prix in Munich), Anchorman (highest-priced showjumper in Vechta and successful in Nations Cups), Air Jordan (successful with Edouard Mathé/FRA in the tournament series Sires of the World), August der Starke (stallion performance test winner, price record holder of the Vechta auction and under Victoria Max-Theurer/AUT on the way to Grand Prix dressage) and St. Ludwigs Aquilino/Eva Senn/SUI. Other well-known horses produced by Argentinus are Anka, who came second in the Riders Tour with Marcus Ehning, Irish Independent Annabella/Cian O´Connor, the World Cup qualification winner Special Ed/Jill Henselwood/CAN, as well as Acajou/Toni Hassmann, and Anastasia III/Bill Twooney/IRE. The most famous Argentinus progeny in the dressage sport are Heike Kemmer's European team gold winner Albano, the European young riders' champion Achill/Benjamin Werndl, the three times Paralympics world vice-champion Fabiola/ Hannelore Brenner, the federal champion and up to Grand Prix trained Amaretto 50, as well as Aleppo S-OLD/both Isabell Werth.
Valerius HW himself, is a dream come true.
Amazing looks, movement, talent, he's the total package.
He will catch your attention with his beauty and elegance.
He is a true eye candy, smart and willing to please.
He has three fantastic, rhythmic gaits, stellar cadence,
super safe for his age and impressive to watch with his steady,
always uphill movement.
This boy has a free shoulder, sensational trot movement, uphill canter and swings always nicely through his body, with a soft back and an active hind leg.
His walk is always rhythmic, no matter if collected or extended walk.
Everybody will love this one, the judges and the audience alike will be excited to see him.
Valerius HW is eager to learn, very sweet and with his super work ethic and attitude, a horse that fascinates his rider as well as trainer, every day of the year.
He is so much fun!
This is a horse, with a very big heart and an old soul.
He's looking for his life partner to go out, have fun and compete.
He's just a sweetheart.
He gets along well with other horses, loves human attention, wants to be in your pockets all the time and thrives for his personal grooming time.
Loads and bathes, goes in the hot walker and is pleasant all around as well as a super partner.
This boy will go his way up the levels with ease and fun, hopefully you will be the one guiding him there.
Valerius HW will enable you to fulfill your wishes with all his sensational abilities,
he will collect all ribbons with ease, high point and more, here we come.
The goal of HW Farm is, to offer highly talented young horses in Germany
for riders in the USA and all over the world.
X-rays on file!
Price includes import and quarantine to NY, check out his video clip!!!
All info and other horses for sale can be found at www.HWfarm.com
Please contact Irene: [email protected]
239-772-7722 (ask for Irene, managing member, HorseSales LLC)
We take pride in answering every e-mail right away (at least at the same day) and to return each call. If you don't get a reply - please try again, our spam filter might have gotten in the way?!
Additional Details
Name
Valerius HW @ www.HWfarm.com
Dressage Training Level
1st Level
Eventing Training Level
Prospect
Eventing Showing Level
Not Showing
Contact Seller
Owner/Trainer:
Name
Horsesales LLC www.HWfarm.com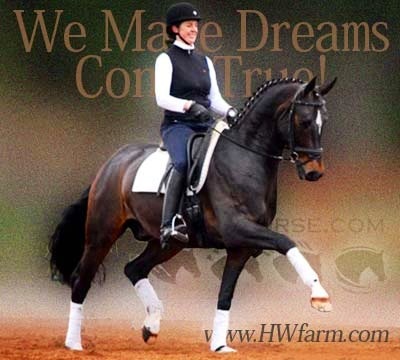 Horsesales LLC
Quality imports for sale from only the best producing bloodlines. Horses are gorgeous and tractable with good manners and great conformation. Most are well started and ready to continue on up the levels. Some horses are available already in the U.S.A. while others are still in Germany. We would be happy to help you in your quest for your next dream horse. Contact Horsesales LLC at: http://www.HWfarm.com for further details, or call Irene (managing member of HorseSales LLC) at: 239-772-7722
Bloodlines
Dam
Dam Dam Sire
Rubinstein I