Vitano HW @ www.HWfarm.com
---
Sold
---
Vitano HW @ www.HWfarm.com
Like father, like son, Vitano HW looks and moves like his sire Vitalis.
Vitalis transmits the winning gene: Valesco/Fabienne Müller-Lütkemeier/GER was unbeatable in his first Grand Prix season in the CDI4* Tour at the CHIO Aachen, came third in the Louisdor Prize Final and was awarded the Otto Lörke Prize for the best young dressage horse. Valencia AS/Fabienne Müller-Lütkemeier was placed second in the final of the Louisdor Prize. Vayron/Helen Langehanenberg/GER won the Grand Prix in Ankum. Vamos Amigos/Cathrine Dufour/DEN took the fourth place in the World Cup Freestyle in Lyon/FRA. First-Step Valentin/Larissa Pauluis/BEL took part in the European Championships. Vinay NRW/Ellen Richter/GER won the team gold medal in the U25 European Championships and won the gold medal in the U25 German Championships.
Van der Veen was victorious in Small Tour with Carl Hedin/SWE. In 2016, Victoria's Secret became World Champion in Ermelo after winning the German Championships the year before. Valentin H/Ines Knoll won the gold medal at the DSP Championships and at the Baden-Württember Regional Championships (3y.o.). Violetta D won the silver medal and Vanilla Sky won the bronze medal.
The number of Vitalis' licensed sons now amounts to over 50, with the stallions Valverde NRW (Champion Stallion, triple Westphalian Champion, German Champion and fourth at the World Championships for young dressage horses), Vogue (Westphalian Reserve Champion, 940,000 Euro Stallion Market top price), Vitalos (German and Hanoverian Champion 4y.o.) and Viva Vitalis (Mecklenburg Champion Stallion), as well as Villeneuve (Reserve Champion, Vice World Champion, third at the German Championships and eighth in the Burg Cup), Vaderland (Westphalian Reserve Champion and Regional Championships bronze medallist) and Va'Pensiero (German and Hanoverian Champion 3y.o.) clearly standing out.
The Champion Mares Va'Pensiera (Hanover), Vienna (Westphalia), Virginia K (Rhineland) and Valerie (Baden-Württemberg) stand out amongst around 100 state premium mares. The latter also secured gold at the DSP Championships with Nicola Haug and bronze at the Baden-Württemberg Regional Championships (3y.o.).
Vitalis' foals often reach top prices: the colt Vardy was sold for 120,000 Euros at the Oldenburg Elite Auction. With a knock-down price of 61,000 Euros, Vermeer was the price highlight of the Elite Foal Auction in Vechta in 2021.
Vitalis was Champion Foal in the Netherlands in 2007, Reserve Champion of the NRW licensing in 2009, winner of the dressage index of his stallion performance test in 2010, placed at the World Championships and Pavo Cup final in 2012, Champion in the USA and again qualified for the World Championships with a record number of points in 2013 and victorious in the International Small Tour at only seven years old in 2014. He came back to Germany and, in 2016, ridden by Isabel Freese, he won the Burg Cup final in Frankfurt and the "Stallion of the year" competition at Inter I level at the World Championships in Ermelo/NED.
Vitalis was Vivaldi's first licensed stallion. Vivaldi was Reserve Champion of his stallion performance test in the Netherlands. In 2007, he won the Pavo Cup for five-year-old dressage horses and in 2008 and 2009, ridden by Hans Peter Minderhoud/NED, he won the KNHS/KWPN stallion competition, where he was awarded 10 for his trot. He was then internationally successful up to Prix St. Georges. In 2013, he won the VHO trophy at the KWPN licensing. After that, he was predominantly used for breeding and Vivaldi produced numerous exceptional stallions, namely in the Netherlands with Desperado N.O.P./Emmelie Scholtens/NED, Glock's Dream Boy N.O.P./Hans Peter Minderhoud/NED, Expression/Diederik van Silfhout/NED, Eye Catcher and Ferdinand, and in Germany with Van Vivaldi (Westphalian Reserve Champion), Versace (Oldenburg Reserve Champion), Cennin/Madeleine Witte-Vrees/NED (Oldenburg Ic main premium stallion), Veneziano/Daniel Bachmann Andersen/DEN (second Oldenburg Reserve Champion), Livaldon (Hanoverian premium stallion) as well as Vivino, record top price of the Stallion Market, sold for over two million euros and Hanoverian premium stallion.
His dam Tolivia was the three-year-old Champion Mare in the Netherlands. Vitalis' full brother My Vitality is a Danish premium stallion and won the gold medal at the Danish Championships for four-year-old dressage horses in 2021.
The dam's sire D-Day was Oldenburg premium stallion in 1994, and winner of his stallion performance test in Neustadt/D in 1996. In sport, he won competitions up to Small Tour. From a breeding perspective, he particularly left his mark in the Netherlands and in Sweden.
The great-grand-sire Argus was successful in Grand Prix in dressage but also in show jumping and Aktion J, who follows in the fourth generation counts as one of the most successful dressage stallions of his generation ridden by Gyula Dallos/HUN.
Vitalis: Performance guarantee from the Netherlands
Vitano HW's dam is by the famous stallion Florestan I, who died in 2012, was champion of the 1988 Rhineland approval and won his performance test in Warendorf the following year. Initially Florestan was despatched to Bad Sassendorf, where he covered his mares live, and therefore didn't produce many foals in his first few seasons. However, in 1996, he was transferred to the Central Insemination Station at Warendorf, from where his influence increased dramatically. Florestan I has sired almost a thousand registered broodmares, 190 of whom have been awarded a States Premium.
He is also the sire of over 80 approved sons, including Fidermark, a four-year-old champion at the Bundeschampionate and a Grand Prix performer, now sadly deceased. The mare, Ferrara won the five-year-old class at the Bundeschampionate and went on to compete at Prix St Georges level with Isabell Werth. At the 2002 Bundeschampionate, Florestan had five representatives including the 4-year-old stallion winner, French Kiss, who went on to win the World Young Dressage Horse championship for 6 year olds in 2004; while another Florestan son, Florencio won the 5-year-old title at the same Championships!
Florencio followed up his victory in the World Young Dressage horse five-year-old championships with a win in the six year old championship the following year. One of Florencio's foals won the 2006 German Foal Championship, and on the basis of his progeny he was given a Main Premium award. Six sons from Florencio's first crop have been licensed, including the premium colt, Fontane.
The 2009 edition of the Hanoverian Stallion Book (the last edition in which he appears) 1039 dressage competitors (92 to S level) and 261 jumpers. Florestan's FN dressage rating is 147 against a jumping rating of 100. On the WBFSH dressage stallion rankings for 2011, Florestan is in second place with sixteen representatives, the most successful of whom is Hiscox Artemis.
Florestan's sire Fidelio was for many years a popular sire in the Rhineland, where he spread the rich genetic heritage of his Selle Français sire, Furioso II. His progeny included 136 registered mares, of whom 26 were awarded a States Premium. He also produced successful performers in both the jumping ring and the dressage arena.
Florestan's dam, Raute was a successful show mare, and at the age of three was champion mare of her age group. In 1983 she won her class at the German Mare Show in Verden. In 1986 she was crowned Young Broodmare Champion at the National Broodmare Show in Verden, beating representatives from all over Germany. Aside from Florestan, Raute produced three States Premium mares:
Wachtel (by Worldchamp)
Palucca (Paretti)
Wapita (Worldchamp).
The full brother, Florestan II stood at Warendorf but not with his older brother's degree of success. Raute was by Rheingold, who sired Rheinfee, the First Reserve at the DLG show, and dam of the top stallion, Ehrentusch. Raute's grandsire is the Trakehner, Garamond, a noted producer of dressage horses.
Florestan has further Trakehner blood through his sire's dam line, since Rheingold is out of a mare by the Trakehner, Abendregen.
The grand dam is the state premium mare, Gode, a full sister to the Warendorf state stallion, Gardist. Gode competed up to Intermediate level before commencing a breeding career.
Her daughter, Parodie (by the Trakehner, Pasternak) was again a successful dressage and the dam of a number of successful horses, including the mare Fidelity (by Fidelio) who in turn produced Fair Play, the dam of Waldrose, the dam of the 2002 Champion of the Three Year Old Riding Horses at the Bundeschampionate – Fürst Fabio, who is of course, by Florestan's son, Fidermark.
Vitano HW is of true International quality, his super ride ability and talent, combined with his excellent training, promise a bright future. In addition, beautiful doesn't even start to describe the looks of this willing young star.
Super fancy small head, attractive stallion neck (he is a gelding)
and a sexy body to match.
His mane and tail are super thick, he's a total dream come true!
A super model who will steal your heart in no time.
Vitano HW has superb "Grundschwung", suppleness and his suspension is marvelous.
Steady rhythm, already well balanced and he truly works his heart out,
every single time.
Very sweet, easy Lady's horse,
suitable for AA, YR and/or Professional as well.
He is light in the bridle, easy to sit and everybody can ride him.
Part of his phenomenal heritage are the best competition genes possible, good, old, very strong dam and sire lines, a near guarantee for success.
His pedigree reads like the Who's Who.
The very active hind leg pushes him up, supports superior lift of the whole body and will be the ideal start for a good piaffe and passage, just check how far he reaches under, his canter is lofty and uphill, amazing trot, free shoulder, combined with a
clean, rhythmic, reaching walk, outstanding quality movement all around.
This special boy, just floats above the ground, with his great temperament,
sweet character, he will climb up the levels with ease and fun.
All exercises come naturally to him, as he has the built,
movement and athleticism to do it all.
Vitano HW will put a spell on you, with his soft eyes and in no time, you'll be in love with one of the prettiest horses available. The judges will love him due to his expression and "show me" attitude, take him to shows and collect your ribbons.
Show him off at clinics and get yourself noticed.
This boy will enable you to fulfill your dreams, he will collect ribbons with ease,
high point and more, here we come.
Looking for a puppy dog mentality, in your pocket attitude gentleman,
with FEI potential? You found him!
The goal of HW Farm is, to offer highly talented young horses in Germany
for riders in the USA and all over the world.
This young star will go far in the dressage ring, he is your ticket to the top!
X-rays on file!
Price is including import and quarantine to NY, check out his video clip!!!
Please contact Irene: [email protected]
239-772-7722 (ask for Irene, managing member, HorseSales LLC)
We take pride in answering every e-mail right away (at least at the same day) and to return each call. If you don't get a reply - please try again, our spam filter might have gotten in the way?!
Please find all information on this horse and other horses for sale at www.HWfarm.com
Additional Details
Name
Vitano HW @ www.HWfarm.com
Dressage Training Level
1st Level
Eventing Training Level
Prospect
Eventing Showing Level
Not Showing
Registries
German Rhineland/Hanoverian
Contact Seller
Owner/Trainer:
Name
Horsesales LLC www.HWfarm.com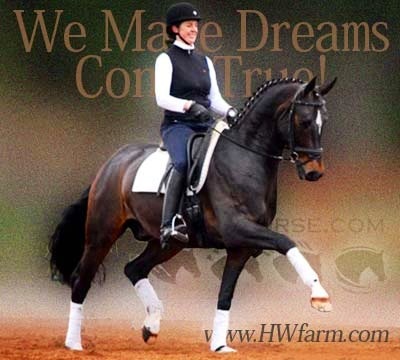 Horsesales LLC
Quality imports for sale from only the best producing bloodlines. Horses are gorgeous and tractable with good manners and great conformation. Most are well started and ready to continue on up the levels. Some horses are available already in the U.S.A. while others are still in Germany. We would be happy to help you in your quest for your next dream horse. Contact Horsesales LLC at: http://www.HWfarm.com for further details, or call Irene (managing member of HorseSales LLC) at: 239-772-7722
Bloodlines
Sire
Sire Sire Dam
Renate-Utopia