Will STER SPORT AA at BlackSterlingFriesians.com
---
For Sale
---
Will STER SPORT AA at BlackSterlingFriesians.com
16.1 hands
If you are a dressage enthusiast, you are NOT going to want to miss this unbelievably talented STER Stallion (will deliver as a ster gelding). What a track record--- proof he is FEI material:
GREAT IBOP score which landed him the AA coveted predicate!!! 80.5, and an "8" for his trot!!!
15 winning points in Z dressage (3rd level dressage), earning him the coveted SPORT predicate at the young age of 6.
Selected for the semi finals of the Pavo Fryso Bowl.
As a 4 yr old, Reserve Champion young show horse competition for 4.5 year olds in show driving!
Last summer, successful many times, winning show show driving competitions at the same time always scoring more than 65% in Z1 in dressage classes!
The beautiful, BRAVE, talented, well-trained 6-year Ster AND Sport AND AA Friesian, Will, has the OUTSTANDING temperament that everyone wants when shopping for a Friesian. He is experienced and a phenomenal thinker for his age. He has a charming personality and such a lover!
What a SWEET BOY---Will loves to work, he just loves his job, and doesn't care if its riding OR driving. When riding him, he gives you an AMAZING FEELING!!!!!
Sired by Hette SPORT, by NORBERT SPORT Pref AAA , by Tsjerk SPORT Pref.
Dam line is equally as impressive, dam is by Maurus Sport, dam is Ster A, Grandmother is Ster, great grandmother is Ster +Pref and Gr Great Grandmother is STER, its no wonder this stam line 2 ster stallion is flat AMAZING. He was bred for PERFECTION!!!!
Price includes delivery to NY as a Ster Sport AA gelding, or you have the option to import him as a stallion--just keep in mind, there is an additional 30 day quarantine for stallions that is approx 7k.
Bday 6/30/2015
LOW .98% inbreeding
This is a sweet and reliable STER and SPORT AA boy with a substantial show record---we just had an entire new set of xrays taken, available for review with your vet, taken on Oct 26, 2021.
Just call janna at 415-272-2112 for more info on this once in a lifetime 16.1 hand boy----guaranteed to NOT last!
$61,900 delivered to NY as a STER gelding. Chicago and LAX are 2k more. see https://www.blacksterlingfriesians.com/friesian-horses-for-sale/ for more pics and vids!
Additional Details
Name
Will STER SPORT AA at BlackSterlingFriesians.com
Dressage Training Level
3rd Level
Dressage Showing Level
3rd Level
Driving Experience
Pleasure
Terms
cash, check, bank wire, or ACH deposit only. This horse will sell quickly. No payment plans/leases
Contact Seller
Owner/Trainer:
Farm
fairytale Friesian Finder Service Inc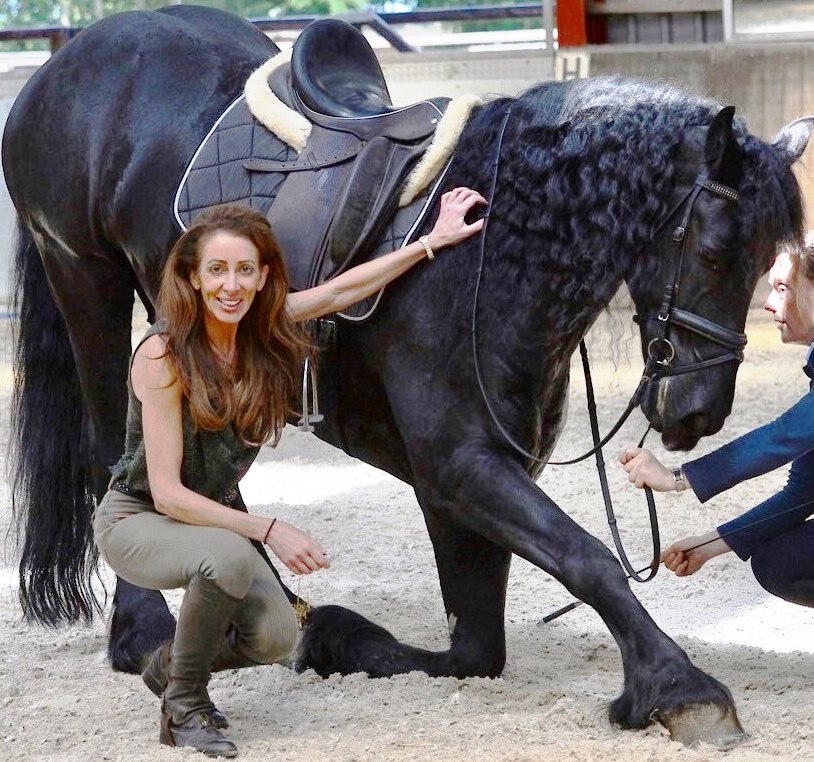 fairytale Friesian Finder Service Inc
Fairytale Friesian Finder Service… helping riders acquire the Friesian that is RIGHT for them. We go to great lengths to match the RIGHT horse with the RIGHT rider, depending on the rider's needs, budget, timing, etc, and Janna has not only won 16 world and national championships with her Friesian horses, and been awarded FHANA's President's Trophy, she has successfully matched more riders than anyone in North America with their dream forever Friesian partners. Janna will go to Europe with buyers on buying trips, if requested, and personally help locate a fairytale Friesian, negotiate the very best price, with contacts she has been purchasing Friesians from for the past two decades, and take care of exchanging funds to euros, arranging all the necessary vet checks and radiographs and bloodwork, arranging for transport of the horse to the Amsterdam airport, and arranging all the necessary import and quarantine services for a customer's exceptional new dream Friesian! We frequently find and import EXCEPTIONALLY beautiful trail/pleasure horses, as well as offer accomplished sport horses with impeccable track records, winning in dressage, ONLY available by us. to Europe, and see and try numerous horses, only picking the best of the BEST, after testing riding, and arranging and paying for thorough vetting with the most renowned veterinarians in Holland,to offer AMAZING one of a kind horses to our discriminate buyers. Call or email Janna, and let her know exactly what you are searching for, and if we don't have it, we will find your fairytale Friesian for you!